Last night, in Paris, one of the most anticipated events for soccer fans took place: the Ballon d'Or gala, where the most outstanding figures of this sport are recognized.
Of course, being such a notorious event, it is also possible that the most famous celebrities of the moment are invited. On this occasion, Zendaya and Tom Holland, the couple of the moment, walked this red carpet. And you will not believe the dress that Zendaya wore!
The dress was the star of the night
We know that the actress never disappoints on the red carpet and her outfits are always impeccable. Furthermore, her fashion style is already so recognized that she was even the recipient of the Fashion Icon award at this year's CFDAs.
On this occasion, Zendaya wore a dress that, at first glance, seems very simple: with French sleeves, a high neckline and a minimalist cut. However, everything changes when we see the back of the dress, which defied all our expectations due to the incredible design of the metallic detail encrusted with rhinestones, which simulates the appearance of the spine. It definitely does not go unnoticed!
A spectacular design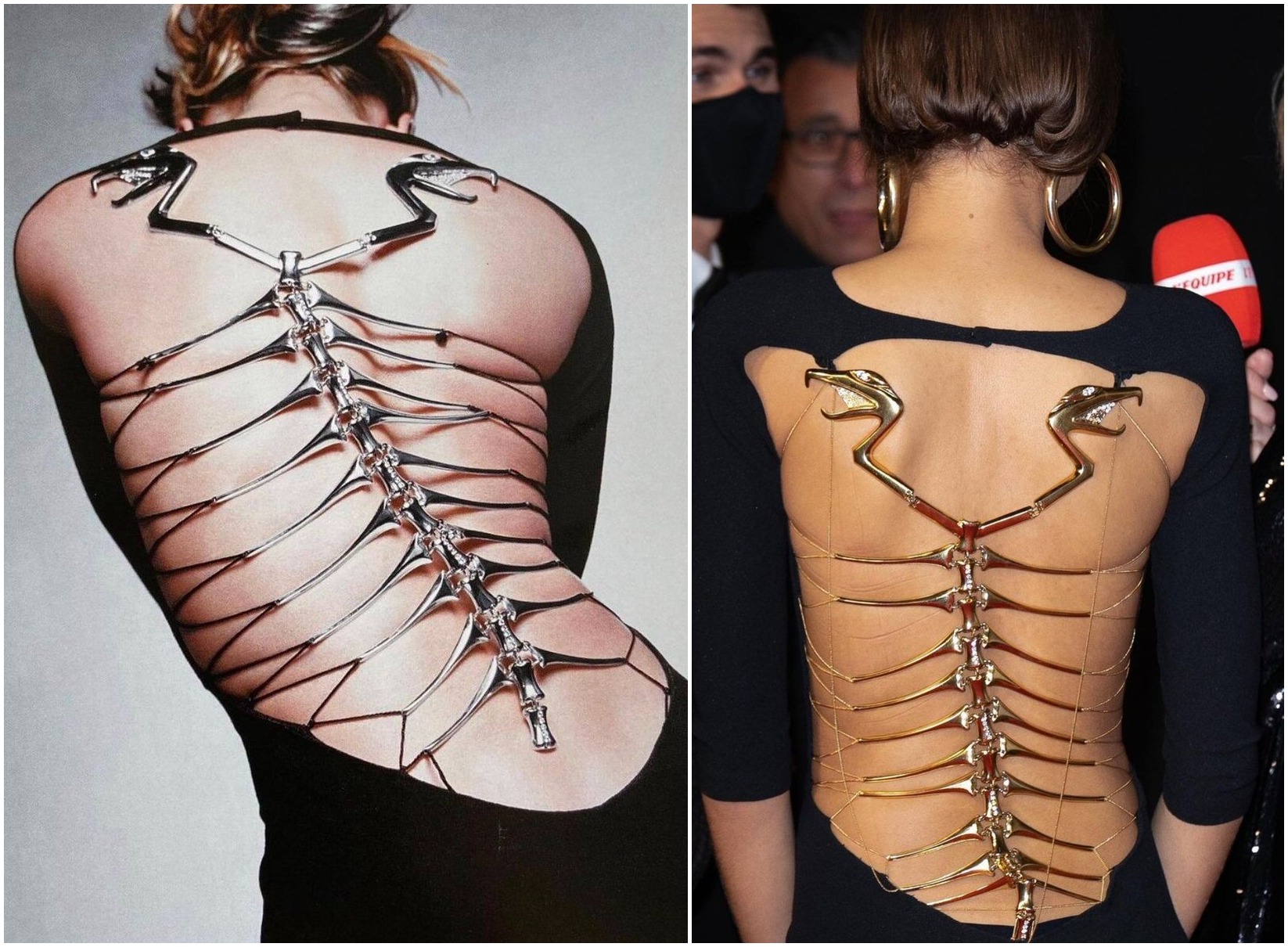 Additionally, the two snake heads adorning the top of the design create an illusion that gives a scorpion-like appearance. The spectacular dress is a piece by designer Fausto Puglisi for the Roberto Cavalli fashion house, belonging to the autumn-winter 2000 collection. It is not the first time that she and her stylist, Law Roach, have decided to opt for garments from the archive of fashion houses, that is to say, old ones, and several times it has sported designs from the Versace archive.
Zendaya chose to wear her hair up to leave her neck and back visible and not steal the limelight from the details of the dress. In addition, she used large golden Bulgari earrings as accessories. Her makeup was very discreet, opting for earth tones in her eyes and pink lips and glossy.
"Give it up for the back of Zendaya's dress!"
let's give it up for the back of zendaya's dress pic.twitter.com/zSVqTqEH2I

— mikayla HAS WON AT LIFE (@spideykayla) November 29, 2021
Both the dress and Zendaya went viral on social media, as fans of the actress and fashion enthusiasts were blown away by the magnificent look.
There is no doubt that the beautiful actress stole all the spotlights, which is already normal, because she always looks divine on the red carpet.