To observe the Olympic Truce during the Olympic and Paralympic Games Tokyo requested by the President of the United Nations General Assembly Volkan Bozkir.
The Olympic Truce dates back over 3,000 years (from the first Ancient Olympic Games in Greece), in order to stop any hostilities, in order to allow the smooth passage and participation of athletes in the Olympic and Paralympic Games.
The resolution of the Olympic Truce for Tokyo 2020 It was approved by the United Nations General Assembly in December 2019 and is entitled "Building a peaceful and better world through sport and the Olympic ideal".
It was adopted unanimously without a vote and co-financed by 186 of the 193 UN Member States.
"The Olympic Movement aspires to contribute to a peaceful future for all humanity through the educational value of sport, especially youthBozkir said during the appeal.
«The Games will bring together athletes from all over the world to major international sporting events as a means of promoting peace, "Mutual understanding and goodwill among the target peoples are also part of the founding values ​​of the United Nations," he said.
"For the second time, the IOC Olympic Refugee Team will participate under the Olympic flag in the Tokyo Olympics, acting as a powerful symbol of integration and our common humanity.
"As an expression of these common goals, the International Olympic Committee (IOC) has decided to bring the United Nations flag to the Olympic Village," the president of the United Nations General Assembly was quoted as saying by the Athens News Agency.
"The United Nations system and the International Olympic Committee have strengthened their mutual cooperation and support through joint efforts in areas such as human development, poverty alleviation, humanitarian aid, health promotion, HIV and AIDS prevention. , the education of children and young people, gender equality, peace building and sustainable development.
I applaud the leadership of Olympic and Paralympic athletes in promoting peace and human understanding through sport and the Olympic ideal, and the commitment made by various United Nations Member States to develop national and international programs promoting peace and reconciliation. conflicts and Olympic and Paralympic values ​​through sport and through culture, education and sustainable development "he added.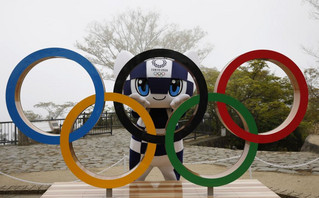 Volkan Bozkir then stressed "as President of the General Assembly at its seventy-fifth session, I call on all Member States to demonstrate their commitment to the Olympic Truce for the Tokyo 2020 Olympic and Paralympic Games and to take concrete action. local, national, regional and global levels to promote and strengthen a culture of peace and harmony based on the spirit of the Truce. "
"Referring to the original tradition of the Olympic Truce that has been practiced since antiquity, I also call on all parties to the ongoing armed conflict around the world to boldly agree on real reciprocal ceasefires during the Olympic Truce, thus providing an opportunity to peacefully, "he said in closing.