The developers of the 3DMark benchmark, which has been helping gamers measure the performance of processors and graphics cards for over 20 years, announced the release of the 3DMark Storage Benchmark. This is a dedicated benchmark to measure the gaming performance of solid state drives, hybrid drives, and other storage devices.
Very fast PCIe 4.0 drives are now available to gamers. Fast storage can speed up the loading of games and levels, reduce interruptions in the gameplay. Unfortunately, many tools for measuring the performance of storage subsystems were developed when hard drives were the most common drive type. Therefore, it is difficult to correlate the results of these synthetic tests with real performance. In the case of 3DMark Storage Benchmark, performance is measured in relation to gaming tasks.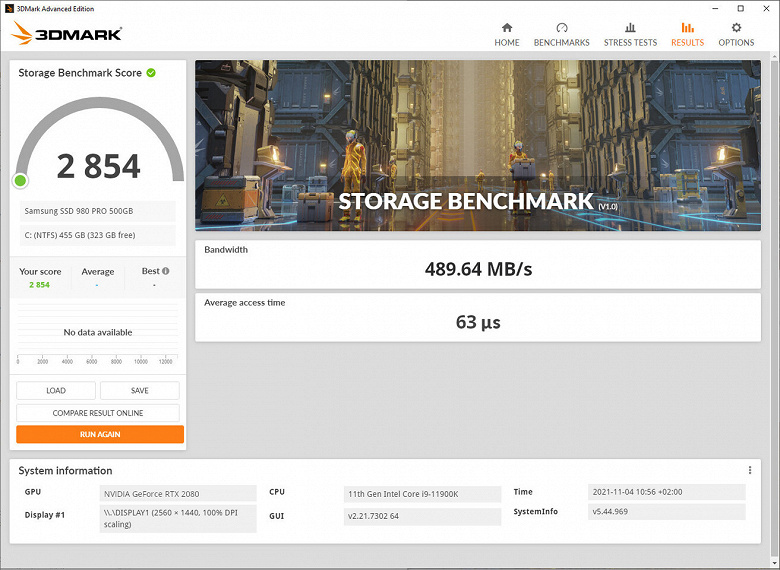 More precisely, the test uses, for example, scenarios such as loading Battlefield V, Call of Duty: Black Ops 4 and Overwatch from launch to exit to the main menu; recording 1080p game video at 60 fps using OBS (Open Broadcaster Software) while playing Overwatch, installing The Outer Worlds from the Epic Games Launcher, saving game progress in The Outer Worlds, and copying the Steam folder for Counter-Strike: Global Offensive from an external SSD to the system drive.
The 3DMark Storage Benchmark is compatible with all modern storage devices and can be used to test both internal and external drives. It gives the 3DMark Storage Benchmark Score performance score. The higher the score, the better the performance. For example, Intel Optane SSD 900P 280 GB (PCIe 3, M.2) scores 4241 points in the new test, Samsung SSD 980 PRO 500 GB (PCIe 4, M.2) – 2854 points, WD_BLACK SN750 NVMe volume 500 GB (PCIe 3, M.2) – 2014 points, and Samsung SSD 860 EVO 1 TB (SATA 5 Gb / s) – 1193 points. The test also provides metrics for throughput and average access time.
For 3DMark Advanced Edition users, the Storage Benchmark DLC is available for $ 2.99 on Steam and the UL Benchmarks website, while Professional Edition owners with a valid 1-year license will receive it as a free upgrade.