Its dangerous levels air pollution forced his government yesterday, Tuesday (16/11), at night New Delhi to close the schools of the Indian capital until younger and invite its inhabitants to work from home.
Air quality it gets worse every winter in this city of more than 20 million inhabitants, one one of the most infected in the world, which is covered by a cloud of pollution. On Saturday, the municipality had ordered the closure of schools for a week and had banned any operation of the construction sites for four days.
Last night, the committee in charge of air quality in New Delhi ordered the closure of schools until further notice, as reported by APE-MPE.
Air pollution – India: What measures have been taken
Heavy vehicles are not allowed to enter the Indian capital until November 21, with the exception of those carrying essential items, and work is suspended on most construction sites, in accordance with the decree. Machinery and sprayers anti-pollution will be put into operation at least three times a day in the neighborhoods most affected by pollution.
also 6 of the 11 thermal power plants located within a radius of 300 km were summoned to stop working until further notice. The committee also announced that at least half of the employees should be teleworked and private sector workers are called upon to do the same.
These measures were taken 24 hours after the decision of the New Delhi Government not to accept a request from the Supreme Court for "Quarantine due to pollution".
New Delhi, the city with τthe largest air pollution in the world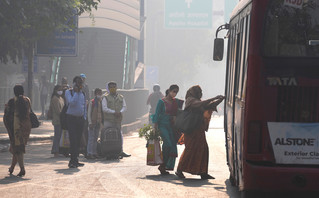 This air pollution comes from, among other things, from the smoke from incineration of agricultural residues in neighboring states. The government, however, had argued in the Supreme Court that industry was the main cause of the pollution and that the means of transport and dust from the roads and construction sites followed.
This week the level of PM2.5 microparticles, which are the most dangerous to health, exceeded 400 in several districts of the city. Last week, that reached 500, that is 30 times higher than the maximum limit set by the World Health Organization. According to The Lancet Medical Review, in 2020 about 17,500 people died in New Delhi due to air pollution.
The Indian capital has the largest air pollution in the world, according to a report by the Swiss organization IQAir published in 2020.