Against Tayyip Erdogan he turned in his speech to UN on Friday (23/9) the Cypriot President Nikos Anastasiadis disproving the "truths" of his Turkish counterpart by quoting real facts. "It threatens the Greek islands and owns 37% of Cyprus," he stressed.
Focusing on threats by Turkey against Greece which are now daily and making special reference to the questioning of the sovereignty of the Greek islands, against every international law and rule, as well as the dozens of daily violations by Turkish aircraft of the Greek airspace, the President of Cyprus he wondered: "What truths is Mr. Erdogan talking about? For the truth that a third of Cypriots were forced to leave their homes and live elsewhere; For the truth that Mr. Erdogan does not accept any of the solutions proposed by the UN for a state?"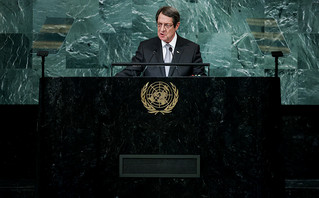 Nicos Anastasiades also addressed the presidents of the states to take seriously the actions of Turkey, especially in the recent period.
"The Greek Cypriot community has made and will continue to make every effort to restart the talks, with the aim of reaching a solution based on the United Nations Resolutions," he said according to sigmalive.com.
"I would like to see my country united, the two sides living and developing together. For a better and more stable future for humanity" he emphasized and expressed the hope that during his lifetime he would be able to see Cyprus reunited, something he failed to do in his 10-year term, as he said.
Source: News Beast