Strong concern prevails in Austria due to coronavirus. At a time when the Covid Forecast Consortium predicts a rapidly growing number of infections for the country, the first vaccinations are almost stagnant and a sufficient vaccination rate still seems a long way off.
According to the data, most new infections have recently appeared in the age group between 15 and 24 years, however, the well-known simulation researcher of the Technical University of Vienna Martin Bicher warns today not to "ignore" the vulnerable age groups, and recalls the development in the previous year.
According to him, at present, vulnerable groups aged 60 and over occur with less than 10% in new cases and have an almost imperceptible effect on increasing the dynamics of the pandemic.
«Experience shows that the dynamics of infection can quickly spread to other age groups"However, due to the strong dependence on the age structure of the cases, it is difficult to predict the time point, from which a critical burden of the Intensive Care Units should be expected", says Martin Bicher as broadcast by the Athens News Agency.
He notes that "this spread of infections is expected to be slower, due to the percentages vaccination in vulnerable age groups, but it will happen "and refers to the current coverage numbers of Intensive Care Units in Britain, which, meanwhile, albeit with some delay, are increasing.
"If this also happens in Austria, then essentially nothing will have changed compared to last year in terms of capacity limits, and with about 2,000 to 4,000 new cases "Every day, things would slowly narrow, and by 7,000 at the latest, they would be approaching the burden of the system," warns the researcher at the Vienna University of Technology.
At present, the rate of fully immunized in Austria, at 43.4%, is slightly above the European Union average, but initial vaccinations have almost stopped, and, as Martin Bicher points out, only one a vaccination rate of about 70% to 85% would be sufficient to adequately limit it coronavirus.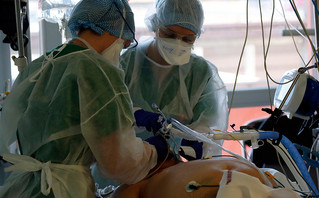 On Friday (16/7) the Ministries of Health and Interior in Vienna reported 341 new infections in Austria in the past 24 hours, since the outbreak of the pandemic a total of 10,728 people in the country have died, the number of patients with coronavirus in hospital rises in 105 and of these 37 are hospitalized in Intensive Care Units.
According to the Food and Safety Administration, the "7-day incidence", ie the number of new coronavirus infections per 100,000 inhabitants in the last seven days, is 17, and is still higher in Vienna (31, 8) and lower in the state of Burgenland (5.4).