The President of the United States Joe Biden called her Americans yesterday, Monday night California to vote en masse against a ouster of their Democratic governor in the state referendum being held today to prevent a Republican "Donald Trump clone" from taking his place.
His first trip to the American West certainly gave Biden the opportunity to develop his arguments for the fight against climate change and his public investment plans, but especially for something rarer, to enter the political arena to defend the Democratic governor. of California Gavin Newsom and his action.
"The eyes of the nation are on California with the decision you are about to make, which will have a huge impact on California and will be felt across the country. "And,'s not funny, all over the world," said the Democratic leader, literally soaking his shirt because of the heat at a meeting in Long Beach, south Los Angeles.
What is at stake is really big: California, the most populous US state, is also the fifth largest economic power in the world.
Under California's ouster system, in a referendum today, voters are asked to vote "yes" or "no" to Newsom's ouster and then choose one of his 46 replacement candidates on the ballot.
If Newsom fails to win a simple majority in the first question, then the candidate with the most votes in the second question – even if he is short of a majority – automatically replaces him for the duration of his term. Eighteen years ago, a similar vote allowed Arnold Schwarzenegger to invade California, causing the fall of the Democratic governor at the time.
On paper, Gavin Newsom, the former mayor of San Francisco, who was easily elected governor in 2018 and whose term ends next year, is not much at risk in a predominantly Democratic state.
However, his last-minute support from Biden shows that the Democratic Party is taking this vote very seriously, knowing that a sudden withdrawal is always possible, especially if the turnout turns out to be low.
In such a case, the ultra-conservative radio presenter Larry Elder, a supporter of former President Donald Trump, will be the one to replace Newsom.
"Message to the Nation"
"He is a clone of Donald Trump. "Can you imagine him ruling the state?" Biden said during his 15-minute speech.
He then pointed out everything that would change, according to him, if Larry Elder were at the helm of the state, to motivate Democratic voters to go to the polls today: health and vaccination obligations against COVID-19, "respect for women And their right to voluntarily terminate a pregnancy, a fight against climate change, which Elder has previously called a "lie", the minimum wage the Republican candidate wants to see disappear…
"Let friends send a message to the nation (…) Let them vote for Gavin Newsom's stay," Biden said, referring to him as a wall against "Donald Trump's dark, destructive and divisive policies."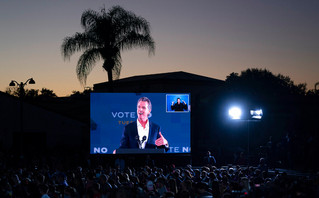 Fires, climate and investment
Prior to Long Beach, Biden had made two stops yesterday on forest fires devastating the western part of the country, first in Idaho to visit a firefighting center and then in northern California.
"We can not ignore the reality, which is that forest fires are exacerbated by climate change," Biden said after seeing helicopters fly over large areas of Caldor Fire, a fire that has been raging incessantly for two months. Yesterday morning, in California alone, more than 13,000 firefighters battled about 15 large-scale forest fires.
The president once again called for overcoming partisan divisions to protect the United States and to "green" the US economy by adopting plans in Congress, the total amount of which could reach $ 5,000 billion.
"These are not red states (the color of Republicans) or blue states (the color of Democrats). "These are fires, only fires," he told Sacramento.
Today, Biden will visit Denver, Colorado, to continue promoting his major investment plans before returning to Washington.