Riots in two prisons in Ecuador Eight people have been killed and more than 20 others injured, including police, the Andean penitentiary said Wednesday.
The incidents erupted in a jail in the state of Waia (southwest), where eight inmates were killed and two policemen were injured, as well as in Kotopaxi (central), where twenty injuries were recorded, the National Prison Service (SNAI) said via Twitter.
Violent riots had already broken out in these two penitentiaries in February. In the clashes between gangs for control of the largest prisons in the country, 79 prisoners had lost their lives in one day.
In Ecuador there are about 60 prisons with a nominal capacity of 29,000 places. But the surplus inmates are almost 30%, as the total number of inmates is 38,000 and is guarded by about 1,500 guards, while, according to experts, at least 4,000 would be needed to exercise effective control.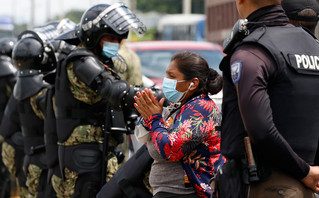 (archive photos from the recent Ecuadorian prison riot)