THE Member of Parliament of the Conservatives Neil Paris announced today that he is resigning after admitting that watched porn twice on his mobile phone during sittings in the House of Commons "In a moment of madness".
Paris, a Torres MP since 2010, had been made available by the ruling party, after he reported it to an Ethics Committee in Parliament.
"Mr Paris has been made available by the Conservative Party pending the outcome of the inquiry," the spokesman said yesterday. Prime Minister Boris Johnson has said that watching porn is unacceptable in any workplace.
Paris resigned today, having previously stated that he would continue to be a Member of Parliament while the investigation is under way.
"Let the research look at it"
Prior to his resignation, when asked by reporters if he had accidentally opened any content on his phone, Paris replied: "Yes, but let the investigation look into it."
"In the end, I saw that the outcry and the damage I was doing to my family and my constituency was simply not worth continuing," Paris told the BBC in tears today.
Paris, a farmer, said the first time he watched pornography, he stumbled upon it as he searched for a tractor on a site with a similar name and then "watched it for a while that I should not have done".
"But my crime, the biggest crime is that in another case it is that I entered the site with the pornographic material for the second time and that was intentional. "This happened as I was sitting and waiting to vote in the House of Representatives."
"A moment of madness"
Asked what went through his mind, he spoke of "a moment of madness".
British media reported earlier this week that a female minister said she saw a male MP watching pornography as he sat next to her in the House of Commons and the same MP watching porn during a committee hearing.
"I was not proud of what I did," Paris said, adding that he did not intend to see porn sitting around him.
"I am not going to defend what I did. "What I did was completely wrong. I think I completely lost my mind."
In an interview with The Times published today, Paris's wife said that she did not know that her husband had done something similar in the past, saying that her husband was "a tender man".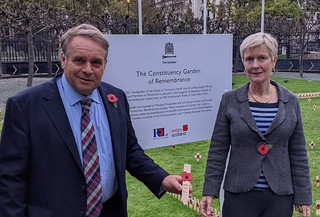 "It was very embarrassing," said Sue Paris. "Honestly, I was out of breath."
"People should not watch pornography. "My husband would never just sit and watch porn while people watch.… These ladies are justifiably angry as I would be," said the MP's wife.
Source: News Beast
I am Derek Black, an author of World Stock Market. I have a degree in creative writing and journalism from the University of Central Florida. I have a passion for writing and informing the public. I strive to be accurate and fair in my reporting, and to provide a voice for those who may not otherwise be heard.