Experts of the analytical company IDC have summed up the results of the third quarter of 2021 in the market of "traditional PCs", which in IDC include desktops, laptops and workstations.
According to IDC estimates, 86.7 million PCs were shipped worldwide in the past quarter, which is 3.9% more than in the third quarter of 2020. Analysts note that annualized growth has been maintained for six quarters in a row. It is fueled by the shift to remote work, learning, and entertainment, and has recently been limited by a lack of components.
According to IDC analysts, Lenovo is the leader of the market. Over the year, it increased supplies by 3.1%, as a result of which its share decreased from 23.0% to 22.8%. In second place is HP, which reduced shipments by 5.8% over the year, as a result of which its share decreased from 22.4% to 20.3%. Dell ranks third. It was able to increase shipments by 26.6%, which led to an increase in market share from 14.4% to 17.5%.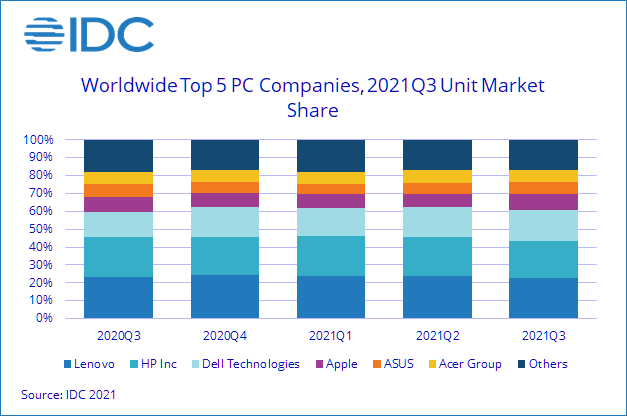 .