Their satisfaction for its conclusions international conference on Libya, in which, the Greek side – in cooperation with the partners and especially with Egypt – contributed in a constructive way, say government sources.
They emphasize that in the conclusions, first There is a clear reference to Libya's commitment to holding free, inclusive and credible presidential and parliamentary elections on 24 December.
Secondly, on the issue of the withdrawal of foreign forces, mercenaries and troops, for the first time reference is made to a time horizon of removal. Specifically, there is a clear reference to the "immediate development of schedules", a phrase to which the Greek side insisted along with other participants, according to the same sources.
Thirdly, there is a clear reference to the IRINI operation and the work it has done to monitor the arms embargo in Libya.
The intervention of Mitsotakis
It is recalled that during his speech at the Paris Conference, Mr. Mitsotakis Prime Minister Kyriakos Mitsotakis highlighted the role of Greece as a force for peace, security and stability in the Eastern Mediterranean region and its readiness to assist in the success of the electoral process in Libya.
According to the government, the prime minister noted that Greece is ready to cooperate, both bilaterally and as a member of the European Union, with the newly elected government of Libya. He also stressed that Greece is ready to resume talks on Maritime delimitation agreement with a truly representative Libyan government, which will be formed on the basis of the free will of the Libyan people and will respect the rules of International Law.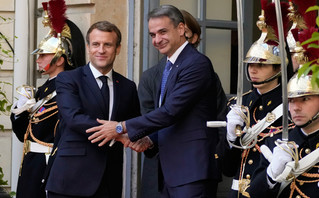 Kyriakos Mitsotakis stressed that Greece, as Libya's neighbor, wants to see the Libyan people live in an environment of security and prosperity, under the guidance of a strong and fully accountable government, free from foreign influences and ties to the past.
He noted that the necessary condition for the peace and stabilization of Libya, without the influence of third parties, is Withdrawal of all foreign troops, foreign fighters and foreign mercenaries as soon as possible.
Finally, the Prime Minister congratulated the President of France Emanuel Macron for the organization of the Conference and expressed his satisfaction for the participation of Greece, as Libya's closest neighbor to the north.