In the carbon dioxide emissions caused by fires "It reached record levels in July and August," the EU's Copernicus geo-surveillance service said in a statement, blaming global warming.
"It is worrying that the drier and warmer peripheral conditions – caused by climate warming – make vegetation more flammable and increase the risk of fires. This led to very intense and rapid growth fires", Said Mark Parrington, scientific director at Copernicus, as broadcast by the Athens News Agency.
«More fires are expected around the world in the coming weeks as the Amazon and South America fires continue.he added.
During this period of fires affecting the northern hemisphere from May to October, July set a world record after these satellite observations began, with 1,258 megatons of carbon dioxide emissions, more than half of which are attributed to fires in North America and Siberia.
Copernicus said in a statement that a new record was set in August, with 1,384.6 megatons of carbon dioxide emissions worldwide.
"Throughout the summer, we observed the activity of forest fires in the northern hemisphere. "What seemed unusual was the number of fires, the size of the zones they burned, their intensity and their persistence," said Mark Parrington.
Particularly in northeastern Siberia, in the Saharan Republic, the fire season, he noted, was unusual in "outbreak size and persistence" as it began in early June.
"It's a similar story in North America, in parts of Canada, in the Pacific Northwest and in California, which has seen large-scale wildfires since late June and early July and is still ongoing," said Mark Parrington.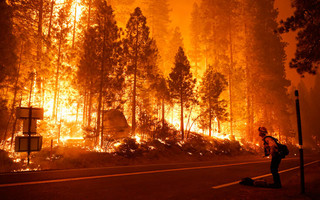 The western part of North America was particularly hard hit in July and August, most notably the Dixie Fire, one of the most significant ever recorded in California history.
While south-eastern Europe was experiencing a prolonged heat wave, the Mediterranean, from Greece, was also affected and Italy to Albania, Spain or even Turkey, a country where the data showed a daily intensity of fires unprecedented since 2003.
All of these fires have a significant impact on the air quality of the affected areas and beyond. For For example, a cloud of smoke from North America reached the British Isles in late August before crossing the whole of Europe, notes Copernicus.

I am Derek Black, an author of World Stock Market. I have a degree in creative writing and journalism from the University of Central Florida. I have a passion for writing and informing the public. I strive to be accurate and fair in my reporting, and to provide a voice for those who may not otherwise be heard.