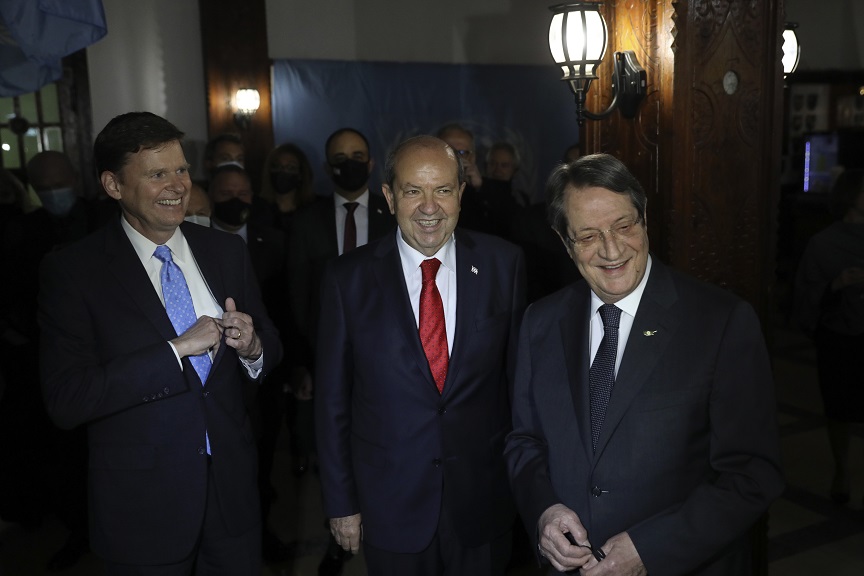 The choice of a mutually agreed settlement of the problem – in other words a formula for the reunification of the island acceptable to both sides – it's fading and won't be available for much longer, said the Special Representative of the G.C. of UN in Cyprus, Colin Stewart.
From the stage of the Cyprus Forum, which takes place today and tomorrow at the Municipal Theater of Nicosia, with the cooperation of the Economic Forum of Delphi, Mr. Stewart expressed his concern about the resumption of talks on the Cypriot, saying characteristically, that the two sides cannot even agree on the content and basis of the talks. He made an extensive reference to the situation prevailing in the pseudo-state, mainly due to the economy, saying that "the division of the island is growing and the integration of the north – economically and politically – into Turkey, is accelerating due to the very difficult economic situation on that side of the island. Greater dependence of the north on Turkey, especially economic, necessarily means less interdependence between the two sides on the island. And interdependence is the glue that can hold the island together."write down.
As he said, "if current trends continue, the idea of ​​a mutually agreed solution will soon become unsustainable".
"Therefore, time is running out and we cannot afford to simply wait until the next time the sides are ready to talk."pointed out.
He noted that economic pressure in the north and the growing economic divide between the two sides on the island are also breeding resentment and a lack of trust between them.
"I hear from many Turkish Cypriots that they are unhappy with the current trend, but they don't see any alternative. Providing a north-south alternative would be a major step – perhaps the most critical step – towards reviving hope for a comprehensive settlement."he said.
The United Nations official expressed his belief that the majority of Cypriots want an end to the division of the island, but are losing hope – while saying that he is working intensively with the representatives of the two leaders to complete a wide range of joint initiatives that will not will not only benefit Cypriots across the island, but will also create an important avenue towards settlement talks.
Each of these initiatives, he noted, will have a positive impact on the lives of Cypriots on both sides of the island. "But even more importantly, each initiative will offer a small piece of positive experience, create a small amount of goodwill, and thus piece by piece the path to a mutually agreed settlement of the Cyprus issue will be created. But we don't have much time yet."
Source: News Beast