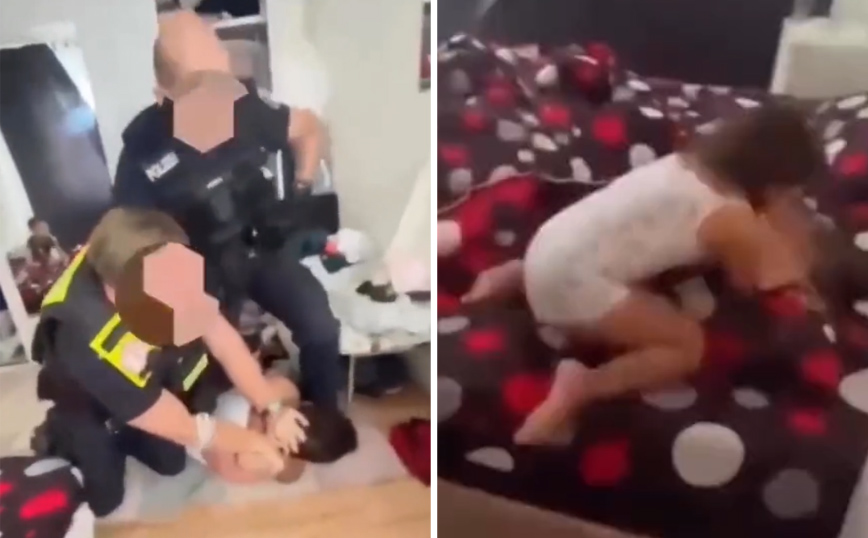 German police are under fire after a video went viral showing a police officer making racist comments and using excessive force while arresting a father in front of his horrified children.
In the video, which was posted on social media by a lawyer, two police officers are seen to have thrown a man to the floor inside his house in Berlin while his children cry and his wife begs the uniformed men not to beat him.
One of the officers can be heard saying to the woman: "This is my country and you are a guest here". A little later in the video, the police officer tells the immigrant family: "You are in my country. You should behave as the laws dictate."
Continuing the threats, as Anadolu Agency writes, the policeman tells the woman: "Shut up. Don't touch me again or I'll take you to jail".
Left party MP Ferat Kocak shared the video on Twitter and commented: "Racism in the Berlin police."
Berlin police have announced that they have launched an investigation into what happened last Friday. According to the relevant announcement, the police officers went to the apartment in order to execute an arrest warrant for the man who is accused of fraud with benefits he received.
According to the same announcement, the man resisted and that is why the police threw him to the ground while his wife tried to free him and was prevented.
After the incident, the couple filed a complaint against the police for excessive violence and xenophobic insults. He also gave the video to authorities as evidence. The complaint was handled by a different police department, unrelated to the officers in the video. The investigation is ongoing.
Source: News Beast