It was initially expected that the first Arc A-Series discrete graphics cards (based on the Alchemist Xe-HPG architecture) from Intel would be introduced before the end of the first quarter of 2022, and the top Arc Limited Edition model would go to stores before the end of the second quarter of the same year. Representatives of the company even named the winners of the Scavenger Hunt contest, who should receive the latest video cards before they officially go on sale, but now, apparently, everyone will have to moderate their ardor – the Igor's Lab information publication, citing its sources, reports that the video cards will be postponed at least until the end of summer.
The journalists of the German edition reported that the manufacturer will not be able to release discrete Intel Arc Alchemist video cards for a rather banal reason – the drivers for these graphics accelerators are not yet ready. Accordingly, the release of the Arc A-Series will be postponed to mid-late summer (the end of the second financial quarter), and the top model, apparently, will be released in the fall. And earlier, it is worth noting that foreign journalists have repeatedly reported that the release of Intel video cards will be delayed due to low-quality drivers that are not yet ready. It is logical that the "blue team" wants to first bring the software to mind, and only then launch sales.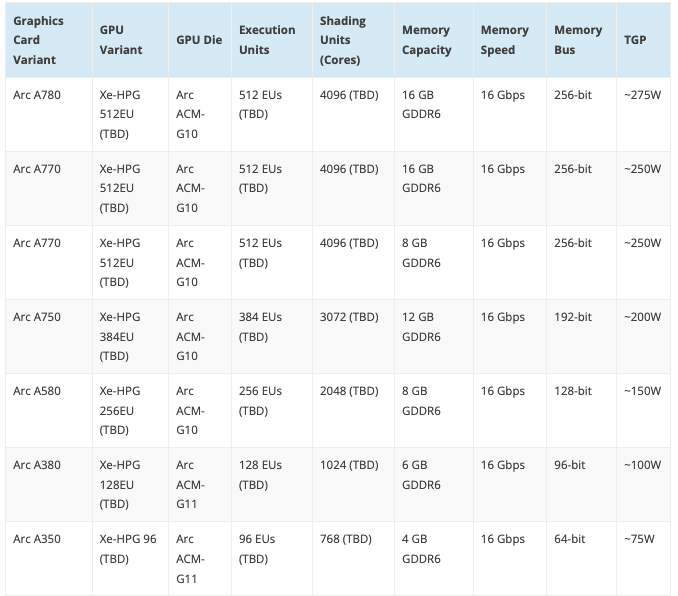 Characteristics of discrete graphics cards of the Intel Arc A-Series line
Postponing the release, of course, will have a negative impact on the audience's attitude to the new line of discrete video cards, but, on the other hand, the current situation on the market is already sad. Yes, and NVIDIA and AMD, the largest players in the modern market, also sometimes have problems with software, as well as with the availability of new models. We can only hope that Intel will be able to launch its new products at least this year – perhaps this will give gamers a chance to get a productive solution for adequate money.
Source: Trash Box