Thousands of photos, important working documents, a collection of films – each of us has an array of files for tens or hundreds of gigabytes. All this needs to be stored somewhere, and especially valuable files also need to be backed up. A home NAS server with a couple of capacious hard drives will handle all the tasks. The Synology DS220+ fell into my hands, which is perfect for these purposes.
Someone will immediately doubt the benefits of home storage, because every corporation has Internet services – clouds, photo storage, notes, password managers. But their free volume is limited, photos can be irrevocably compressed, and the exchange is tied to the speed of the Internet. But I am very embarrassed by privacy and safety – valuable files are sent to an unknown destination on an uncontrolled server. Own storage is at home, information does not get on the Internet, and reliability is guaranteed by duplication on several disks. In other words, Synology DS220+ is a great candidate for a private cloud for storing documents, photos, videos and any other large files. Now let's go in order.
Details on the Synology website
Appearance
Outwardly, the Synology DS220+ resembles a very compact computer. The black case with a minimum of necessary indicators, a pair of buttons and USB is decorated with a removable front panel. All external panels are made of thick plastic and hide the metal frame. The design is universal in every sense and will fit into any environment. But, since hard drives can be noisy, it is recommended to choose a place away from the bedroom. A shelf in the hallway is ideal, because besides, the storage needs to be connected to a router.
Behind the front panel are compartments for two 3.5-inch hard drives. All fasteners are quick-detachable and made on latches. A screwdriver is needed only if you install 2.5-inch drives. A NAS with a pair of silent SSDs is a great idea! In my case, preference was given to Toshiba NAS N300 hard drives from a specialized series.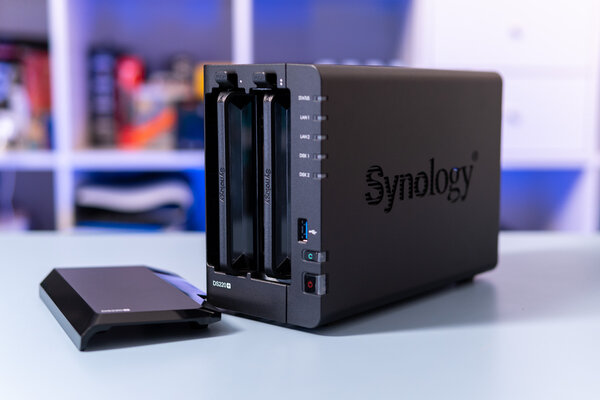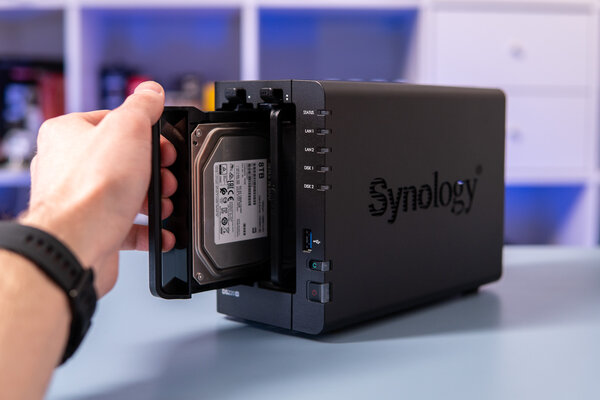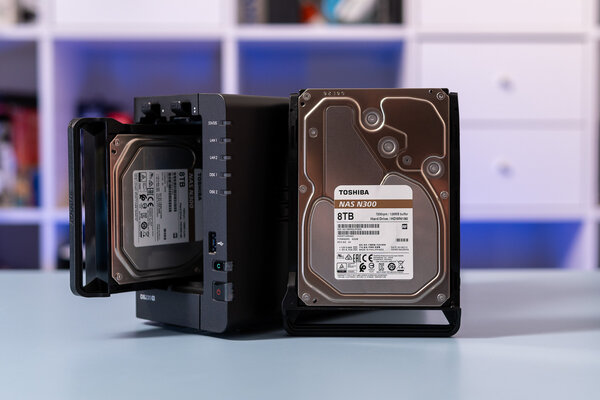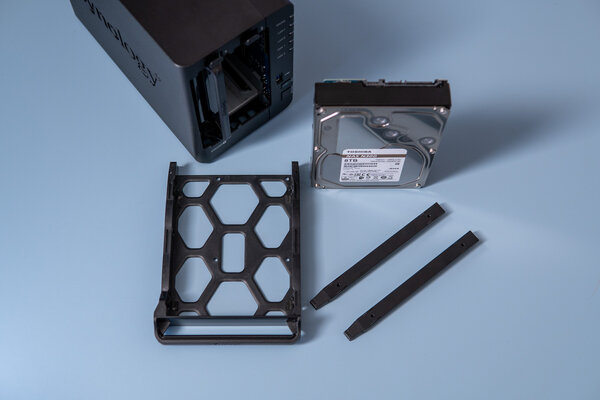 At the disposal of the user via a pair of Ethernet and USB, powered through an external unit. A small fan is used to blow the drives and the motherboard, which is silent compared to standard 3.5-inch drives.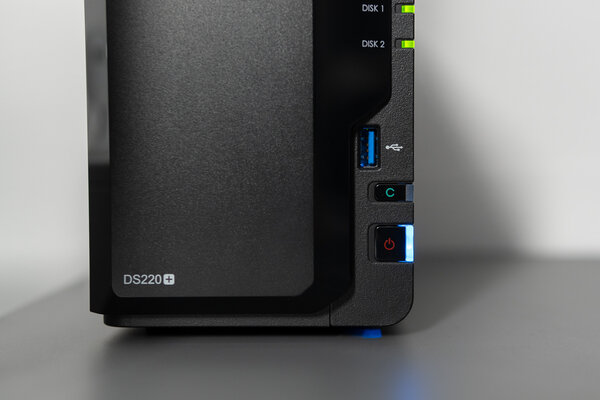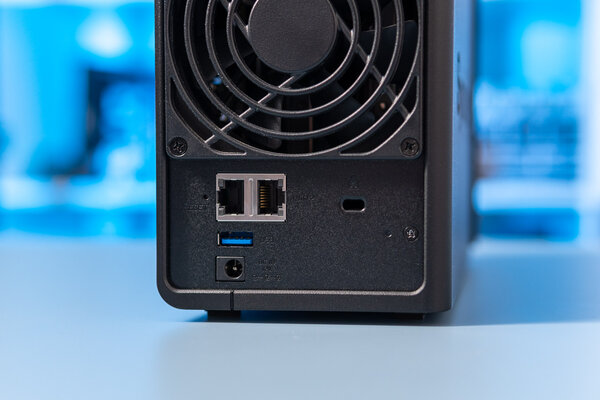 Basic features and file storage
Inside the server is the new DiskStation Manager (DSM) 7.0 operating system, whose interface is very similar to any other desktop system. That is why almost any computer user can master the Synology drive. Each family member can create their own account with a password with a private space to store personal files. The operating system provides a flexible system of rights and disk quotas – access to certain folders and their maximum size can be set individually. A huge disk, for example 8 TB, can be divided among users according to their needs.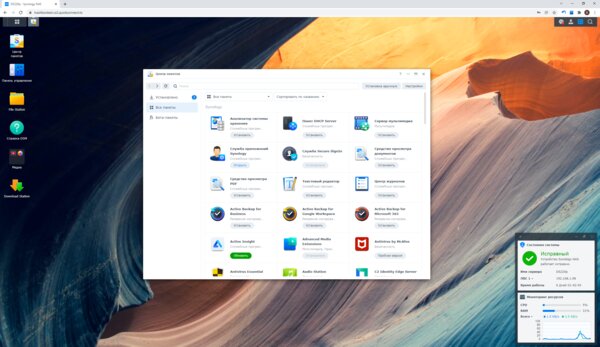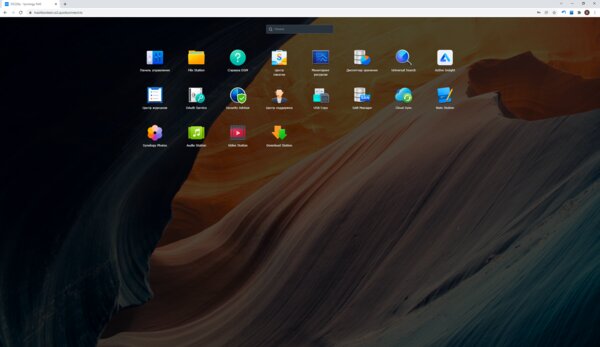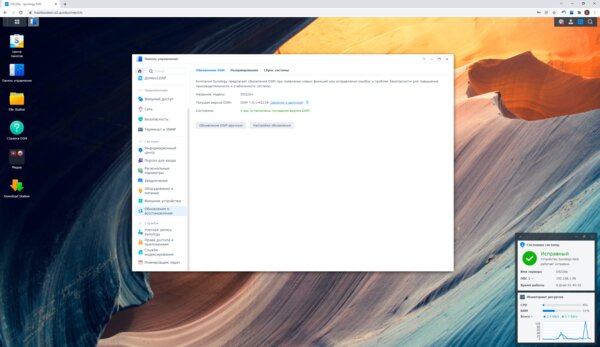 The storage is accessible from the local network, in this case the maximum file exchange speed is achieved, limited by the capabilities of the router. With QuickConnect you can access from anywhere in the world via the Internet. Files are also stored at home on hard drives, the service is a convenient and secure way to connect to your home network using a NAS callsign set to your taste. Personally, I have been using the Synology server for more than a year, QuickConnect has never let me down during this time, the access speed is limited only by the quality of the Internet.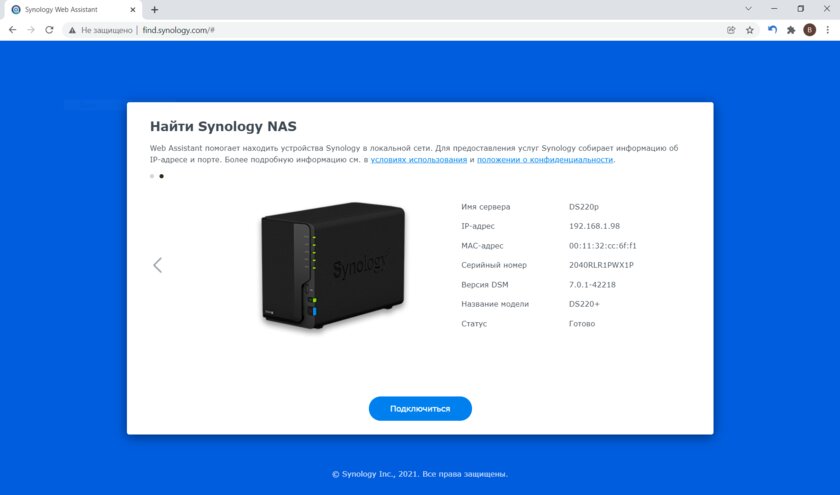 Find all NAS on your local network via find.synology.com
As in other systems, the functionality is filled with applications, there are several dozen of them in the catalog. I propose to focus on multimedia and other programs that make everyday data storage easier. An important note, each application described below has its own mobile client for Android and iOS, a separate section will be devoted to them.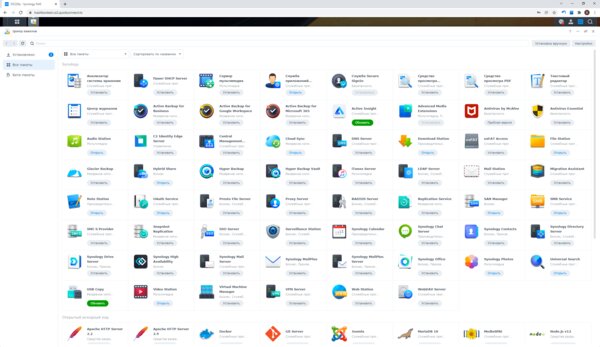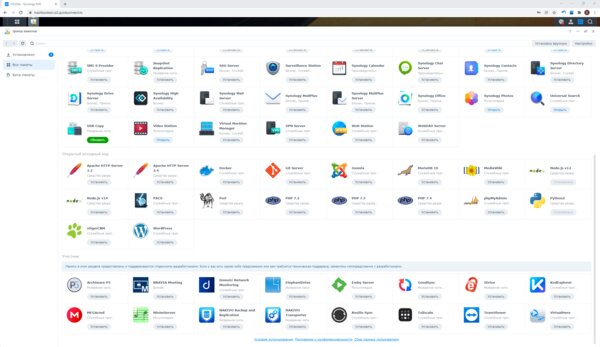 The catalog also has many applications for business and developers
Chief among them, File Station, already preinstalled. The application is a familiar file manager with which you can upload any files to the NAS and group them into folders. File Station can be accessed both from the local network and from anywhere in the world through QuickConnect. Also, the storage is connected as a network folder inside the local area. In this case, you can interact with the files from the "Explorer" in Windows or Finder in MacOS.
For daily work, it is much more convenient to use Synology Drive, which transforms the NAS into a private cloud. After installing the client on the computer, the selected folder will be continuously synchronized with the corresponding folder on the disk. This approach provides several advantages at once. On the one hand, the files are always on the computer, opened locally from a fast disk and available offline. But at the same time, actual copies are stored in complete safety on the server. In the same way, you can organize collaboration and control who edits files and how. For collective work on documents there is an office suite Synology Office. As with the internet cloud, files can be shared using links. This is a good option for storing valuable files on a laptop because anything can happen to a laptop. A piece of iron is a small thing, and documents are priceless.
There is also a note in the Synology Package Catalog Note Station. Each note is a mini-document with formatting, numbered lists and pictures. Grouping by notebooks and tags, there are favorites. The note can be password protected and shared between NAS users or publicly using QuickConnect. A to-do list with reminders is also available and is linked to each note individually. Clients for Windows, MacOS and mobile systems allow you to access your notes without a web browser.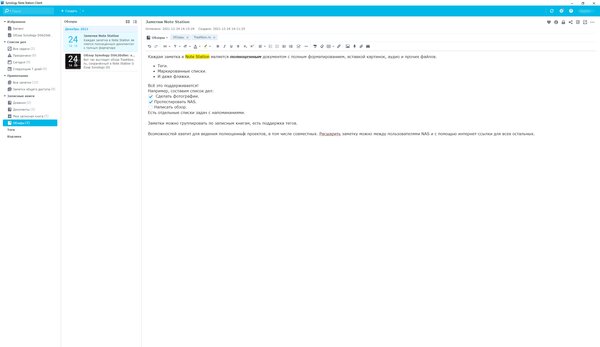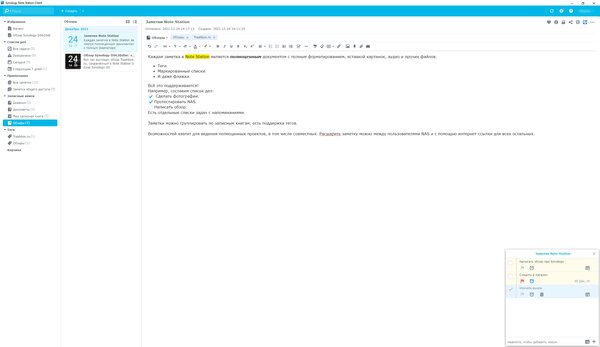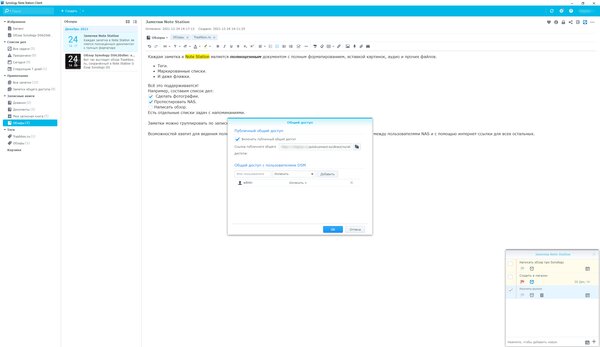 A small browser extension, Synology Web Clipper, adds information from the Internet to your notes in a couple of clicks. You can save the entire web page, converted to an article, or just a screenshot. What is not an analogue of Pocket?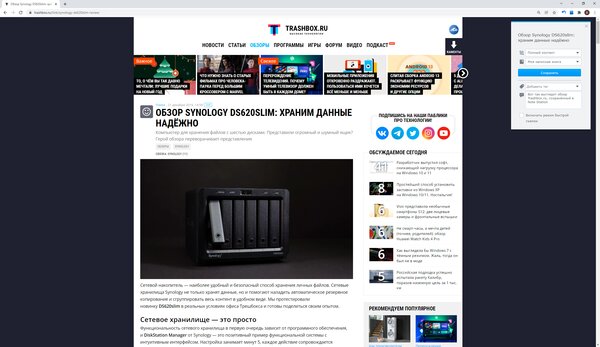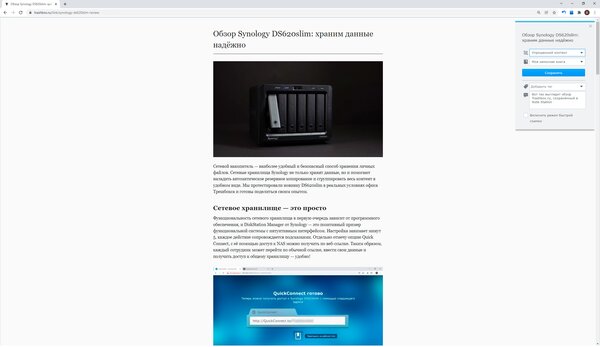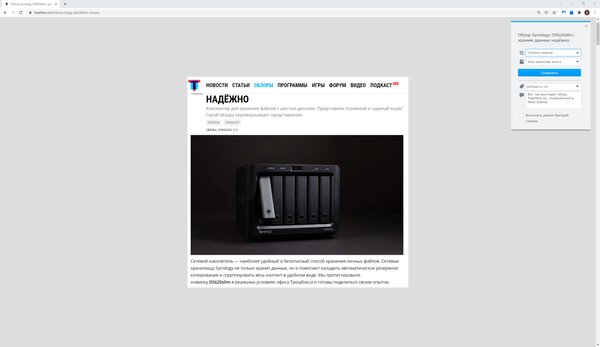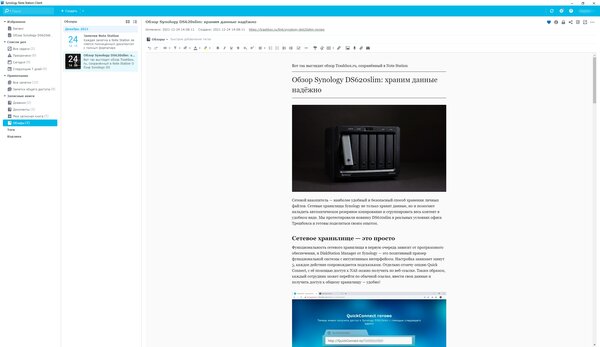 The same goes for storing passwords. It is impossible to remember all the accounts on two dozen sites, bank accounts and plastic card details. Paper records can become corrupted or lost, and sending such sensitive information to a corporate server is risky. Another thing is a NAS located somewhere at home, with private and fully encrypted access.
Multimedia features
Multimedia is photo, video and music. Synology Photos is designed to store photos. It groups pictures into a single feed, similar to Google Photos. Face recognition, location, individual events – Synology takes care of sorting. Pictures can be uploaded manually by simply dragging and dropping files (relevant for old pictures or a camera) or automatically synchronized with a smartphone via a mobile client. If desired, you can enable grouping by folders or hang your own tags. In summary, Synology Photos is a great replacement for the usual services, but more private and without any photo compression.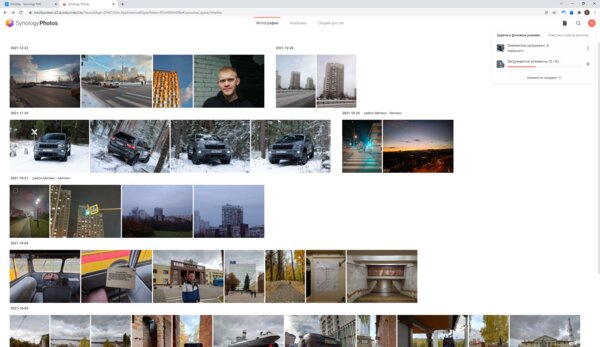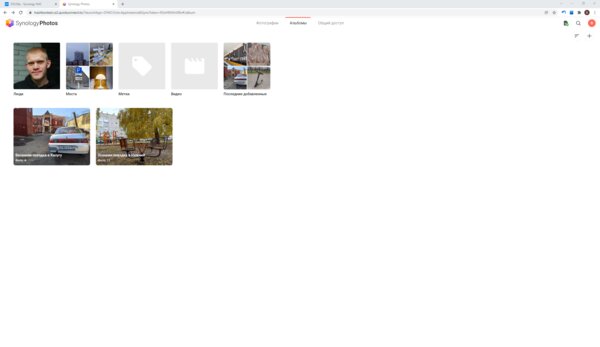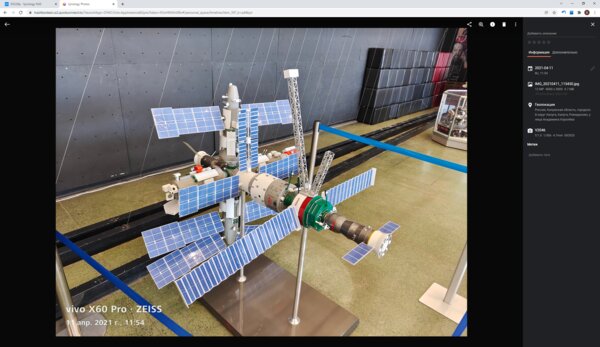 The server is tough and creating a collection of movies and TV shows through Video Station. The application independently groups files by rating, searches for posters and descriptions in Russian or English. All downloaded videos become available from a computer or smartphone without taking up space on their local drives.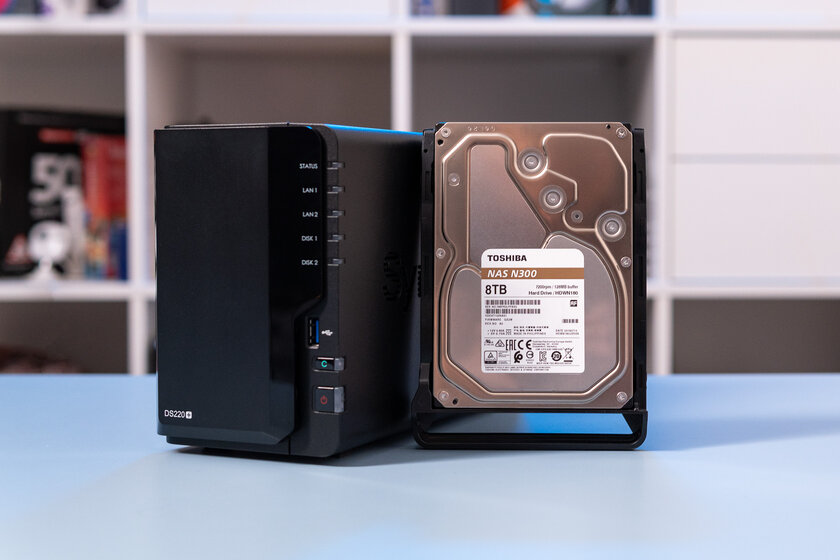 8 TB is enough for photos, movies and music
Moreover, Video Station not only stores, but also plays files, transferring only the video stream. From the user's side, the interface looks more like an online player with the ability to change the quality or voice acting, add subtitles. If necessary, the picture can be broadcast to Chromecast, Apple TV, SmartTV and other Miracast and DLNA devices. The maximum resolution reaches 4K (2160p), and the video can be viewed simultaneously on multiple devices – Intel Celeron J4025 will cope with all tasks without delay.
You can also organize your music collection in Audio Station. The capacity of the hard disk allows you to store not only memorable albums, but entire discographies of your favorite artists. The library is synchronized with all connected devices, there is support for lyrics and Internet radio. It's a great way for me to listen to my MP3 collection in this streaming age.
Movies and music do not have to be downloaded from a computer. An intermediary is not needed at all, thanks to the built-in utility Download Station with support for torrents, Magnet links and other popular protocols. You can add download tasks and monitor the process from anywhere in the world.
Mobile applications
As noted at the very beginning, each application described above has a client for smartphones and tablets on Android and iOS. There is not a single question about the quality of Synology software, all programs look modern, work stably and completely or almost completely cover the functionality of the web version. Required to install DS finder – a mobile NAS control center, an analogue of the desktop operating system DSM.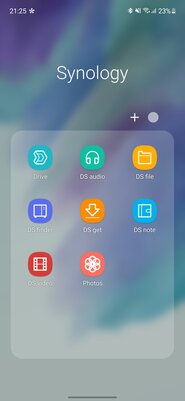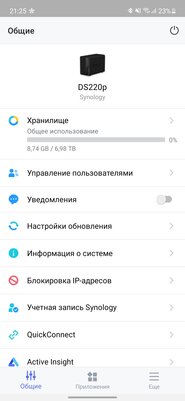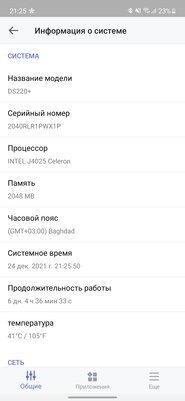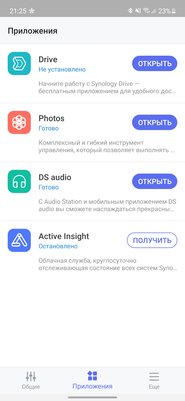 Review after two weeks of use
Before summing up, I would like to discuss once again why your own NAS is more convenient and safer than Internet clouds. Your own server is faster: within the local network, the data exchange speed is limited only by the capabilities of the selected hard drives and router. It is also worth considering the cost in the long term. Once you buy a NAS and a couple of hard drives, you can provide yourself with capacious storage with all the services for many years, while Internet analogues are paid by subscription – they constantly pull money. The third defining argument is the security of data storage, because the NAS is at home.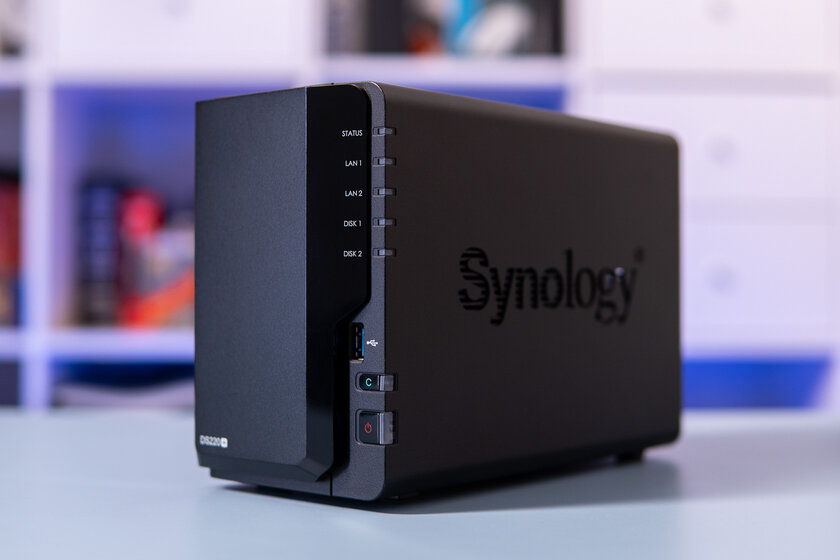 You can parry, hard drives can fail and carry away everything of value. Yes, this happens, so to ensure safety, you should choose storages with at least two hard drives and set up a mirror array. This is one of the reasons why I recommend choosing models with two or four drives. You can also object to the topic of obsolescence of network storage. But this is not about Synology, the company has a very long support cycle. For example, my 10-year-old DS110j stopped receiving updates just a couple of years ago, after which it did not turn into a pumpkin, but continues to store and backup my files properly.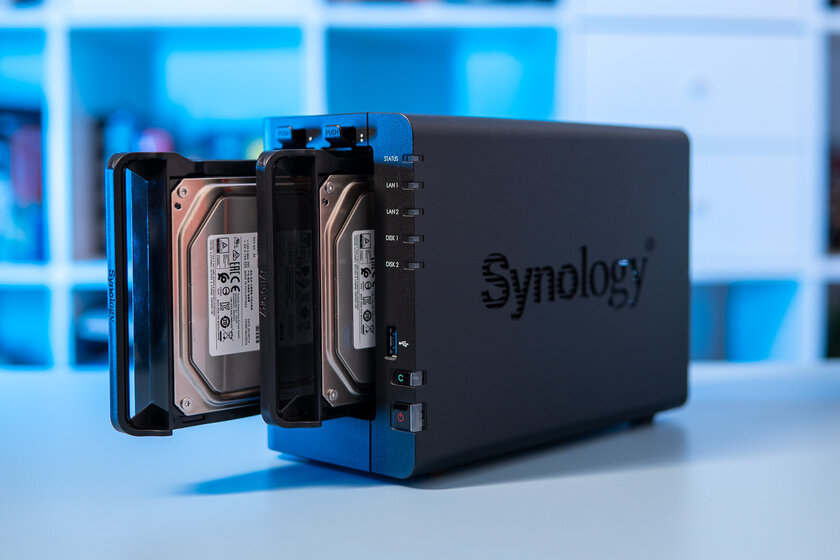 Choose reliable hard drives
In summary, I am in favor of moving to private clouds with a gradual rejection of corporate services. There is a lot of sensitive information on our computers and in our smartphones, whose falling into third parties is undesirable. An Internet service with a strong password and two-factor authentication does not guarantee this. Controlling a NAS is much easier. The Synology DS220+ tested today can be considered the best option, thanks to two drives and a powerful processor capable of handling heavy media. Although the most important thing is an integrated approach to software: a multimedia center, a photo stream, a private cloud, an office suite, a password manager – this is only a small part of the capabilities of DiskStation Manager!
Details on the Synology website
Pros:
ease of setup and management;
QuickConnect service for access via the Internet;
full-featured control from a mobile device;
the widest variety of applications;
support for two drives in different array options;
modular design does not need a screwdriver;
A utilitarian design that matches any interior.
Minuses:
high total cost of the server and hard drives.
May not like:
Depending on the drives you select, the storage may be noisy.