South Korean carmaker Hyundai Motor and British startup Urban-Air Port intend to create a network of flying taxis around the world. They plan to start next year, and the first base will be built in the small English town of Coventry. In the same year, flying taxi stations will appear in central London and Los Angeles.
According to Bloomberg, over the next five years, the network will have more than 200 cars around the world, both in densely populated areas and in remote places. Flying taxis will run on hydrogen fuel cells. The founder of Urban-Air Port believes that there are all prerequisites for this, the only snag is the infrastructure, which must be previously created both on the ground and in the air. The company has spent $ 150 million this year on infrastructure, although $ 5 billion has already been invested in the development of eVTOL (electric vertical takeoff and landing).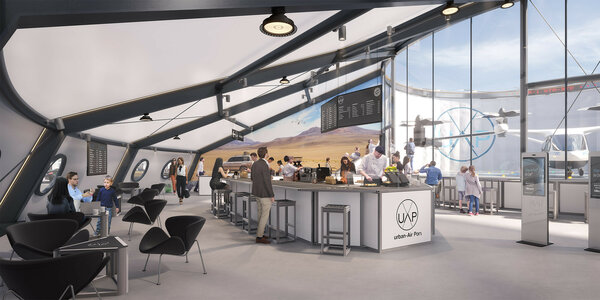 Flying Taxi Base and Air Transport Center Concept
The idea of ​​a flying taxi is not new; small startups and even large companies are trying to promote it. NASA announced flight tests of an all-electric air taxi called Joby earlier this month. The device of the Joby Aviation company can cover up to 240 km with a maximum speed of 320 km / h. According to the manufacturer, it is a hundred times quieter than a helicopter. Joby Aviation also plans to build a passenger air network by 2024.