THE Alitalia done Ita Airways and the protests do not say to stop.
That proves it flashmob organized by former flight attendants of the Italian airline, who took to the streets against the decisions of the last days.
Silently, with his head held high. So yesterday, Wednesday, October 20, late in the morning, about 60 former Alitalia employees demonstrated in front of the Capitol in Rome in the following way for its acquisition Alitalia from Ita Airways, which led them to unemployment.
At first dressed, the employees of its former national airline Italy They undressed slowly and silently, throwing their uniforms on the ground and remained in their miniskirts in the center of the square to express their "pain" after the bankruptcy of the company. They left their shoes there and the women moved to one side of the square.
The choral cry followed: "We are the Alitalia", Which they repeated for several minutes. "Naked, without work and dignity" was the message they wanted to get across.
Passers-by began to applaud as the flight attendants hugged in a long hug, closing those who had burst into redemptive tears between them.
It lasted half an hour flash mob and then they left. "We came – they explained – to express our pain first of all. Solidarity, however, goes to all our colleagues who were invited to Ita Airways "and they were forced to sign a humiliating and destructive employment contract," they said.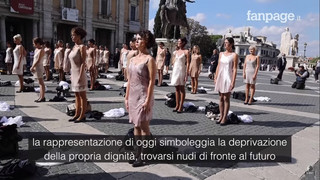 With a picture similar to that of the women's rights protests that has taken place around the world, the workers left only their shoes in the center of the square, a move that testifies to the lack of jobs and prospects, a situation in which they fell.
For the last 20 years, the Alitalia faced huge financial problems and cost the Italian government about 13 billion Euros. The latest calculations reported a loss of € 700,000… per day and the coronavirus confirmed a prescribed fee.
The company that takes its place, the Italy Air Transport (ITA) will keep only 2,800 workers, while about 7,000 walk the path to the unemployment fund.