Having their health passport in hand, from today the citizens of France will enter most of the cultural spaces of the country while the rise of its cases Delta mutation of coronavirus continues.
With 18,000 new infections within 24 hours "we see an increase in virus circulation of 150% in one week: we have never seen anything like this", Stressed on Tuesday (20/7) the French Minister of Health Olivier Veran.
At the time her government France does not hesitate to speak of a "fourth wave" of the pandemic and the mask makes its reappearance in many tourist areas where the epidemic seems to be reviving, the Health Defense Council meets today, a day when the mandatory use of the health passport is implemented for all the places -cultural and entertainment- where more than 50 people gather (compared to 1,000 that was valid until recently).
The use of the health passport is expanded from today before the adoption of the relevant bill, which is expected to be voted on Friday (23/7).
According to the bill, the use of sanitary passport will be expanded from August and will be necessary for the entry of citizens in restaurants, cafes, shopping malls, clinics and medical centers, as well as in the means of transport when it comes to long trips.
Officials at cinemas, theaters, museums and summer festivals are torn between concerns about declining traffic and the hope that the adult-only measure will not discourage many viewers.
France: The masks were thrown away by those who have a health certificate
Meanwhile the use of a mask in these areas is not mandatory at this time"With the exception of the prefectures and the departments where there is a different mandate due to the epidemiological situation", Veran announced yesterday.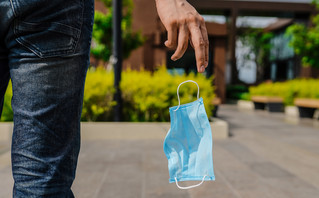 According to Richard Patri, president of the National Federation of French Cinemas, the halls are "treated like the bad student", at a time when no outbreaks of coronavirus have been reported.
In order for its administrators to be able to respect the new regulations Eiffel Tower, one of the world's most visited monuments, require antigen testing from all visitors who do not have a health passport. On both sides of the Tower have been set up tents where the tests are performed, which are free for the French and paid for the foreigners.
In terms of vaccination, which health professionals rely on to avoid putting too much pressure on the health system in this "fourth wave" of the epidemic, 56.6% of French people have received at least one dose of covid-19 vaccine. and 46.6% are fully vaccinated, according to official figures released Tuesday.