Gaming laptops will have a hard time after the release of the Redmi G 2021. In terms of performance and price, it will be better than the Lenovo Legion 5 and Asus TUF A15
Tomorrow Redmi will officially present a new generation gaming laptop – Redmi G 2021. The characteristics are already largely known thanks to official teasers, and now an interesting slide comparison of Redmi G 2021 with competitors – Lenovo Legion 5 and Asus TUF A15 has appeared on the Web.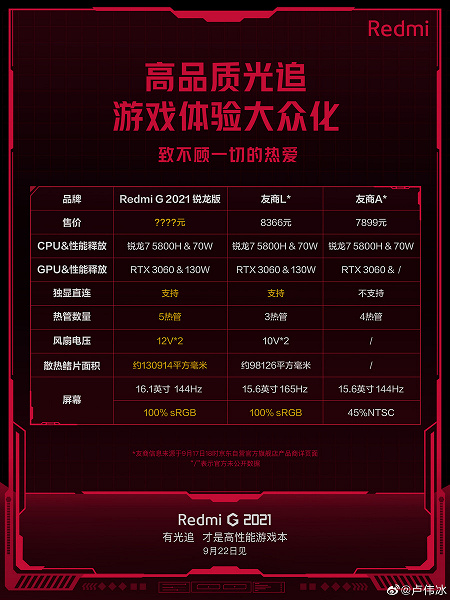 As you can see, all three models are equipped with a Ryzen 7 5800H processor and an Nvidia GeForce RTX 3060 dGPU, but in terms of the cooling system, the advantage is on the side of the Redmi device – it includes five heat pipes (competitors have three to four) and two 12 V fans each … Redmi and Lenovo surpass Asus in terms of color gamut of the screen matrix. But the most important thing here is the price. Redmi did not indicate it, but the symbols in the corresponding cell of the table are colored yellow – the color of the advantage. This means that the cost will be lower than that of competitors. The Lenovo device is priced at $ 1,295, the Asus at $ 1,220. The 2021 Redmi G is expected to cost around $ 1,090. But whether it will be so – we will find out tomorrow.
.