In anticipation of the activation of the London hard fork, the volume of ETH blocked in smart contracts has grown sharply, while the balances of the cryptoasset on the exchange wallets continue to decline.
ETH holders continue to withdraw coins from centralized exchanges, according to research firm Glassnode. This trend continues throughout the year – ETH balances on cryptocurrency exchanges began to decline back in July 2020. Then the price of ETH was in the range of $ 200-300, while now ether is trading at $ 1,900.
The number of ETH on exchanges grew between March 2018 and March 2020. After the markets fell in March 2020, the volume of ETH held on centralized exchanges temporarily stabilized, but then began to decline. As a result, the total amount of ETH stored in exchange wallets is now close to the level of Q4 2018.
At the same time, the number of ETH blocked in smart contracts is growing rapidly. For the first time in the six-year history of the Ethereum network, this figure exceeded 26% of the total number of coins in circulation.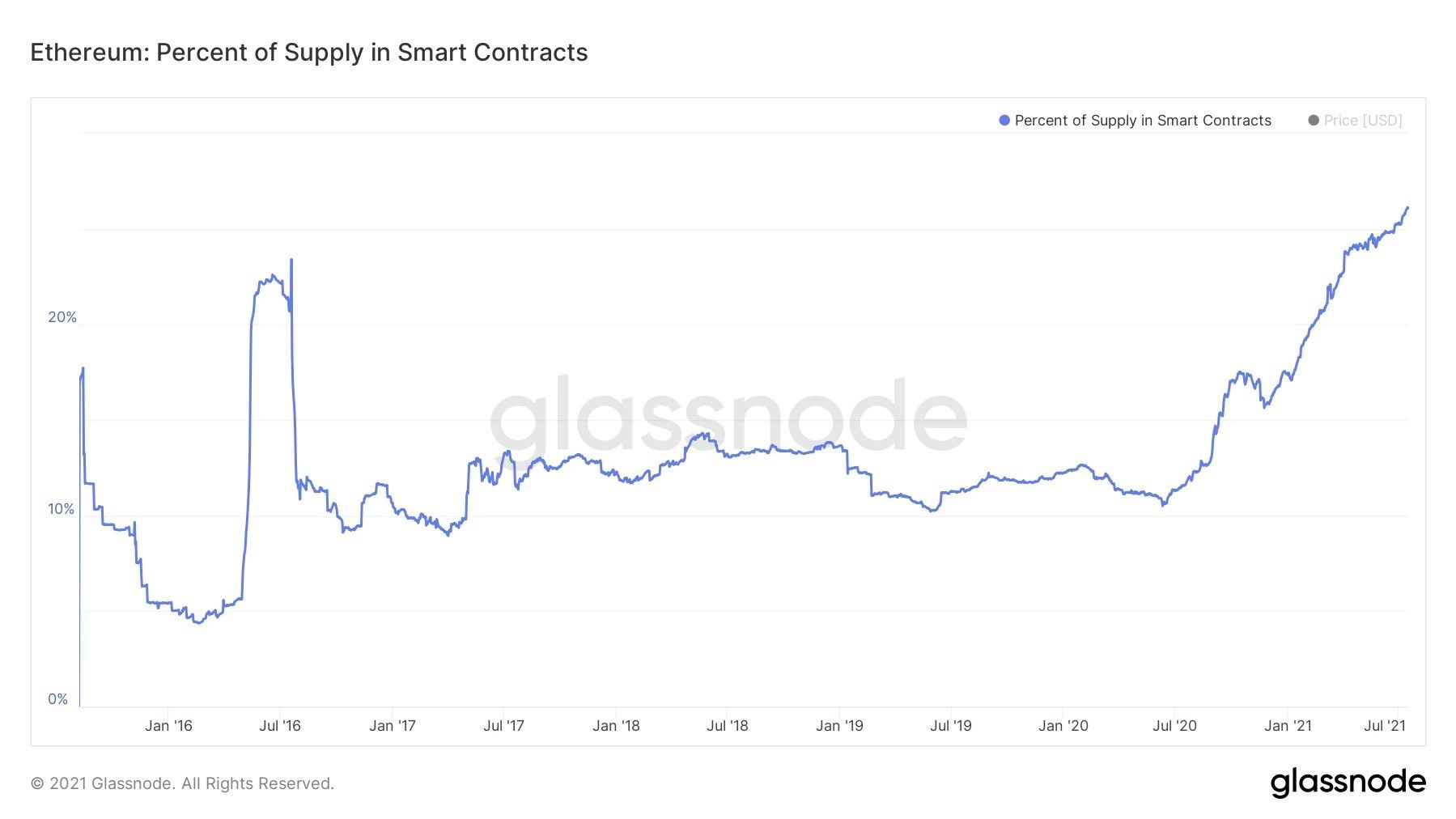 The rate began to rise during the boom in the decentralized finance (DeFi) industry in the middle of last year. Since January 2021, the number of ETH blocked in smart contracts began to grow sharply – this trend continues to this day.
Both trends were catalyzed by the upcoming activation of the London hard fork, which is scheduled for block 12,965,000. The approximate production date for the block is August 4. The London hardfork includes the EIP-1559 proposal, which implies the destruction of ETH when paying commissions. This will reduce transaction fees, but at the same time, miners' commission income will also decrease.
Many miners are unhappy with this innovation and even planned a "strike", but the event failed. As part of the London update, the changes proposed in the five EIPs will be adopted. In addition to reducing fees, the update should make it easier to calculate fees.