Back in 2017, at the Google I / O conference for developers, the Play Protect service was announced, designed to ensure the safety of all Android devices with access to the Play Store. It was originally part of Google services and has now become a standalone application. For some reason, Google Play Protect does not appear in the web version of the Play Store, but you can access it on your smartphone or tablet.
It should be noted that the application is currently only compatible with some devices. These are smartphones with Android 12 operating system, but Google Play Protect will probably be installed on devices with an earlier version of Android in the near future. As you can see in the screenshots, the app has already been downloaded over 100,000 times.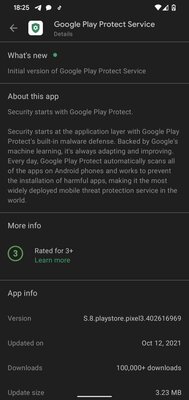 Image source: @AdamConwayIE
Google Play Protect only works on devices with Google services installed. That is, on some Huawei and Honor smartphones, the application will not work. Play Protect is based on Google machine learning, it scans all applications installed on an Android device and can prevent malware from downloading and installing. Now that Google Play Protect is available as a standalone app, the company will be able to update it more often. Previously, updates were released along with updates to Play Services.