He called the UN climate conference a "failure" today, Friday COP26 the Greta Thunberg, in front of thousands of young people protesting in Glasgow, calling for action to be taken against climate change that threatens their generation and those that will follow.
"It is no secret that COP26 is a failure," said the Swedish activist, calling the conference "a celebration of 'business as usual' and blabbering on."
"Our leaders are not pointing the way, that's what leadership looks like," he said. host, which, according to AFP, consisted of thousands of children, teenagers and young adults.
"They can not ignore the scientific consensus, they can not they ignore us", She stressed, while adding:" Our kings are naked. "History will judge them harshly."
He once again blamed world leaders for inaction, while talking again about a "festival of pseudo-green identity".
A second day of demonstrations will be tomorrow, the Saturday, in this town in Scotland.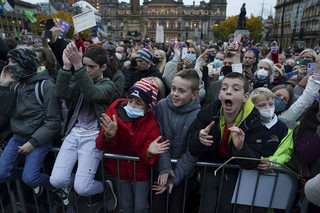 The first – held at the end of two weeks of the COP26 conference – had the same demand, the urgent need to protect the climate from the catastrophic effects of global warming due to greenhouse gas emissions, such as transmits the RES EIA.
It is recalled that the Paris Agreement (2015) aims to reduce global warming very below +2 degrees Celsius, if possible + 1.5 ° C, to avoid the worst effects of climate deregulation, which are already causing disasters around the world. Every tenth of a degree Celsius has its consequences.
However, according to the latest UN estimates, the world is heading towards a "catastrophic" overheating +2.7 degrees Celsius.