- Article Top Advertisement -
If there is a phrase that perfectly describes the story of Joaquín Pérez, a 28-year-old publicist, it is "there is talent, we just need to support it", since he did a little creative exercise with the bottles of wine from a prestigious Chilean brand and became viral.
Joaquín changed the labels on the Gato wine bottles for stickers with memes of kittens, without imagining that his idea would become so popular that the brand contacted him to offer him a position in their company.
- Article Inline Advertisement 1-
According to Joaquín in his LinkedIn account, without any authorization he hit stickers of cat memes in different bottles of the Gato wine brand that were visible to the naked eye in the supermarket window.
He printed about 50 stamps and pasted them one by one on the wine bottles. His mother and sister were accomplices so that the guards at the mall did not notice what he was doing. After his assignment, he photographed the bottles and shared the images on social networks, obtaining thousands of likes and positive comments praising their creativity.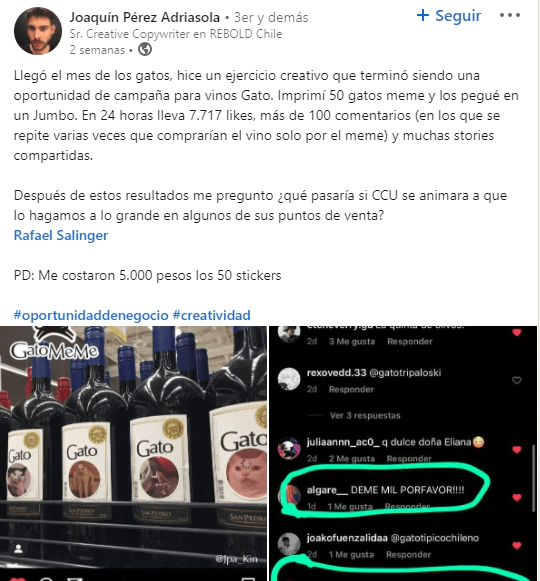 Because his post went viral, the CEO of the wine brand contacted him and proposed to work directly with them on their next advertising campaign. He accepted the offer and in less than two days he was already in the marketing and advertising area of ​​the company.
The idea has already been approved, it has already been implemented in some of Buin's liquor stores and will soon be in other places.

– Joaquin Pérez
His idea spread to all liquor stores and shopping centers where Gato wine is sold, and best of all, sales have increased. It seems that everyone wants to collect the corresponding memes and, incidentally, toast Joaquín's luck and his creative idea.
I am Derek Black, an author of World Stock Market. I have a degree in creative writing and journalism from the University of Central Florida. I have a passion for writing and informing the public. I strive to be accurate and fair in my reporting, and to provide a voice for those who may not otherwise be heard.
- Article Bottom Advertisement -