Recently, NFT technology has been incredibly popular all over the world – video games add content in the form of tokens, paintings are sold for millions of dollars, and large clothing brands even release digital shoes in this format.
The developers of the social network Twitter decided to keep up with current trends by implementing NFT support on their platform – since yesterday, January 20, network users can use NFT images to attach them as an avatar to their profile. To do this, just attach your crypto wallet to your account and select a token from your collection.
Ready to show off your NFT? Follow these simple steps to connect your crypto wallet and let's see your NFT PFPs! pic.twitter.com/epSL7VXG5o

— Twitter Blue (@TwitterBlue) January 20, 2022
However, it's worth clarifying right away that there are a number of restrictions that so far will not allow everyone to enjoy the latest feature. Firstly, the use of NFT is currently not available in all regions – the service is available only to users from the USA, Canada, Australia and New Zealand. Secondly, even if the user has NFT, they won't just let you attach a token to your profile – first you need to get a paid Twitter Blue subscription, which costs $ 2.99 per month, and only after that the user will be able to connect a cryptocurrency wallet and open access to images in non-fungible token format.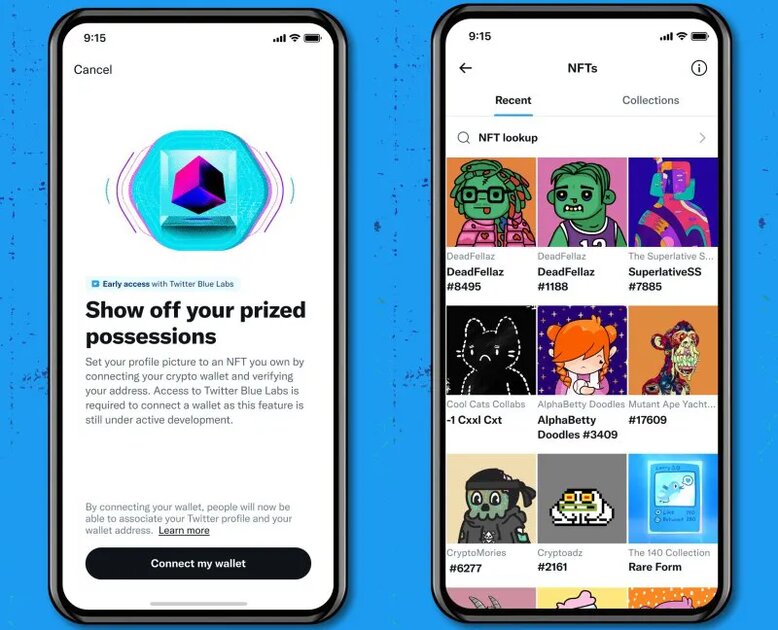 Demonstration of the NFT image library in an iOS application
And, thirdly, this function is currently only available on iOS – they promise to implement the service on other operating systems and in the web version in the very near future. On the other hand, the developers have already introduced a rather unique feature for the avatar in a new format – the profile image in the form of an NFT is displayed in the form of a hexagon, while standard avatars are represented by a round picture. Moreover, the user can click on the avatar to get detailed information about this unique token – about the author of the image, for example, the date of creation, and so on.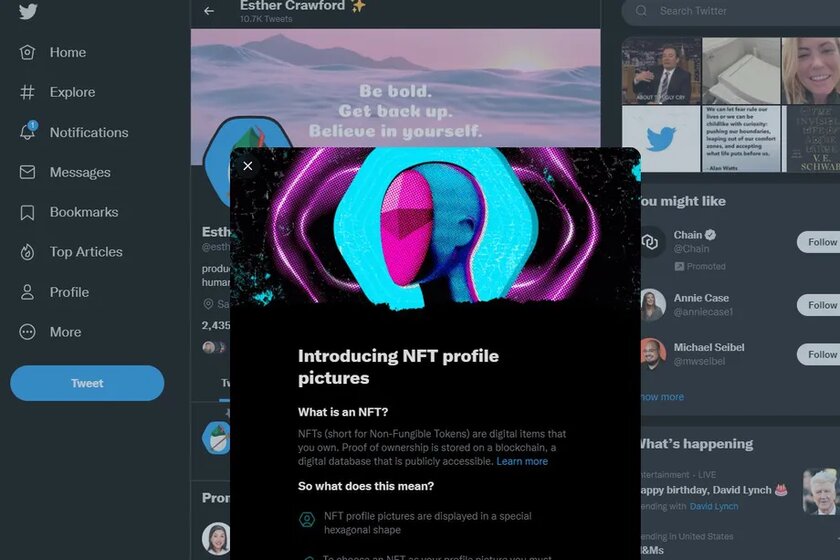 In the web version, a notification about NFT also appeared, but the function of connecting a cryptocurrency wallet is not yet available.