Flashlight and camera are useless and tired? Definitely yes. The new widget format in iOS 16 lets you put the things you really need on your lock screen. For example, if you often make calls and quick access to your favorite applications is important, this is no longer a problem at all. The disadvantage was solved by skilled developers: with the help of third-party applications, you can add shortcuts to family members and application-specific launch buttons that will help you perform the same actions much faster.
In the article, we will consider several services that allow you to add contacts and applications to the iPhone lock screen. Not without critical disadvantages and limitations. Of course, I will also tell you about them in detail.
Option 1 – LockWidget
The main advantage of LockWidget is the creation of an unlimited number of widgets, and it's completely free and even without ads. Another nice plus: the application supports not only the installation of contacts and application shortcuts. You can also choose weather, pre-event timers, health trackers, GIF animations, and progress tracking (day, week, month, year) from a variety of designs. The developers took care of iOS 16 users right down to editing the style of widget icons and a separate tab with wallpapers. In addition, the list of applications to launch from the lock screen is quite extensive.
Among the catalog of applications there are both popular (from social networks and branded applications of Google, Apple, Microsoft, Adobe to services for streaming music, sports and dating), and practically unknown in our circles, including Chinese ones. Along with classic calls and messages for contacts, email and WhatsApp are supported. Impressive, but I noticed a few omissions. Ready widgets cannot be changed. In addition, they are hidden in a separate section inside the profile tab (not very obvious), and adding them to the lock screen is completely unintuitive. Choosing your own photo when setting up a contact is not provided – only a standard icon and signature.
Note: after adding a widget to the lock screen, you must click on it – an additional content selection menu will open. All created widgets will be there, only after selection at this stage the widget will start displaying the corresponding action.
How to create a contact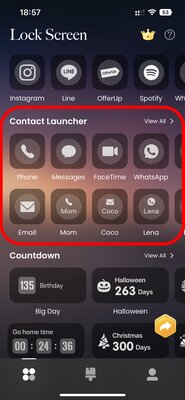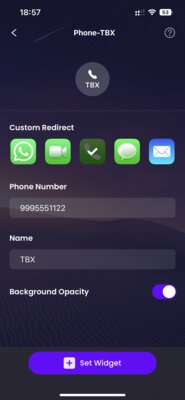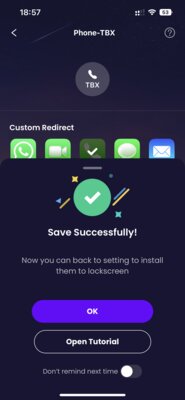 Launch the LockWidget application.
Under the "Contact Launcher" heading, select the action type (call, message, FaceTime, mail, WhatsApp).
Write down your contact information and name.
Click Set Widget.
How to create an app shortcut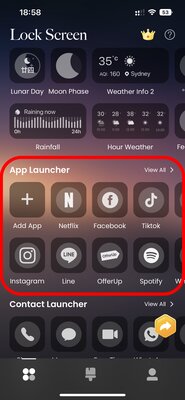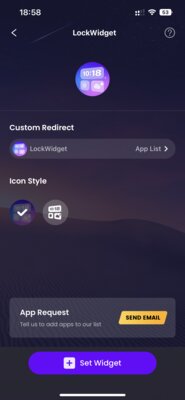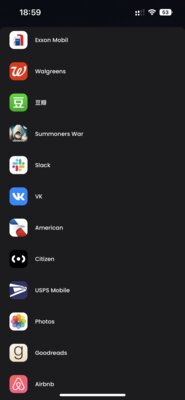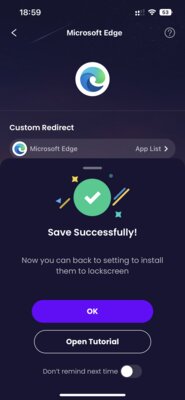 Launch the LockWidget application.
Under the "App Launcher" heading, click "Add App" or choose a pre-made one if it suits you.
Click App List. Select the desired application from the list.
Click Set Widget.
Option 2 – Lock Screen 16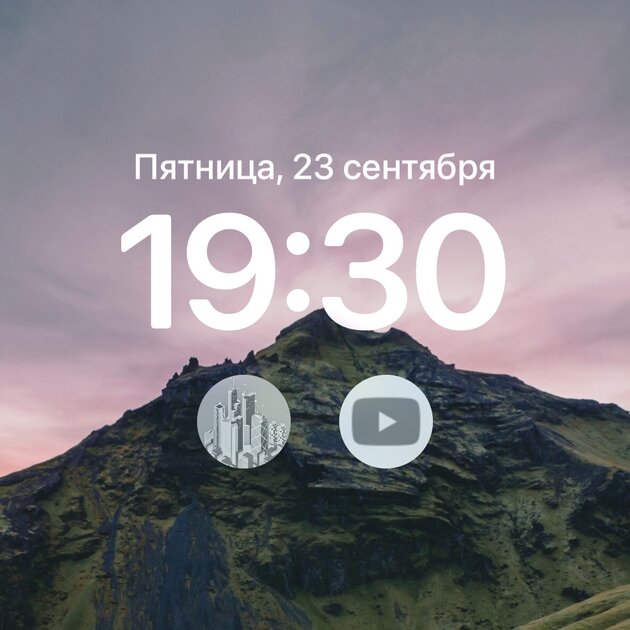 Lock Screen 16 is the second most functional and stable app I've tested for review. The Lock Screen 16 Arsenal includes the complete set at our request: it is possible to create up to four contacts and up to four application shortcuts, that is, exactly as many as the block of lock screen widgets contains in a single version. Among other things, it supports the creation of a widget with a link (it will open any website from the lock screen), which can be quite convenient for some. In the same place, there are just different symbols to choose from, for example, a motivational phrase or a set of emojis according to mood.
The list of supported applications is limited to Apple branded services, Google services, popular social networks and photo editors. Adding any application from those installed on the iPhone will not work. Ready-made widgets cannot be changed in Lock Screen 16 either. Otherwise, in the context of its capabilities, it works flawlessly.
Note: the name of the widgets created in Lock Screen 16 is not required, it will not be displayed in the final design.
How to create a contact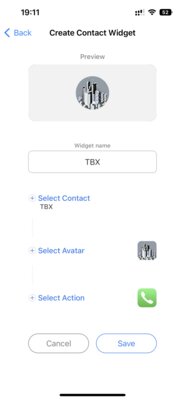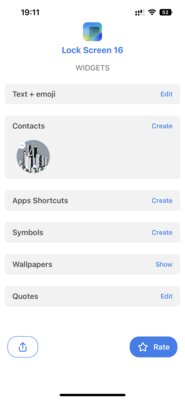 Launch the Lock Screen 16 app.
In the "Contacts" category, click "Create" in the upper right corner.
Select a phone book contact, photo, and tap action (call, message, or FaceTime).
Click "Save".
How to create an app shortcut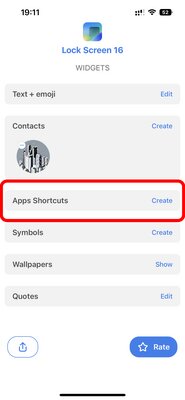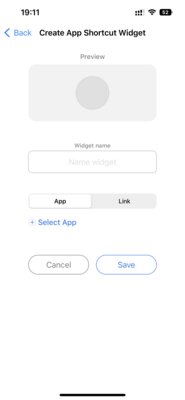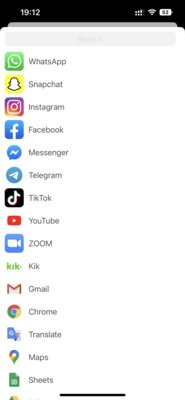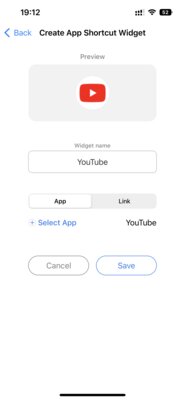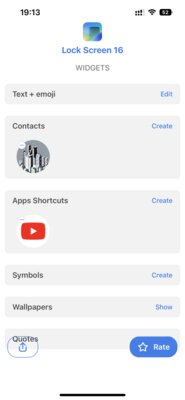 Launch the Lock Screen 16 app.
In the "Apps Shortcuts" category, click "Create" in the top right corner.
Under the "App" button, click "Select App". Select the desired application from the list.
Click "Save".
Option 3 – Pretty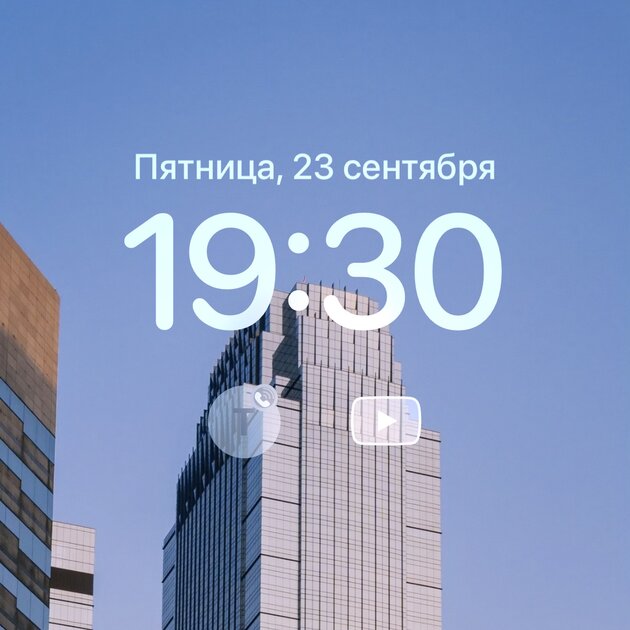 I stumbled upon Pretty by accident while searching. The application is presented in the selection for informational purposes. Unlike LockWidget and Lock Screen 16, Pretty's functionality is highly questionable. The user is allowed to activate only one widget within the category – one contact or one application (when changing the selection, the previous widget itself is replaced by a new one). Settings are not supported in principle: neither set a photo for a contact, nor choose an icon style, literally nothing. The Pretty interface is difficult to describe – to put it mildly, it leaves much to be desired.
The list of compatible applications in Pretty is minimal in the maximum sense. At your disposal are the main social networks and instant messengers, several Google services, Netflix, Pinterest, Discord, Firefox and Reddit. Of course, you can't choose from those installed on the iPhone. With contacts in general, a sad story: a call and no more. The developers did not add options in the form of a message, mail, FaceTime, WhatsApp and Telegram. It is not clear how Pretty works – it will not show a notification about the successful creation of the widget, the selected contact disappears immediately after setting (however, the widget is saved), the contact widget itself is unpredictable (it may not be updated, it is displayed terribly on the lock screen, almost imperceptibly and without a signature, although when previewing it there is).
In general, Pretty copes with the task, but partially and badly. The service is clearly released in haste – a lot of imperfections and a huge gap from analogues. Definitely do not recommend.
How to create a contact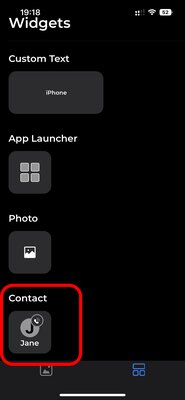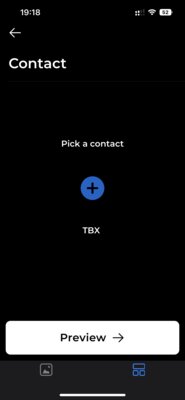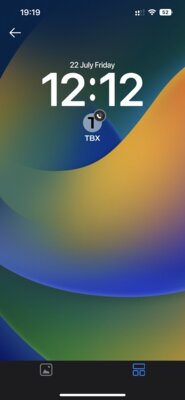 Launch the Pretty app.
Click the button under the "Contact" heading.
Press "+" and select a contact from the phone book.
How to create an app shortcut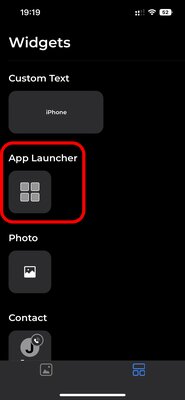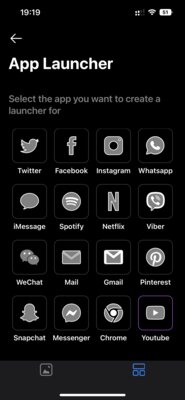 Launch the Pretty app.
Click the button under the "App Launcher" heading.
Select the desired application from the list.
Source: Trash Box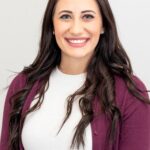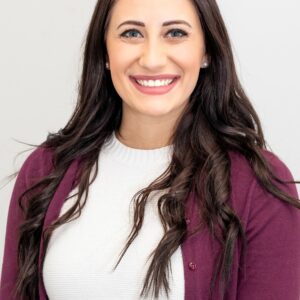 Johanna Foster is an expert opinion writer with over 7 years of experience. She has a reputation for delivering insightful and thought-provoking articles on a variety of subjects. Her work can be found on some of the top online news websites, and she is currently lending her voice to the world stock market.