- Article Top Advertisement -
Summer, time to book holidays. Perhaps a flight to return abroad, or still in Italy but in a distant destination from one's home, after these complicated years. Too bad after the first flight searches for some routes the prices start to rise. The sites indeed they track and store a large number of parameters according to which the algorithm of dynamic pricing it always shows us different rates, even if only slightly. The search frequency, the currency used, the place from which you connect, the type of device. And again: the type of search, the use of Wi-Fi networks, the time of the flight search session and many other elements. These are all ingredients that sites, through cookies and more, are able to collect and exploit to "make the final price" proposed to the user.
It is therefore natural to consider the idea of use a VPNthat is, one Virual Private Network, a software that protects online privacy by hiding your traffic and your location. At the same time it can also be used for many other purposes, such as fast and safe browsing and more. From the point of view of an airline booking, you can take advantage of obscuring the real IP address of your device, by geolocating yourself elsewhere: one of the most effective methods for finding the most convenient flights. Simply with less information available, or with geolocation from a country where the currency has a lower purchasing power than the one in which you reside, the airline platforms but also those of comparison and flight booking sometimes they will show lower figures. A VPN mask the actual IP address and allows you to change your location to another location in the world. For example, it is particularly useful for the booking of domestic flights in a certain country, conveying the traffic through hubs located in that territory.
- Article Inline Advertisement 1-
Therefore, in addition to using a VPN e disable the cookies of your browser (i.e. browsing in anonymous or incognito modebut soon the cookies will also be greatly resized), another trick to save on flight fares can certainly be to use the international version of a site, and not the national one which is usually addressed by default. There are many VPNs, ExpressVpn And NordVpn they are the best known, both free and paid or partially free (but watch out, many do not keep what they promise). Especially on domestic flights or very expensive flights it is worth a try to see if it really works.
Other stories of Vanity Fair that may interest you
12 ways to defend against spy apps
8 tips to keep hackers out of our office
Source: Vanity Fair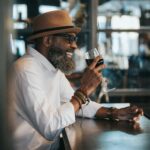 - Article Bottom Advertisement -