A ruckus has been created with the new photos and videos released online and they show Hunter Biden, his son president of the USAgoing down a water slide naked and partying with prostitutes.
More specifically, according to Daily Mailthe videos show Hunter crossing the lawn of a luxury Airbnb worth $4,140 per night in the Malibustripping naked and sliding down a waterslide in the property's pool.
Other images show him doing group sex and yes he has fun with prostitutes in the jacuzzi of his luxury rental home in 2018.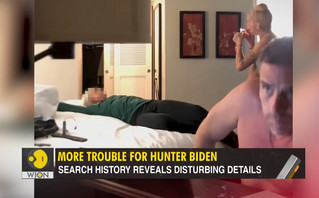 A copy of one of the videos, which shows Hunter riding the bike and ending up on the water slide, was shared on social media on July.
The video was claimed to be from a batch of material posted on the controversial 4chan chatroom, which allegedly resulted from a hack into Hunter's iCloud account.
However, the hacking reports were not verified and DailyMail.com found the same content contained on Hunter's abandoned laptop.
Source: News Beast