After several years of modest growth, semiconductor suppliers have been stunned by the surge in demand for automotive ICs in 2021. There was a shortage, because of which, in some cases, manufacturers had to stop the production of cars.
The vast majority of explanations for the shortages revolve around the fact that in March 2020, in the very early stages of the Covid-19 pandemic, demand for cars around the world plummeted, automakers began closing factories and stopped ordering chips from their suppliers. While this was happening, there was a surge in demand for smartphones, TVs, computers, game consoles, and home appliances. As a result, semiconductor suppliers have shifted their production capacity from automotive chips to chips for other products that are in higher demand.
When automakers returned to work in the second half of 2020, they found semiconductor suppliers unable to keep up with renewed demand. As a result, there was a deficit.
Analysts at IC Insights believe that the above scenario is not the main reason for the chip shortage still felt by the automotive industry. In their opinion, the real reason for the shortage lies in the sharp increase in demand for them in 2021, and not the inability of suppliers to increase production. In fact, suppliers shipped 30% more chips to the automotive industry in 2021 compared to 2020. This is much more than the 22% increase in total chip shipments last year. Moreover, 27% more chips were shipped to the automotive sector in 2021 compared to pre-pandemic 2019.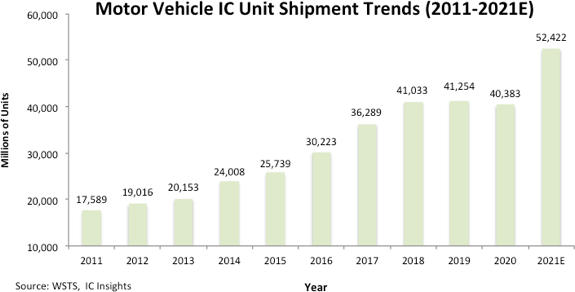 The jump in automotive chip shipments in 2021 was the highest since 2011, easily surpassing the 20% growth recorded in 2017. Analysts note that total global shipments of chips in 2021 (394 billion pieces) were about twice as large as in 2011 (194 billion).
According to IC Insights, when the demand for microchips changes in steps, as happened in the automotive industry in 2021, there will inevitably be a temporary mismatch in the supply and demand situation, which in fact caused the shortage.