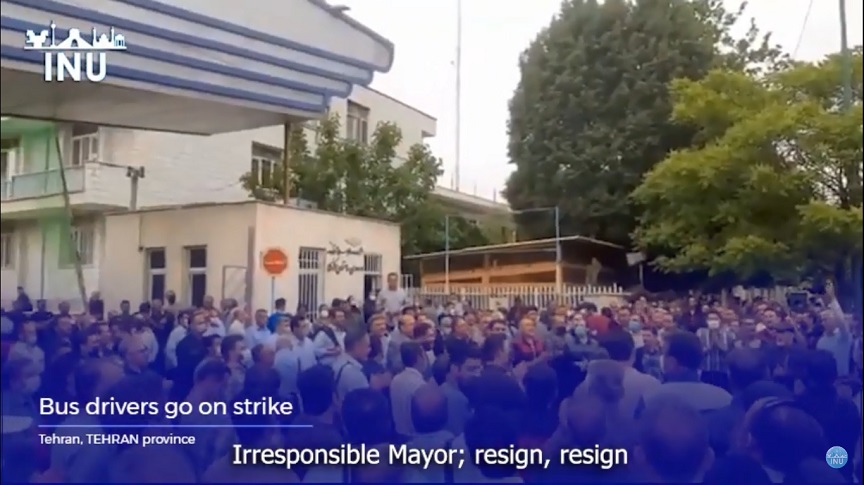 Bus drivers who demonstrated in Tehran for the second consecutive day demanding an increase in their salaries, were arrested, local media reported on Tuesday (17/5),
"Bus drivers were detained (on Monday) during a rally in front of the headquarters of the Tehran Transport Company", said Mohsen Bagheri, head of the company cited by the Ilna news agency. "And other drivers were arrested during the demonstration "yesterday in its capital Iran.
Bagheri did not say why the bus drivers were arrested, nor did he specify their number, hoping they would be released soon. "Employees do not want anything illegal, they only demand a legal increase in wages"he added.
The Shargh reformist newspaper wrote on Twitter on Monday about a demonstration by dozens of bus drivers on strike in Tehran. complaining of non-compliance with the decision of the Higher Employment Council, demanding a 10% increase in salaries.
They chanted slogans against Tehran Mayor Alireza Zakani, accusing him of "incompetence" and demanding his resignation.according to a video released by Shargh.
On Tuesday (17/5), buses were on the streets of Tehran, according to journalists of the French Agency who were at the scene, but who did not know if the strike was continuing.
The mayor of Tehran met with a group of bus drivers on Monday and assured that a committee would consider raising wages, according to the official Irna news agency.
The Iranian economy is suffering from heavy US sanctions. Inflation is around 40% according to official data.
The government announced a series of measures on May 9thsuch as the abolition of subsidies for flour and the increase in prices of certain foodstuffs such as oil and dairy products.
Following this decision, hundreds of people protested in the country to denounce the increase in basic food prices.according to Irna, who spoke of 20 arrests.
On Saturday, an Iranian MP close to trade unions, o Ahmad Awai confirmed that one person had been killed during the protests without specifying when or the exact circumstances of his death.
In recent years, many demonstrations have taken place in Iran demanding better living conditions. Among them stand out the mobilizations of November 2019, after an increase in fuel prices.
Authorities say 230 people have been killed in violence in connection with the protests. Experts working for the UN put the death toll at 400.
Source: News Beast