Chrome OS Flex allows you to literally breathe new life into a technically outdated computer or even a ten-year-old MacBook. Cloud-based, Google's new operating system offers surprisingly fast performance on low-end hardware, and it's extremely easy to install – the process only takes about 30 minutes to create a bootable USB drive. And at first glance, you might think that Chrome OS (the operating system on Chromebooks) and Chrome OS Flex are the same, but in fact, this is far from the case. The design is largely identical, the code base too, and right down to support for the Google Assistant. At the same time, however, there are plenty of different nuances that create a colossal gulf between the two platforms.
I installed Chrome OS Flex on my Dell Inspiron 3521 (2012) experiment laptop, which has been gathering dust in a closet for almost 5 years now. I have a budget model on a dual-core Intel Core i3 (3217U), with an Intel HD Graphics 4000 video card and double the amount of RAM (8 GB), I upgraded the HDD drive to a 128 GB SSD. The last time the "old man" puffed with difficulty on the alpha assembly of Windows 11. It turned out to be extremely curious.
To the point: Step-by-step instructions on how to install Chrome OS Flex – a lightweight and fast OS from Google
Interface – Android with rounded corners in PC format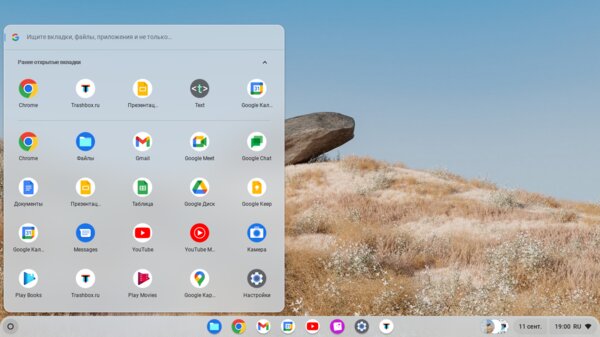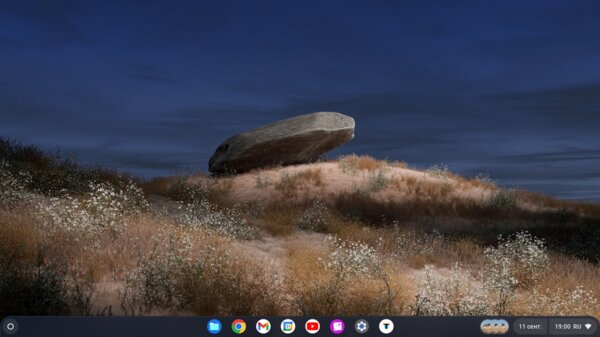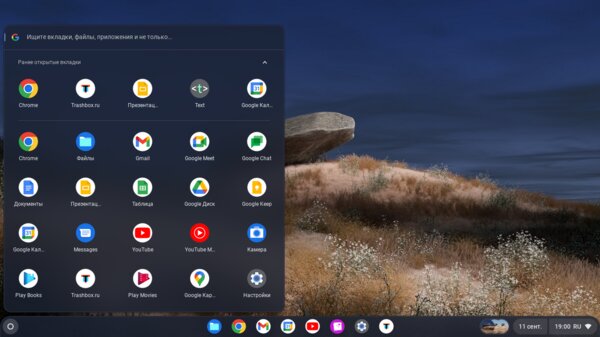 The Chrome OS Flex interface is accessible and intuitive. The structure of the working environment and the main controls look minimalistic in a good way. To a certain extent, the design repeats familiar solutions known from Windows, macOS and, of course, Android. For example, here is exactly the same taskbar with icons of pinned and running applications in the center, its own analogue of the Start menu and the long-familiar quick settings with round buttons and built-in notifications. All icons and most of the software components are symmetrical and made in a round shape. The style of notifications is generally completely borrowed from Android.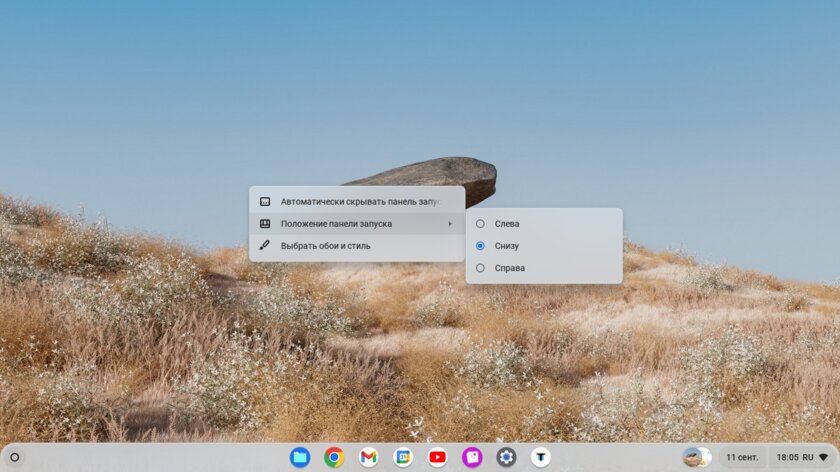 The standard desktop in Chrome OS Flex is available, however, in the context of functionality, it is completely useless, since it is not used by the system in any way. You cannot drag app shortcuts, folders, or any files onto it, as is done in Windows and macOS. From the simplest – except to change the wallpaper in a couple of clicks from the menu called by pressing the right mouse button. The launcher is fixed at the bottom by default, you can also move it to a vertical position on the left or right edge of the screen. For some reason, the placement option from above was not taken into account. Surprisingly, there is an automatic minimization of the launcher: in this case, it is instantly hidden when you open any application.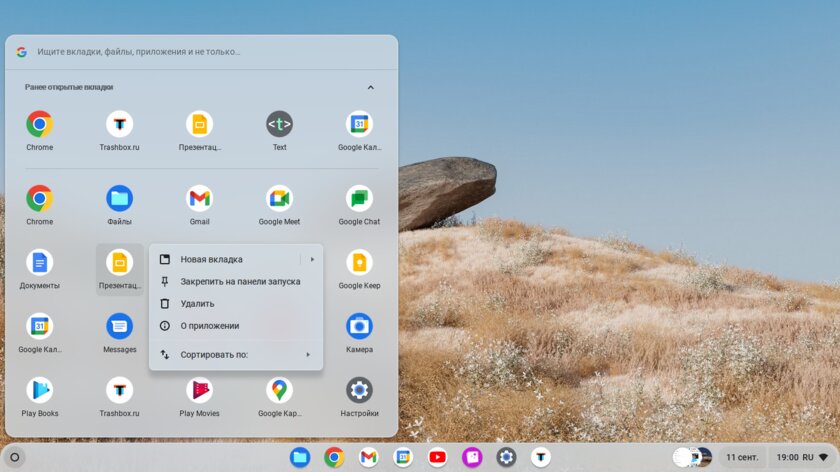 The application menu has been simplified as much as possible and opens as a pop-up window on the left (previously, Chrome OS Flex had a less logical full-screen option in the style of Launchpad from Mac). It contains only the labels themselves, recommendations based on frequently used ones (listed separately at the top) and a search string. Search, in addition to installed applications, allows you to find files on your computer and in the Google Drive cloud, open specific settings and execute queries immediately with Internet access. The icon grid is editable – the default is 5 icons wide, but you can arrange them in a comfortable order. There is no automatic sorting by color, type or category. If you need to immediately get into the application settings or delete it, the launcher has the appropriate options.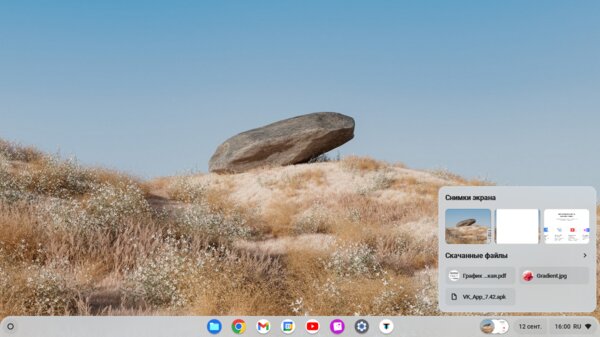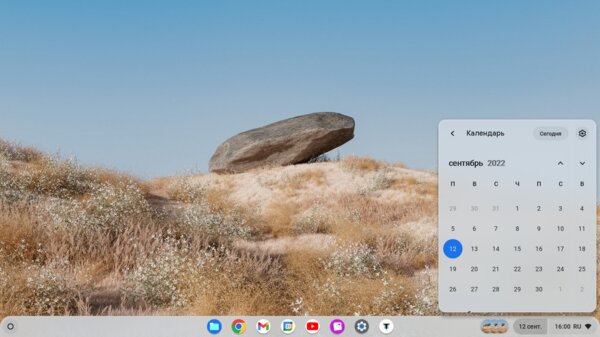 A separate panel appears next to the calendar with downloads, screenshots, and other recent activities. Comfortable
In the lower right corner of the desktop is a calendar combined with quick settings. There you'll find Wi-Fi and Bluetooth connection controls, volume and brightness controls, Do Not Disturb mode for notifications, night light and a dark theme – everything is set up in a couple of clicks. Among other things, there are tools for instantly starting screen recording, transferring content to nearby devices using the "Sharing with the environment" technology (Nearby Share), locking the computer, shutting down and changing user. The panel can also shrink: in a compact form, only the first five buttons remain, but there is additional space for displaying notifications. The size is remembered, so the setting will be very useful for laptops with a diagonal of up to 15 inches.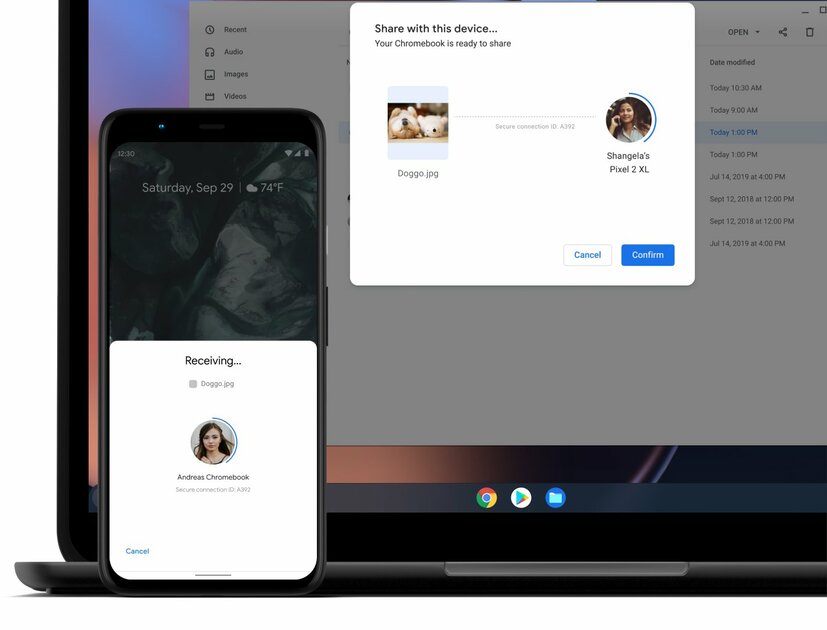 The technology of direct connection of an Android smartphone to a computer deserves special mention. The Chrome OS Flex interface integrates mobile notifications, SMS messages, recent photos taken, and a battery indicator of the paired device. The user opens up more convenient file sharing, synchronization of recent tabs in Chrome, an automatic Wi-Fi hotspot and a Smart Lock label for self-unlocking the OS when the smartphone is nearby. To work correctly, you need one account on your smartphone and Chrome OS Flex and activated Bluetooth on both sides. Depending on the model and version of Android, the functions may differ.
Pitfalls: the system is different even from the original Chrome OS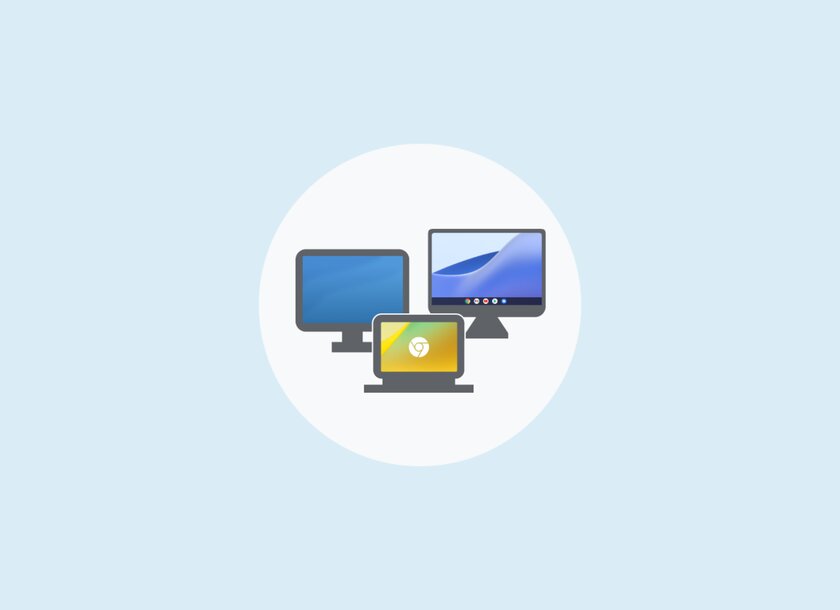 Chrome OS and Chrome OS Flex are very different products
If you are going to install Chrome OS Flex and use it on a permanent basis, then you should definitely pay attention to several factors that can immediately change your mind. The fact is that Chrome OS Flex is a kind of offshoot from the full-fledged edition of Chrome OS, where many delicate aspects are cut down on the software side. Actually, let's talk about the pitfalls, tangible and significant.
No support for Google Play and Android. Yes, the main and, perhaps, immensely frustrating drawback of Chrome OS Flex is that the system initially does not know how to work with Android applications. At your disposal is only a proprietary set of Google services and web applications that function primarily from an Internet connection. The Google Play store is not offered among them, unfortunately.
Forget virtual machines. On a computer running Chrome OS Flex, you won't be able to run, for example, Windows through Parallels Desktop virtualization, as you can in a full-fledged Chrome OS. In addition, please note that Chrome OS Flex is installed on the hard drive alone, completely erasing all existing data from it (even the bootloader entry), and is not compatible with dual boot mode.
BIOS/UEFI does not update automatically. Unlike the original Chrome OS, computers running Chrome OS Flex on board cannot manage and automatically update the BIOS/UEFI firmware at certain times. Instead, the OS is designed with its own updates with innovations, security improvements, and bug fixes. They come out about every 2-4 weeks and weigh between 50 MB and 1,000 MB.
Rejection of some equipment and ports. Computer hardware features available on Windows, macOS, and Linux may become unstable or not work at all on Chrome OS Flex. According to Google's listing, the company does not test or support CD/DVD drives, fingerprint scanners, FireWire ports, infrared and facial recognition cameras, proprietary connectors and docking stations, styluses, and the Thunderbolt data transfer standard. USB-C and mini-DisplayPort can function as USB 3/4 and DisplayPort respectively, but without Thunderbolt performance, even if it is available.
What's with the apps and how Chrome OS Flex is set up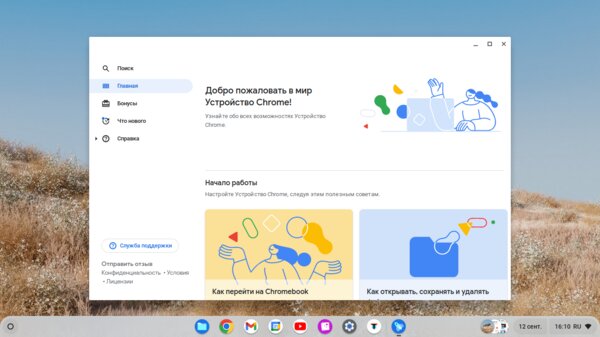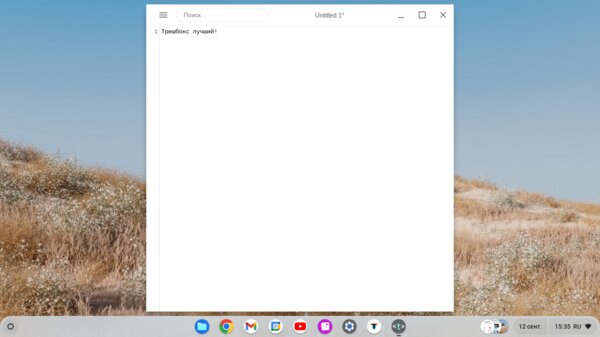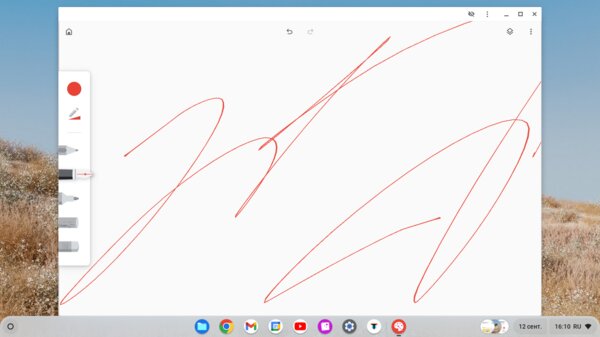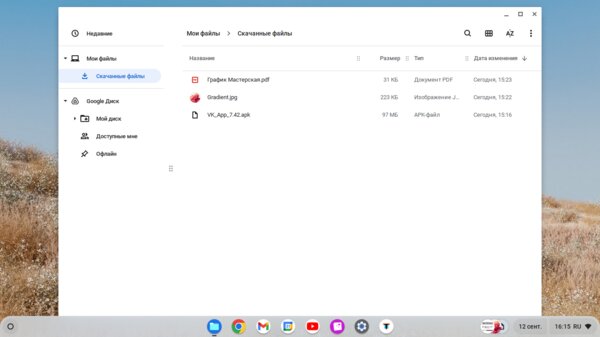 The fundamental interoperability in the Chrome OS Flex concept is provided by the Chrome browser. Key applications stem from it, as they are completely web-based. At the same time, the distribution kit has a solid set: the Gmail mail client, the office suite (Documents, Spreadsheets, Presentations), Messages, Google Calendar, Google Drive, Google Maps, Google Keep, YouTube, YouTube Music, Google Meet, Google Chat, Play Books and Play Movies. As part of specially designed native services – a file manager, a gallery with a video editor and a PDF editor, a calculator, a webcam, a screencast recording, a terminal and a drawing tool.
In general, I can say with confidence that Chrome OS Flex is far from being as flawed as it seems from the impressions of its modest description. The OS includes such things as SSH and VPN clients, an optimal text editor, a print service, a document scanning option, a ZIP archiver, tools for assessing the current state of the system and diagnosing hardware. Well, Google has taken care of having a Linux development environment. In general, there is definitely something to roam with. If anything, the Chrome Web Store will help expand the arsenal of software – today there are about 150 thousand all kinds of projects, including games.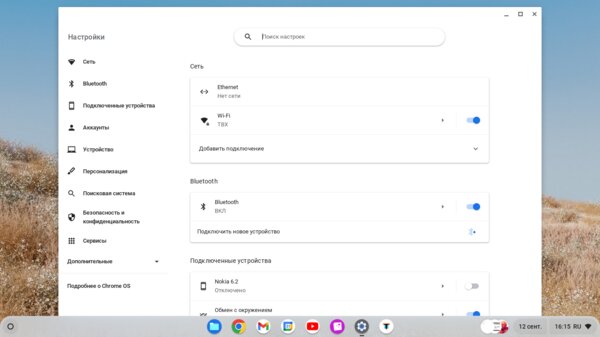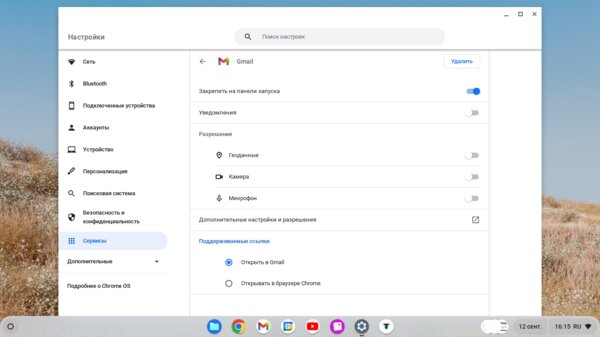 There is nothing complicated in the Chrome OS Flex settings. They resemble the same Chrome browser: a list of sections on the left side, visual division into blocks, search – on top. A network connection (wireless or Ethernet), peripheral gadgets (smartphones, printers, accessories), services are configured individually (permissions, notifications), up to the search engine (Google quietly changes to Yandex or any other provider, it is registered manually). The Device category provides settings specific to your computer, such as keyboard, display, storage, and power.
Negative sides – there are many of them, and they are critical
I'll go through in order and briefly.
First, despite its speed and affordability, Chrome OS Flex's minimum system requirements are relatively high considering compatibility with truly ancient PCs. Google recommends using an x64 processor, an SSD, and at least 4GB of RAM.
Secondly, there are few native applications in Chrome OS Flex (only a small number of Google web services can work similarly offline).
Thirdly, depending on the "age" of the computer, Bluetooth, Google Assistant, other components may break down, or drivers may not be installed correctly (it's unfortunate that the voice assistant did not start on my tested laptop for unknown reasons).
Fourth, a fat minus: due to the cloud philosophy, the OS is almost of no use without the Internet. As part of the offline, a calendar will be released to see, draw, and write a text.
What is the result: minimalism as a price for performance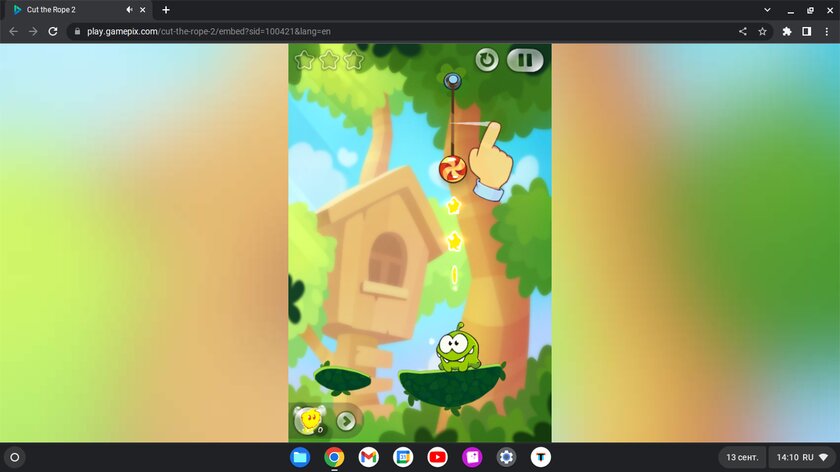 Online games have not been canceled, and on Chrome OS Flex they, of course, are also "played". But be prepared for greetings from the past
Absolutely indisputable: Chrome OS Flex is remembered and causes positive emotions due to two things – the smoothness of the interface and the almost instantaneous, clear response to user actions. Windows 11 on such hardware does not look like the ideal of optimizations and does not differ in such agility. On the contrary, you can not avoid slowdowns here and there, delays when switching between windows and heavier interaction, if we talk in total. In Chrome OS Flex, the Chrome browser alone is worth it: it launches itself incredibly fast, definitely much faster than even if there was even Windows 7 or a lightweight Linux distribution. Add quite a nice modern appearance and everything you need for basic tasks.
Documents, transferring files from the cloud and back, working with drives, watching videos, surfing the Internet, chatting and conferences, parental controls – Chrome OS Flex is enough to cover most of the usual needs.
Source: Trash Box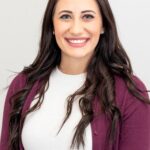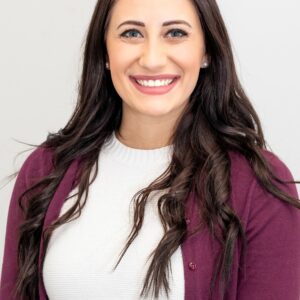 I work as a author at World Stock Market and have been with the company for over 2 years. I am also an expert in the stock market, having worked in it for over 7 years. My current focus is on financial analysis and providing advice to readers.