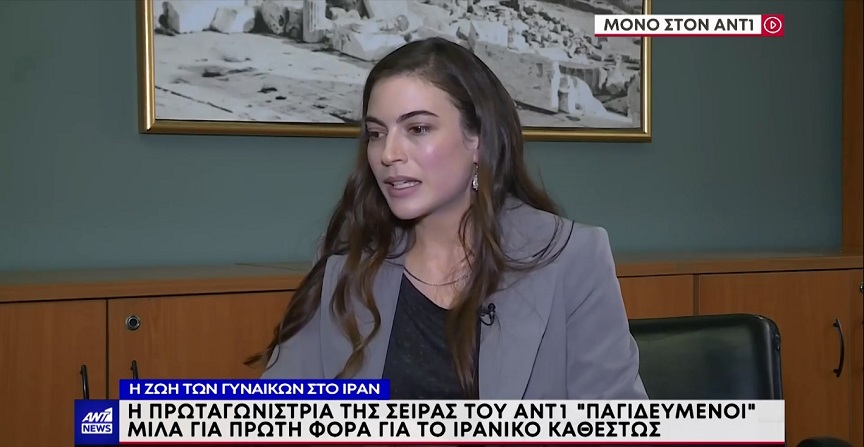 The protagonist of the series "trapped" – which is a great success and was loved by the audience from the very first episode of its projection – Martha Lampiri Fedorov spoke on the main news bulletin of ANT1 with Nikos Hatzinikolaou on Wednesday night (28/9).
The charming actress described her own experience in Iran when she lived there for 7 months to film a period series for Iranian state television. Describe to ANT1 the long and silent "revolution" of women in the country.
In particular, Martha Lambiri Fedorov confessed that "The world is terribly open, warm, welcoming. They are probably the most hospitable people I have ever met in my life and I have traveled a lot in my life. They are all very open, very giving, kind. They are very interested in learning about us, about Greece and we have a lot in common. From the smallest to the largest. Behaviors, everyday words that we don't know are Persian…. It felt like my second home. It became my home. They welcomed me with love and warmth».
The people as a people is not the oppression we see and hear and happen. It is the regime …. Yes and how everyone uses it", describes Iranian society.
Martha Lampiri-Fedorov maintains relations with Iranians and her Iranian colleagues, with whom she communicates by phone since the regime bans Social Media outright.
He added: "The women themselves are very strong, very strong characters, tremendously studied and educated. their word counts in their family and they take places in the surroundings as much as they can. But again there are too many limitations. Too many. I would face a lot of difficulties if I stayed there permanently."
While she then described her own experience with the headscarf: "On the first day of filming I went to the bathroom and I was at the sink, I was washing my hands and I had taken off my headscarf for a while. A little girl entered the toilet and was shocked to see me without a tthe headscarf. He rolled his eyes, started talking to me, but I still wasn't used to the language and I didn't understand what he was saying. He started pulling my hair to show me that I should put on my scarfMartha Lambiri Fedorov also added to the main news bulletin of ANT1 with Nikos Hatzinikolaou.
"Tehran will say, it is a big city, there are people who have a financial comfort. There the headscarves were moved back a few millimeters every year. In the poorer suburbs of the city you see that there is a stronger religious fanaticism and attachment to what the government says.
They demand equality and freedom of thought and choice and the right to life and self-management of existence. My friends that I spoke to on the phone told me that they are fine and to pray for them. It's finally time to be free to choose what we want to wear and how to dress and not kill people.
I think this is the main message of the Iranian people right now, they are not afraid, they are out fighting, they fight very bravely and are not afraid. I admire them and I am with them».
The "shadow" of control and the so-called morality police of Iran is omnipresent, as the actress describes.
"I went prepared to follow the rules, I also had to wear my headscarf, my manto which is like a long cardigan that covers the body.
When I used to go to a religious woman's house, ex' choice alone I didn't make the guessila as a sign of respect to her. And that's the point. To respect everyone's choices. Women who want to wear the mantiyou tell them to wear them even those who don't want to be killed.
One day I went to check out of my hotel wearing only my turban without covering my neck and receptionif gave me a card. I tell him there's no need and he told me that if I face a problem they should call the hotel and tell them I'm a tourist."
The shooting of the series that has not yet been shown on television receivers continues in Iran with the participation of Martha Lambiri Fedoruf and Panagiotis Bougiouris, Nikos Poursanidis, Manos Pintzis, and Yiannis Spaliaras.
Source: News Beast