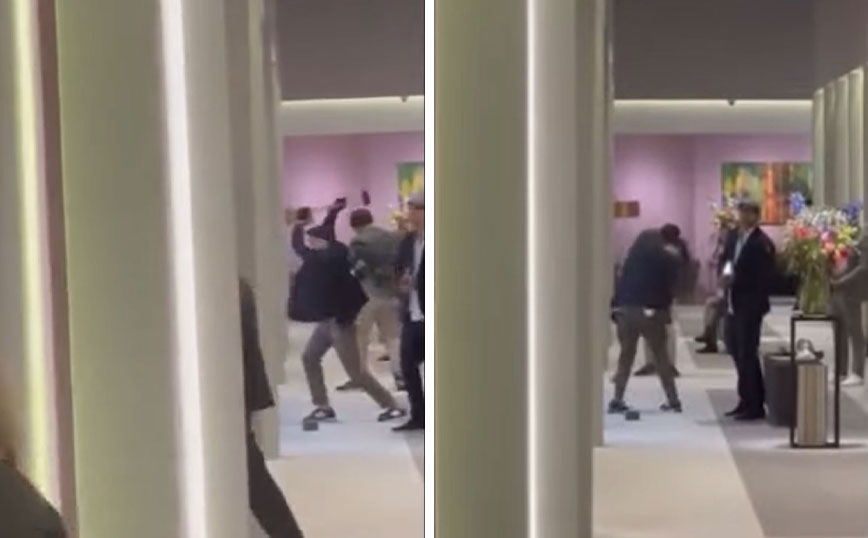 A cinematic robbery occurred in Maastricht Ολλανδίαςwhere one of the largest art exhibitions in the world is taking place, as a group of four robbers, entered undisturbed wearing a suit, approached the window of a jewelry store and in the world took out a sledgehammer, broke the protective glass, snatched the jewelry and they started running.
According to Agence France-Presse, police said they had arrested two of the four suspects and were pursuing the others. Due to the robbery its visitors TEFAF (European Exhibition of Fine Arts) they left the area in fear.
In fact, a stunning video posted on social media shows the four men, dressed in helmets, elegant clothes and sunglasses, smashing a TEFAF window and threatening the crowd by holding what looks like a pistol.
"No one was injured," said police in the Dutch province of Limburg.
Police forces blocked the streets near the exhibition as well as an important tunnel, as soon as they were informed of the robbery. «Police investigations, which began shortly after the robbery, led to two arrests", Announced the authorities.
According to Dutch media, the window broken by the robbers contained jewelry with diamonds and other valuables of the well-known London jewelry store Symbolic and Chase.
TEFAF is one of the largest exhibitions of works of art and antiquities in the world and attracts thousands of visitors. It has been running for 30 years and this year it returned to Maastricht as it had not happened in previous years due to the Covid-19 pandemic.
How the robbery took place
The footage posted on social media sites shows the four perpetrators amid the chaos they caused in the exhibition. One of them breaks the jewelry window, hitting the glass at least 12 times while the alarm sounds. Two men threaten with pistols a man who seems to have tried to stop them, armed with a large… vase of flowers. Eventually, he was forced to retreat in the face of the threat.
According to what was broadcast by the Athenian News Agency, a bat man finally managed to break the glass and put his hand inside to get what he could. After putting his booty in a backpack, the perpetrators ran away, passing in front of an elderly man, who, stunned, sat on a bench throughout the events.
The Dutch media call the perpetrators "Peaky Blinders" because the helmets they wore are reminiscent of those worn by the British gang of the eponymous television series.
TEFAF hosts hundreds of works of art, including a 17th-century painting worth one million euros. This is not the first time the report has been targeted by robbers. In 2011, a diamond and a diamond necklace, worth 860,000 euros, were stolen from a London jeweler.
Source: News Beast