- Article Top Advertisement -
Smoking, alcohol consumption, high body mass index (BMI) and other known risk factors account for nearly 4.45 million deaths. global cancer deaths . This is what new research published in the scientific journal lancetwith data from the 2019 Global Burden of Diseases (GBD) study.
The new study indicates that global cancer deaths due to risk factors increased by about 20.4% from 2010 to 2019 and differed considerably based on the level of development of countries.
- Article Inline Advertisement 1-
The analysis estimates how a comprehensive list of risk factors contributes to cancer deaths and ill health worldwide, with regional and national cross-sections, across all age groups, for both sexes and over time.
Cancer is the second leading cause of death worldwide after cardiovascular disease. However, most studies look at single risk factors globally or multiple risk factors in specific countries.
"This study illustrates that the cancer burden remains an important public health challenge that is growing in magnitude worldwide. Tobacco use remains the leading risk factor for cancer worldwide, with other substantial contributors to the cancer burden varying," says Christopher Murray, director of the Institute for Health Metrics and Assessment (IHME) at University of Washington School of Medicine, one of the study's authors.
Using data from the GBD 2019 study, the researchers analyzed how 34 risk factors behavioral, metabolic, environmental and occupational factors have contributed to deaths and ill health due to 23 types of cancer that year. In addition, changes in cancer burden between 2010 and 2019 due to risk factors were also evaluated.
Cancer burden estimates were based on mortality and the "disability-adjusted life years lost" (DALYs) indicator, a measure of years of life lost due to early death and years lived with disability due to impairments caused by cancer. illness.
Tobacco and alcohol use, unprotected sex, dietary risks and other behavioral factors accounted for the vast majority of the world's cancer burden, accounting for 3.7 million deaths and 87.8 million years lost to disability in 2019. .
According to the study, nearly 2.88 million deaths in men (50.6% of all male cancer deaths) can be attributed to the risk factors studied, compared to 1.58 million deaths in women (36 .3% of all female cancer deaths).
Worldwide, the top risk factors for cancer deaths and ill health for both sexes were smoking, followed by alcohol use and high BMI.
The leading cause of risk-attributable cancer death for men and women worldwide was trachea, bronchial, and lung cancer, which accounted for 36.9% of all cancer deaths attributable to risk factors.
Next, colon and rectal cancer (13.3%), esophageal cancer (9.7%) and stomach cancer (6.6%) in men, and cervical cancer (17.9%) appear. , colon and rectal cancer (15.8%) and breast cancer (11%) in women.
The researchers found differences in men and women in two main categories: behavioral risks and environmental and occupational risks.
With behavioral risks, men (33.2%) had nearly four times the cancer disability-adjusted life years lost attributable to smoking compared to women (8.9%). For alcohol consumption, men (7.4%) had more than three times of disability from cancer than women (2.3%).
The assessment of environmental and occupational risks revealed that cancer-attributable disability was three times higher among men (3.9%) than among women (1.3%), suggesting that men may be more likely than women to work in places with a higher risk of exposure to carcinogens.
The study points out that health problems attributed to environmental and occupational, behavioral and metabolic risk factors increased with age, reaching a peak at 70 years, depending on the countries' development index.
In 2019, cancer deaths (25.4%) and cancer deaths attributable to risk factors (26.5%) occurred disproportionately in high-development countries, even though these countries accounted for only 13.1% of the population. global.
According to the survey, the five regions with the highest cancer mortality rates due to risk factors were Central Europe (82 deaths per 100,000 population), East Asia (69.8 per 100,000), high-income North America (66, 0 per 100,000), Southern Latin America (64.2 per 100,000 population) and Western Europe (63.8 per 100,000). In addition, patterns of cancer deaths and ill health due to environmental and occupational, behavioral and metabolic hazards differ across the world.
Between 2010 and 2019, the cancer deaths due to risk factors increased by 20.4% worldwide, from 3.7 million to 4.45 millions. Health problems due to cancer – measured in time of disability, increased by 16.8% over the same period, from 89.9 million to 105 million years of life lost.
Metabolic risks accounted for the largest percentage increase in cancer deaths and ill health, with deaths increasing by 34.7% (643,000 deaths in 2010 to 865,000 in 2019).
The authors argue that the findings can help policymakers and researchers identify key risk factors that can be modified in order to reduce cancer deaths and ill health.
"Policy efforts to reduce exposure to cancer risk factors at the population level are important and should be part of comprehensive cancer control strategies that also support early diagnosis and effective treatment," says Lisa Force, assistant professor at IHME Health Metrics Science at the University of Washington School of Medicine.
Lifestyle changes
At least 30% of all cancers can be prevented with lifestyle changes according to the National Cancer Institute (Inca).
"At least 12 types of cancer can be prevented with healthy eating, regular physical activity and reduced consumption of processed meats and alcoholic beverages," says Bruna Pitasi, from the Inca Prevention and Surveillance Coordination.
Prioritizing the consumption of natural foods, maintaining the ideal weight according to age and height and including at least 150 minutes of physical activity per week are some of the strategies to prevent cancer.
For the prevention of cancer, the Inca guides that, throughout life, the population maintains body weight within the recommended limits of body mass index (BMI).
One of the main ways to assess whether body weight is proportional to height is by calculating BMI, dividing weight by height squared (height x height). Adult body weight is adequate when the BMI varies between 18.5 and 24.9 kg/m².
Healthy choices in everyday life contribute to cancer prevention. Valuing home-cooked meals and the practice of cooking can encourage the consumption of more fresh and minimally processed foods.
Alcohol consumption is a causal factor in more than 200 illnesses and injuries, according to the Pan American Health Organization (PAHO).
Drinking alcohol is also associated with a risk of developing health problems such as mental and behavioral disorders, including alcohol dependence, serious non-communicable diseases such as liver cirrhosis, some cancers, and cardiovascular disease, as well as resulting injuries. of violence and traffic accidents.
Avoiding or reducing the consumption of alcoholic beverages also contributes to cancer prevention, according to Inca.
Physical activity
The health benefits of physical activities include increased muscle strength, improved quality of sleep and conditioning, and lower cholesterol and triglycerides, as well as increased well-being and mental health gains.
For cancer prevention, Inca recommends the inclusion of physical exercise as part of the daily routine, limiting sedentary habits, such as spending a lot of time watching television and using the cell phone or computer.
The World Health Organization (WHO) recommends a minimum of 150 to 300 minutes of aerobic activity per week for healthy adults and an average of 60 minutes per day for children and adolescents.
Aerobic exercise, such as walking, running, cycling, and swimming, can have heart health benefits. The list also includes modalities such as surfing, skateboarding and dancing, as well as training involving going up and down stairs and jumping rope.
Source: CNN Brasil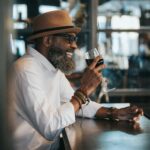 - Article Bottom Advertisement -