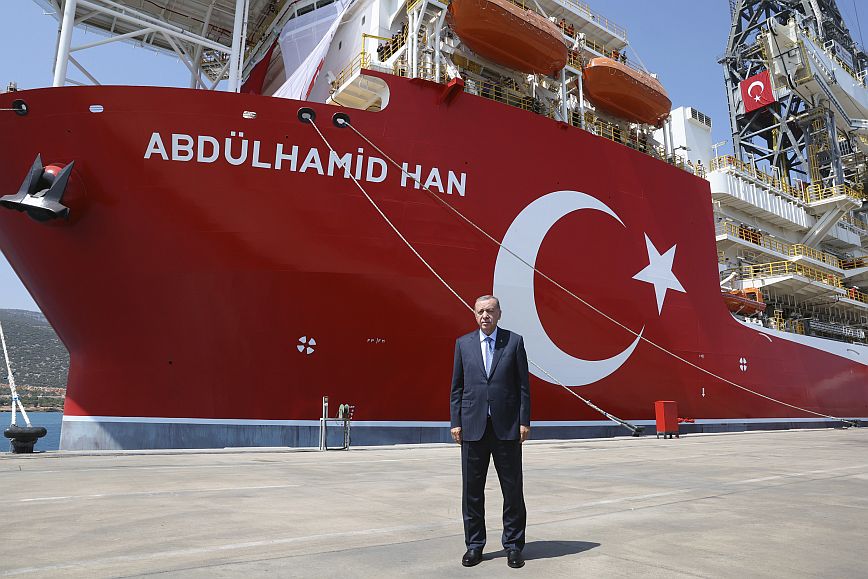 Full of provocative references to the Blue homeland is a video of about seven minutes, dedicated to drilling rig "Abdulhamid Khan" who sailed in the previous days for the Eastern Mediterranean.
In the video published by the Turkish channel TRT Haber, images from the inside of the ship are shown, while it is stated that "It consists of a total of 9 floors and is of the 7th generation. Abdulhamid Khan, one of the top 5 vessels in the world, has the ability to drill to a depth of 12,200 meters. The giant ship's first duty station was the Yorukler-1 well in the Eastern Mediterranean. Since 2013 the fleet has been strengthened. 80 shallow and deep sea wells were drilled. "X-rays" were taken in the area of ​​the Blue Homeland.
Also in the video, Turkey's Energy Minister, Fatih Donmez, notes that "the drilling rig has not been sent to "disputed areas", while accusing Greece and Cyprus of "illegal claims". "Turkey protects the territorial waters of the homeland in the region, but also at the negotiating table. That is why Athens closely followed the ship's route. However, Abdulhamid Khan was not sent to the so-called disputed areas," said Donmez.
At another point, Professor Senai Yalcin speaks, noting that "Turkey has serious evidence for the Eastern Mediterranean. "Yorukler-1 was selected because it is among the areas where the most natural gas and oil can be found, based on data obtained from international research centers, as well as satellite data and data obtained from Turkey."

Source: News Beast