Its conservative president South KoreaYun Seok-geil, announced today (4/10) that there would be a "decisive" response to the launch by North Korea ballistic rocket who flew over her Japan before falling into the Pacific Ocean.
"Such irresponsible nuclear provocations will be met with a decisive response by our military and our allies, as well as the international community"Mr Yun said, as reported by South Korea's national news agency Yonhap.
The ballistic missile, which led to the alarm being declared and the residents of parts of Japan being called to seek shelter, fell into the Pacific Ocean, the Japanese government announced, without mentioning casualties or damage.
The launch led to a rare activation of the J-Alert system, a warning of which appeared on the screens of public broadcaster NHK, urging residents of northern and northeastern sectors of Japan to seek shelter.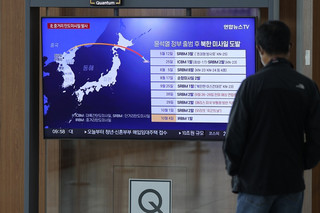 The US reaction
The top US diplomat for the East Asian region, Daniel Krittenbrick, called "unfortunate" North Korea's missile test, while assuring that the path to resuming negotiations between Washington and Pyongyang "remains open". "We call on the DPRK (including the Democratic Republic of Korea) to take the path of dialogue, commit to serious and continuous diplomacy and refrain from further destabilizing activities"Mr. Crittenbrick added.
According to the American diplomat, the china – although a strategic opponent for the administration of Joe Biden – must do more to combat North Korea's circumvention of international sanctions. Both China and Russia must help cut off Pyongyang's supply networkshe insisted.
Today is North Korea's fifth missile test in ten days. They are believed to have been carried out in response to a show of military force by the US, South Korea and Japan, which held first bilateral and then trilateral aviation and anti-submarine warfare exercises last week.
Analysts point out that Pyongyang's escalating missile tests will allow it to acquire operational weapons and develop new capabilities, while at the same time sending a message to the international community that the development of such systems is its sovereign right..
The ballistic missile and nuclear weapons development programs are theoretically prohibited under resolutions of the UN Security Council, which has imposed a series of sanctions on North Korea, which Pyongyang defies, arguing that its national defense comes first.
North Korea, according to officials in Washington and Seoul, has reportedly completed preparations for a new nuclear weapon test, its seventh since 2006 and first since 2017. It may go ahead sometime between the congress of the Communist Party of China (within the month) and the mid-term parliamentary elections in the USA (next), South Korean parliamentarians estimated a few days ago.

Source: News Beast