The price of WTI oil rebounds and flirts with a new annual high.
The dollar remains awaiting the Fed's decision on interest rates.
Crude oil prices will be boosted by the risk of news from the Saudi energy minister.
Oil prices remain firm on Monday as traders brace for any comments from Saudi Arabia's Oil and Energy Minister that could put further pressure on the commodity. Crude oil prices already saw a strong upward push earlier this month from surprise comments from Russia and Saudi Arabia, which outlined plans to extend any production cuts until the end of the year. The question is whether Saudi Arabia will do more.
Meanwhile, the Dollar faces a complicated week with a very calm calendar until Wednesday. On that day, the US Federal Reserve (Fed) will make a decision on rates and markets expect policymakers to keep interest rates unchanged. In this context, the dollar is expected to remain afloat until Fed Chairman Jerome Powell delivers his speech following the decision.
WTI crude oil is trading at $90.72 per barrel and Brent at $94.85 at the time of writing.
Oil news and market drivers
Russian oil could fall out of favor amid supply shortages from U.S. diesel producers.
Saudi Energy Minister Prince Abdulaziz bin Salman will address an industry conference later on Monday.
Hedge funds last week boosted their price outlooks for Brent and crude oil to 15-month highs.
Diesel and gasoline prices at the pump are rising rapidly in both the United States and Europe, fueling concerns about new energy inflation.
The supply shortfall could widen further if Chinese demand starts to pick up, as the latest macroeconomic data suggests.
Kazakhstan increased its daily production of oil and condensed gas by 10% on Sunday compared to Saturday, up to 250,400 tons, according to data from the country's Ministry of Energy.
Oil Technical Analysis: Too Fast and Too High?
Oil prices are in a very thin balance where any supply hiccup could trigger another upside price break in oil futures. Although the Relative Strength Index (RSI) is in deeply overbought territory, news flow and possible drawdowns in US stockpiles could provide that last hint of further gains. Still, a quick jump to $93.12 is not expected, as a larger catalyst would be needed to cause such a large move.
On the upside, last year's October-November double top at $93.12 is the level to beat. Although this seems within reach, we must not forget that the markets have already priced in many possible supply shortfalls and many bullish prospects. If $93.12 is exceeded, we must look for $97.11, the August 2022 maximum.
On the downside, the key level is at $84.30 from August 10. If this level is not maintained, a substantial drop could occur. In that case, oil prices could fall to a key bottom near $78.00.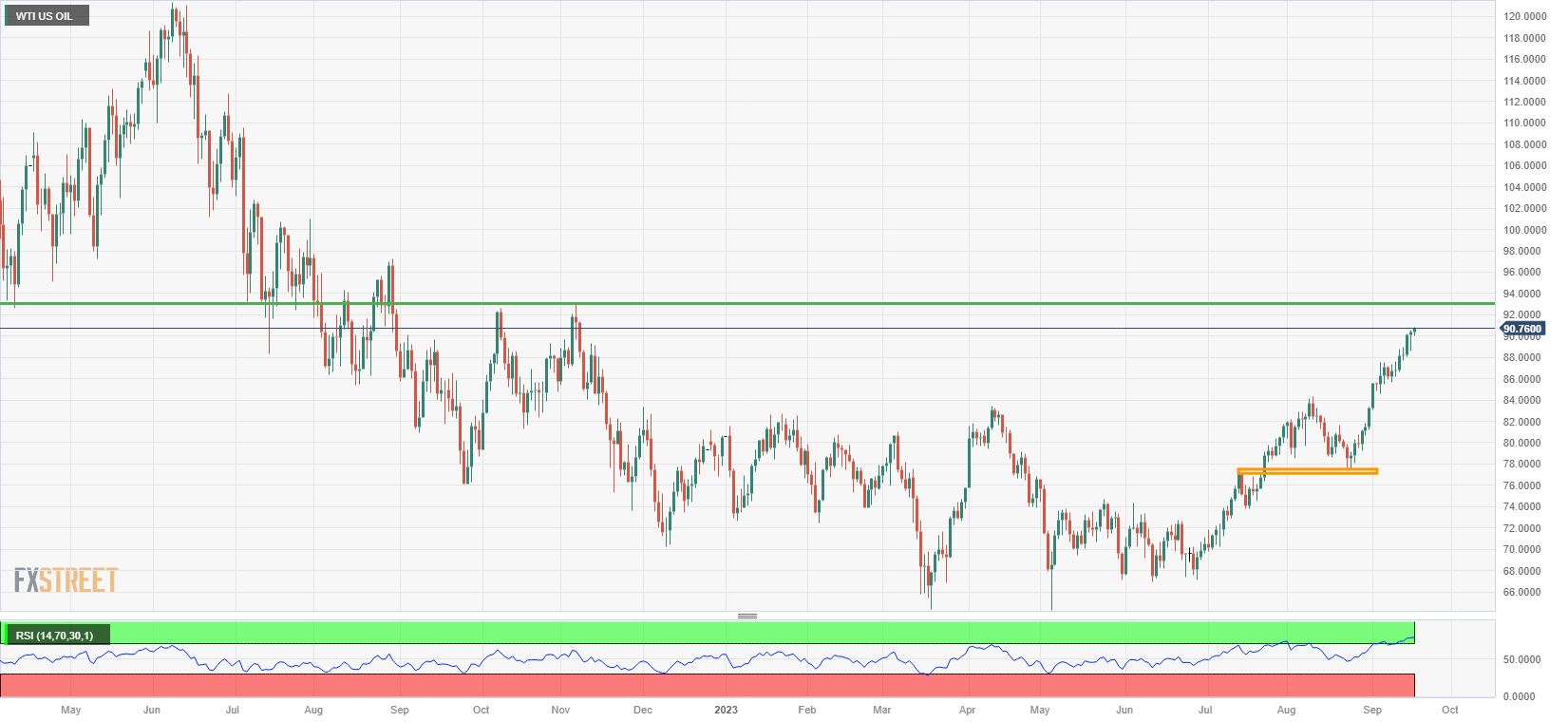 WTI US OIL daily chart
WTI Oil FAQ
What is WTI oil?
WTI oil is a type of crude oil that is sold in international markets. WTI stands for West Texas Intermediate, one of the three main types that include Brent and Dubai crude. WTI is also known as "light" and "sweet" for its relatively low gravity and sulfur content, respectively. It is considered a high-quality oil that is easily refined. It is sourced in the United States and distributed through the Cushing facility, considered "the pipeline junction of the world." It is a benchmark for the oil market and the price of WTI is frequently quoted in the media.
What factors determine the price of WTI oil?
Like all assets, supply and demand are the main factors that determine the price of WTI oil. As such, global growth can be a driver of increased demand and vice versa in the case of weak global growth. Political instability, wars and sanctions can alter supply and impact prices. The decisions of OPEC, a group of large oil-producing countries, is another key price factor. The value of the US Dollar influences the price of WTI crude oil, as oil is primarily traded in US dollars, so a weaker Dollar can make oil more affordable and vice versa.
How do inventories influence the price of WTI oil?
Weekly oil inventory reports published by the American Petroleum Institute (API) and the Energy Information Agency (EIA) influence the price of WTI oil. Changes in inventories reflect the fluctuation of supply and demand. If the data shows a decline in inventories, it may indicate an increase in demand, which would drive up the price of oil. An increase in inventories can reflect an increase in supply, which drives down prices. The API report is published every Tuesday and the EIA report the next day. Their results are usually similar, with a difference of 1% between them 75% of the time. EIA data is considered more reliable since it is a government agency.
How does OPEC influence the price of WTI oil?
OPEC (Organization of the Petroleum Exporting Countries) is a group of 13 oil-producing nations that collectively decide member countries' production quotas at biannual meetings. Their decisions often influence WTI oil prices. When OPEC decides to reduce quotas, it can restrict supply and drive up oil prices. When OPEC increases production, the opposite effect occurs. OPEC+ is an expanded group that includes ten other non-OPEC member countries, including Russia.
Source: Fx Street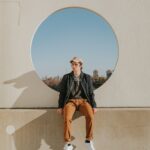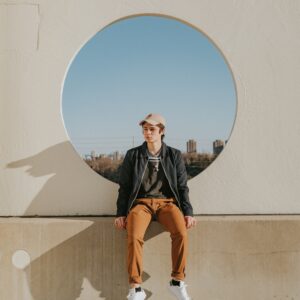 I am Joshua Winder, a senior-level journalist and editor at World Stock Market. I specialize in covering news related to the stock market and economic trends. With more than 8 years of experience in this field, I have become an expert in financial reporting.