Paradoxes of the Russian processor market: Intel has the largest share in three years, but the absolute majority in the Top 10 belongs to AMD processors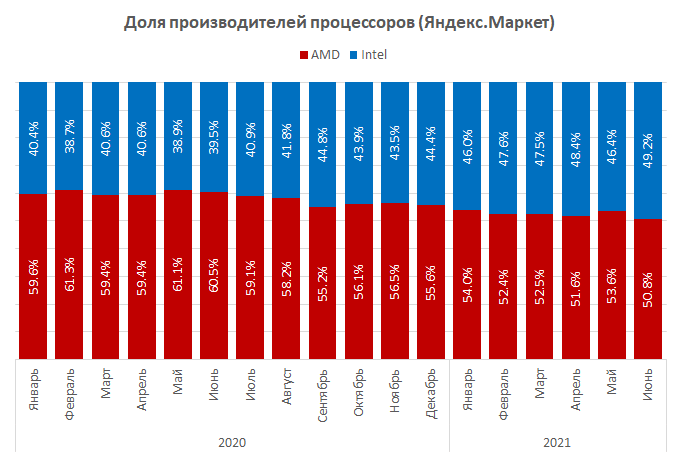 Yandex published a report on the Russian processor market for June, and there were some interesting facts. If in May Intel secured 46.4% of the market, then in June it already has 49.2%. This is the maximum share of Intel processors in our market over the past three years! Moreover, if in January 2020 the market distribution was almost 60% by 40% in favor of AMD, then in July 2021, if the trend of Intel's share growth continues, the market can be divided equally between these two companies.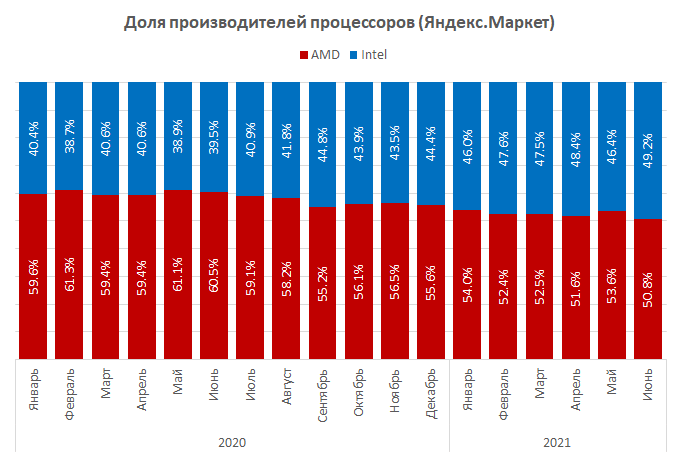 At the same time, AMD processors continue to dominate the ranking of the most popular. For example, AMD has four processors in the Top 5, and nine in the Top 10! The most popular in June were Ryzen 5 3600 (8.4% of the market) and Ryzen 5 3400G (6.4%). In third place is the best of the Intel CPUs – the Core i5-10400F. The "next best" of the blue is only in 11th place. This is the Core i3-10100F.
It should be noted that in comparison with May, cheaper models dominate in the June ranking. So, for example, if the Ryzen 9 5900X was in second place in May, then now the Ryzen 5 3400G is much more affordable. The top 5 in May was closed by the Ryzen 5 5600X, and now – the old Ryzen 5 2600. By the way, the return of the Ryzen 5 2600 to the Top 5 is explained by significant discounts on this CPU.