Last year, the first rumors appeared that Lenovo wanted to enter the discrete graphics market – then the manufacturer discussed with AMD the possibility of creating a video card in the Legion line, but the partnership, apparently, did not lead to anything. Now, new rumors have appeared, only in relation to NVIDIA – a month ago, insiders said that Lenovo wants to try to conquer the market with RTX 40 series video cards. And, apparently, this time the cooperation paid off, as photos of the Lenovo video card appeared on the Internet Legion GeForce RTX 4090 – apparently, the company really has everything ready for launch.
True, I would immediately like to note that the video card is simply huge – at first it may even seem that this is some kind of deception, but in reality, many RTX 40 video cards will be gigantic in size. And the Lenovo Legion GeForce RTX 4090 is not far behind – the video card will be as much as 36 centimeters long, which is a lot even by the standards of the longest Gigabyte models. Due to the impressive length, the manufacturer was able to place three fans at once in an active cooling system, on top of which there is a rather simple (even ascetic) gray plastic casing. Perhaps this is some kind of basic model that does not have lighting and decorative elements.
With such a length, it is not necessary to talk about using a video card in compact cases – you can rarely find a case where a video card is placed longer than 31 centimeters, and 36 centimeters will not fit even into some very large models. But this is not the main problem – the fact is that the video card from Lenovo is also very thick. There are no exact specifications on the network, but the video card occupies four slots in the system – this completely blocks access to all ports that are located below the PCI-E slot. This means that no expansion cards for streaming, for example, can simply be installed.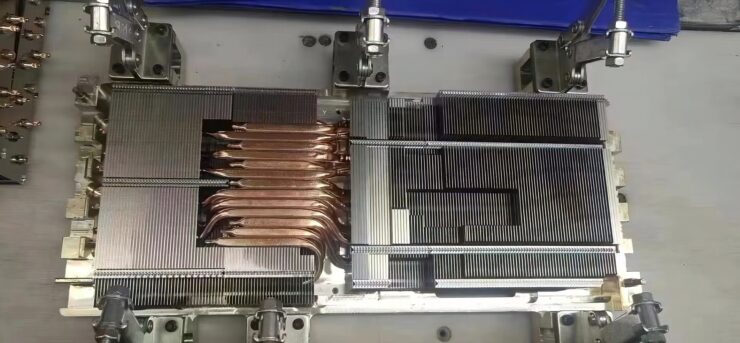 However, this is not only a problem for Lenovo video cards – six months ago, insiders said that NVIDIA plans to use extremely powerful graphics chips in the RTX 4080, which will consume from 450 to 650 watts during overclocking. It is logical that with such power consumption, the chip will generate impressive amounts of heat that need to be cooled – for this, huge radiators are used, which eventually occupy additional slots in the system. And given that the Lenovo graphics card case is very similar to the base OEM variant, there will be many such huge cards.
Source: Trash Box