Pilots were running on the planes in a live press conference to take them off for interception – Watch video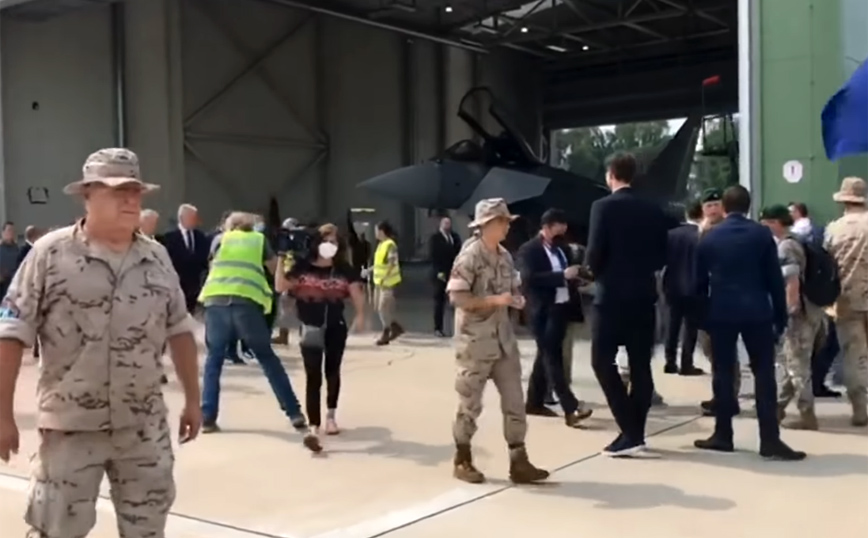 An unexpected with an interception aircraft Fighting took place today (8/7) at the press conference of Spanish Prime Minister Pedro Sanchez and Lithuanian President Gitana Nauseda at a Lithuanian air base.
The press conference was abruptly interrupted, when the pilots of Spanish fighter jets ran to take off the fighters to respond to the take-off of a Russian warplane.
The press conference that was broadcast live on Xiauliai Air Base, with the podiums talking the two leaders are standing in front of the nose of a military aircraft, was interrupted three minutes after its start as pilots began running towards the aircraft and jumping inside.
Nauseda kept talking for a while, until he and Sanchez were pushed aside. The podiums and flags were removed and media representatives present were dispersed to pave the way for aircraft to take off.
Spanish fighter jets stationed in Lithuania on a NATO Baltic airspace mission took off at 11:55 a.m. Greek time after reports that a fighter jet had taken off from the Russian region of Kaliningrad without submitting a flight plan, a spokesman said. of the General Staff of the Lithuanian Army.
Watch the video:
After the take-off, the press conference continued
A NATO official said the Eurofighters had identified two Russian SU-24 aircraft heading northeast that had not submitted a flight plan.
After takeoff, the press conference continued and Sanchez thanked the pilots "For the hard work they are doing to defend Lithuania's territorial integrity as we have just seen."
Sanchez and Nauseda were not in danger, said the representative of the Lithuanian presidency.
"This demonstrates once again the importance of the NATO air policing mission, which has been operating for 60 years to keep our skies safe," said Oana Lungescu, a spokeswoman for the North Atlantic Alliance.
Seven Spanish Eurofighter fighters have been stationed at Siauliai Air Base since April 30 as part of a Baltic air policing mission, which also includes four Italian F-35s at Estonia's Amari Air Base.
The Baltic air policing mission regularly follows Russian military aircraft flying over international territorial waters over the Baltic Sea between mainland Russia and the Kaliningrad enclave. Russian fighters often fly without submitting a flight plan.