German scientists are particularly worried about it Delta mutation which now dominates the country.
According to Deutsche Welle, citing the latest data from the Robert Koch State Epidemiological Institute, the Delta mutation is now the dominant strain of the coronavirus in Germany as at the end of June the percentage had reached 59%, while now it is estimated at 2/3. Experts point out that this strain of the virus will lead to an increase in the number of cases, as happened in Great Britain.
Vaccinations are slowing down
Another worrying factor is the slowdown in vaccination rates. From 820,000 vaccinations a day three weeks ago, 800,500 two weeks ago the number of vaccinations dropped to 710,000 daily last week. So far in Germany 57% of the population has been vaccinated with one dose and 40% with both doses.
Experts stress that in order to avoid a quarter wave of the coronavirus pandemic in the fall, at least 80% of the population should be fully vaccinated.
The government is promoting simplification of vaccination procedures with the aim of moving mobile vaccination teams to, for example, sidewalks, neighborhoods and events. In fact, the proposal to link vaccinations with the lottery as in the US is under discussion.
54% of Germans will continue to use the mask after the end of the pandemic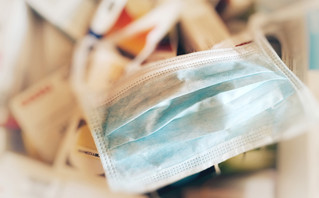 According to a poll, a large majority of Germans intend to implement basic hygiene measures after the end of the pandemic. In particular, a poll by the Funke media group states that eight out of ten Germans will continue to wash their hands more often in the future. 77% will still maintain social distance, 71% will avoid large gatherings of people and 54% intend to use a mask frequently.