The Cosa Nostra is one of the most organized and notorious criminal organizations in the world Italy, which was first created in Sicily and today has "branches" in the USA. During the 19th century, its members initially targeted property owners by blackmailing them for protection, and since then the Sicilian Mafia has evolved into a criminal empire engaged in various illegal activities. Cosa Nostra members adhere to the omerta, or code of silence, to show their faith, while those who eventually "break" face torture and even execution, grunge.com reports.
For the majority, then, submission to the Italian mafia was the safest option. However, there are some, such as Pino Maniacci, who are fighting for justice and want their bosses to pay for their crimes.
The action of Pino Maniatsi
Maniacci was the main reporter for Telejato, a small television station in the town of Partinico in Of Sicily, which he bought when its former owner went bankrupt. Over the years, therefore, Maniaci has been trying to expose the activities of the mobsters, while according to the Smithsonian magazine, he has been targeted by the Mafia for his actions.
In fact, he has received several threats to his life, culminating in the attack he received in 2008. Which, as it turned out, did not discourage the journalist and he went on the air the next day, with bruises on his face, in order to report the attack.
Maniacci has dedicated his life to investigating criminal activity in Sicily. So in 2014, according to the Guardian, his car was set on fire outside Telejato's studio and then he found his two favorite dogs hanging on his desk. Today, she continues to do her research despite her reactions Mafia, reports grunge.com, while it has been under the protection of the authorities since 2007.
With his stubbornness and research, Maniaci managed to help arrest many members of the Mafia, while his work against the Mafia is now a family affair, as his son is behind the scenes as a camera operator and his wife as his editor. station. His daughter, Leticia, follows in his footsteps as a reporter, with the walls of the TV studio filled with newspaper articles, photos of Mafia members and more.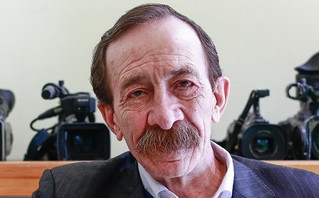 The reason for the passion with which he does this work is to a large extent his love for Sicily, which he says is a "breathtaking land", but is overshadowed by its reputation as a "mafia land".