Qualcomm has unveiled an updated version of its flagship chipset, which was installed in Android flagships in the first half of 2021. The improved Snapdragon 8+ Gen 1 (SM8475 index) promises modest performance improvements and noticeable power savings. The focus on power efficiency fixes is important as the original Snapdragon 8 Gen 1 wasn't slow, but power consumption and heat dissipation became its main concerns after mass release.
Qualcomm announces 10% performance improvement for Snapdragon 8+ Gen 1. The clock speed of the most powerful Cortex-X2 core can now reach 3.2 GHz. The rest of the cores in two separate clusters have also become faster: the frequency of the middle ones is 2.75 GHz, and the youngest ones are exactly 2.0 GHz. For comparison, in the previous version of Snapdragon 8 Gen 1, the core frequencies were 3.0 GHz, 2.5 GHz and 1.8 GHz, respectively.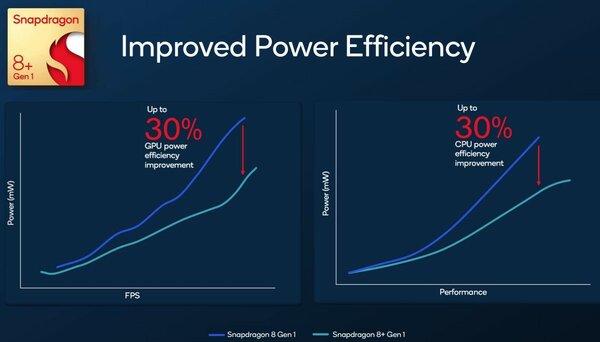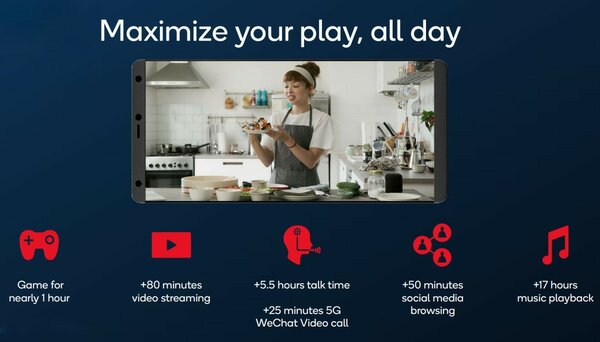 Snapdragon 8+ Gen 1 graphics perform 10% better while reducing power consumption by 30%. The overall energy efficiency at the platform level increased by 15%. For example, a smartphone with a new processor can stream video for 1 hour and 30 minutes longer and hold a charge for 5 hours and 30 minutes longer in voice calls and other light usage scenarios. The AI ​​module also features a 20% increase in performance per watt.
To update the Snapdragon 8 Gen 1, Qualcomm had to change its process partner. Samsung's production capacity was out of work, so Taiwanese TSMC is involved in the development of Snapdragon 8+ Gen 1. The process itself is the same – 4 nm. Other specs remain unchanged: Snapdragon X65 modem up to 10Gbps, support for up to 16GB LPDDR5 (3200MHz) RAM and UFS 3.1 flash, screen resolutions up to Quad HD+ at 144Hz or 4K at 60 Hz including 10-bit rendering and HDR10+ High Dynamic Range, cameras up to 200 megapixels with 8K video recording. In addition, the platform is compatible with Bluetooth 5.3 and aptX Lossless and Bluetooth LE Audio high quality audio codecs.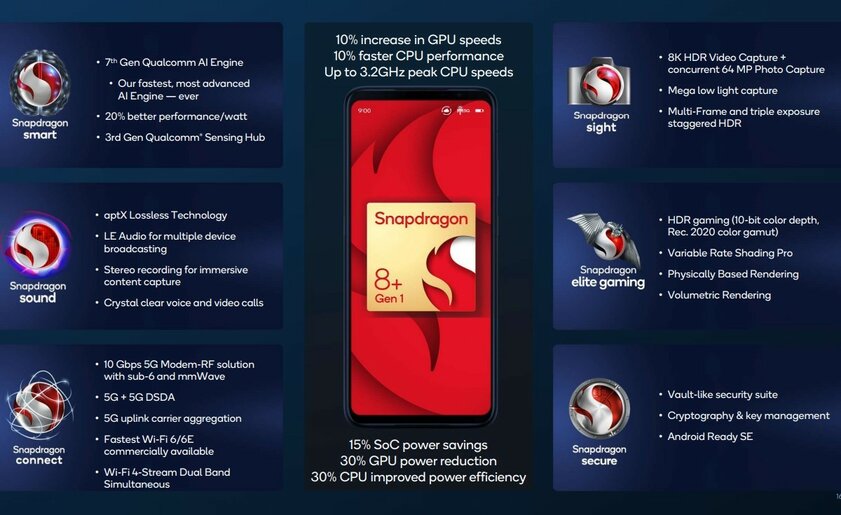 The first devices running Snapdragon 8+ Gen 1 will appear in the third quarter of 2021 (July-September). Qualcomm has already confirmed that smartphones based on the latest chipset will be released by most manufacturers, including ASUS, Black Shark, HONOR, iQOO, Lenovo, Motorola, Nubia, OnePlus, OPPO, Realme, Red Magic, Redmi, Vivo, Xiaomi, and ZTE. Judging by the list, among them there will be both classic flagships and models aimed at gamers.
Source: Trash Box