In pursuit of a client, everyone has to compete with each other, even in the smallest detail. In ancient times, RAM was characterized by three parameters: frequency, timings, supply voltage. Particularly corrosive enthusiasts were interested in the overclocking potential, checked the markings on the chips with their lists. Now the troubles with the frequency have largely faded into the background, modern processors do not react so sharply to megahertz due to large caches. Their place was taken by the appearance and lighting.
Why am I … Oh yes, a new set on tests: XLR8 Gaming EPIC-X RGB from PNY with a volume of 32 GB. With heatsinks and LEDs.
Specifications
Set: MD32GK2D4360018XRGB.
Memory type: DDR4.
Volume: 2 × 16 GB.
Frequencies: 3600 MHz.
Supply voltage: 1.2 / 1.35 V.
Timings: 15-15-15-36 (2133 MHz, 1.2 V).
XMP Profile: at 3600 MHz (18-22-22-42).
The price at the time of publication of the material is 15 500 rubles.
Appearance, specifications
The packaging is bright, standard in shape: a cardboard box, inside a plastic blister.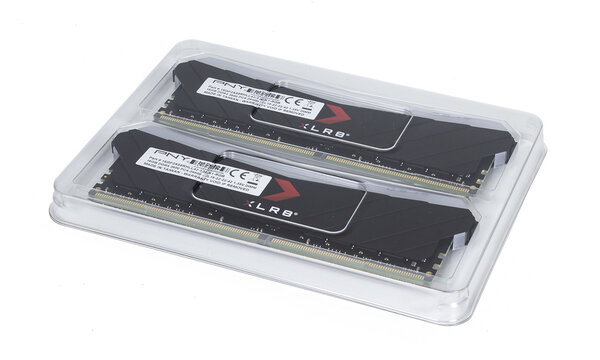 The modules themselves are made in accordance with current trends: high radiators, in the end there is an insert made of matte plastic.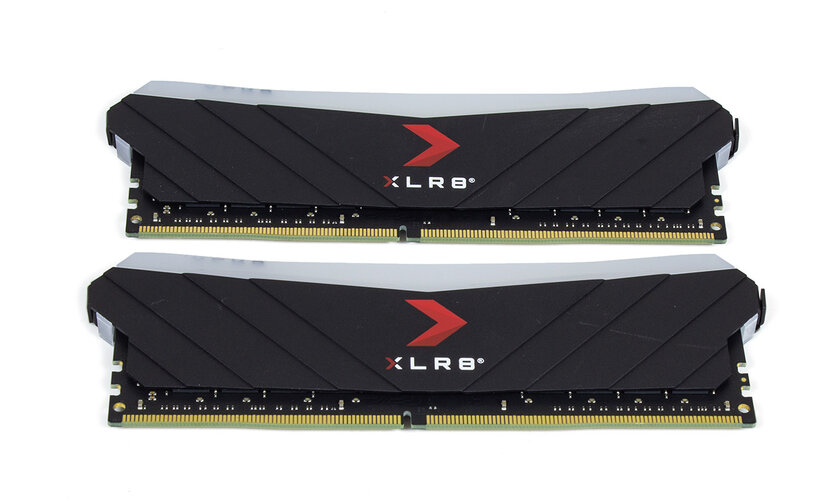 The total height of the modules is 48 mm, the width is 7 mm. When choosing tower coolers with such slats, you will have to be more careful to avoid a "conflict" between the cooling system and a radiator or plastic insert.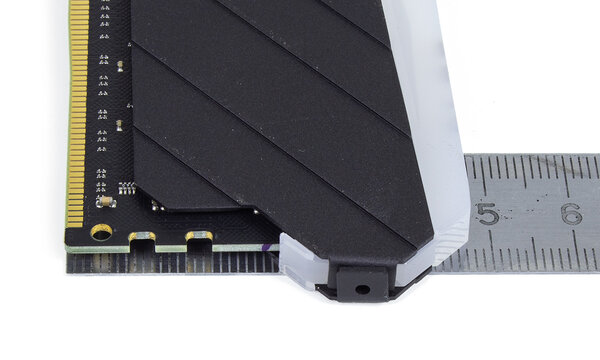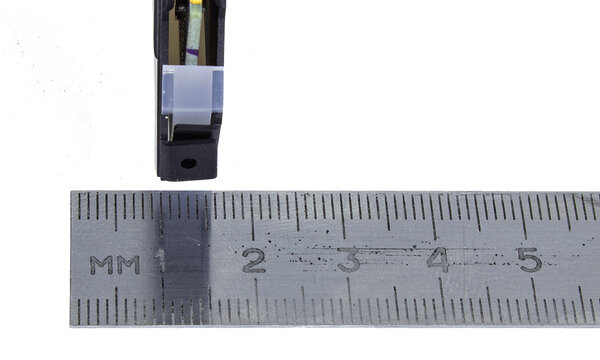 From the side of the connector, you can see that the contact between the memory chips and the aluminum plates is through a thermal rubber band.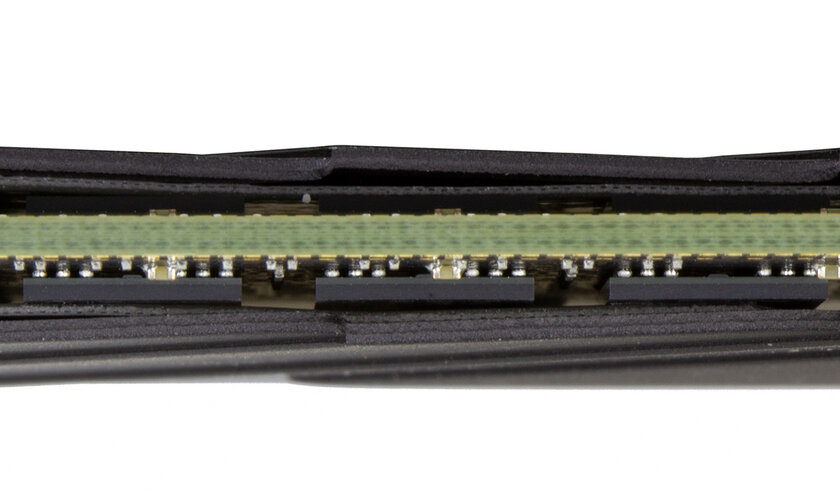 It was possible to disassemble the module without any particular difficulties, it is enough to "loosen the grip" of the thermowell with a degreaser for a while.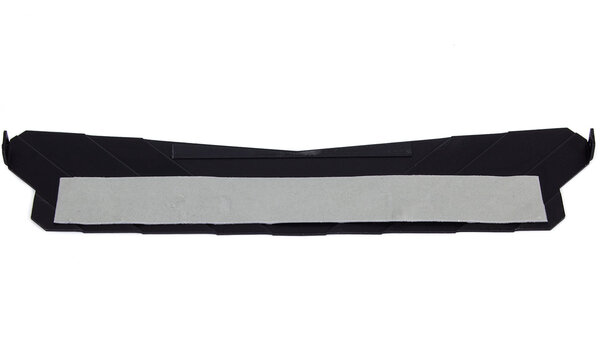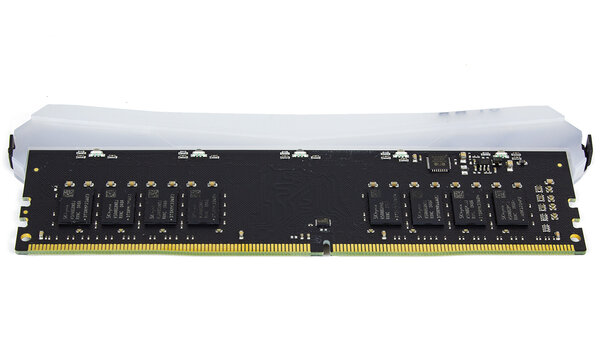 As you can see, SKhynix H5AN8G8NDJ-RXNC microcircuits are used, 8 pieces are soldered on each side of the printed circuit board. A separate ENE 6K5830UA0 microcircuit is responsible for the operation of the backlight. There are 10 LEDs per module, five on two sides.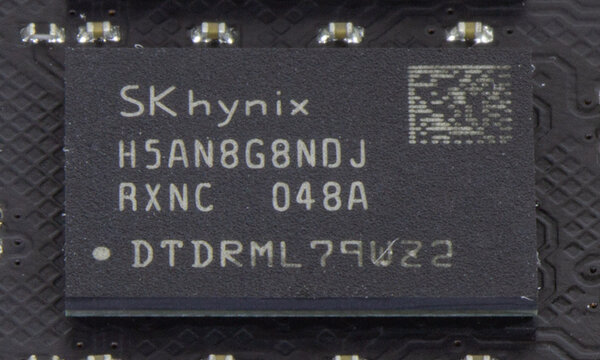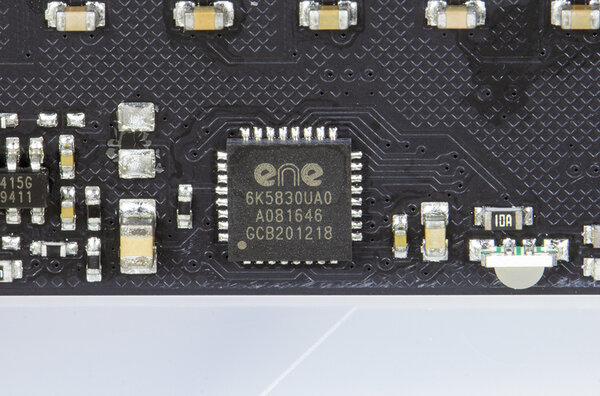 The backlight works properly, does not dazzle even in complete darkness.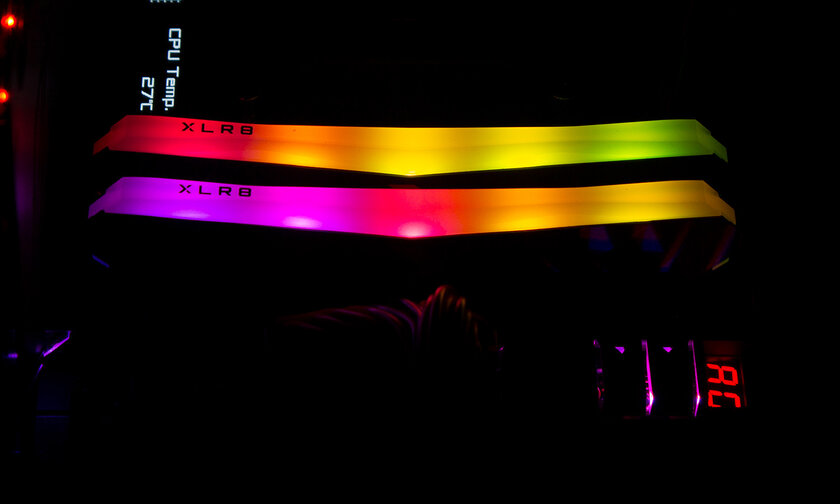 The declared frequency of the modules is 3600 MHz with a supply voltage of 1.35 V and timings of 18-22-22-42. Not the most outstanding result for H5AN8G8NDJ-RXNC microcircuits, other manufacturers use them to assemble whales with a frequency of 3800 MHz. Perhaps this pair will show interesting results in overclocking.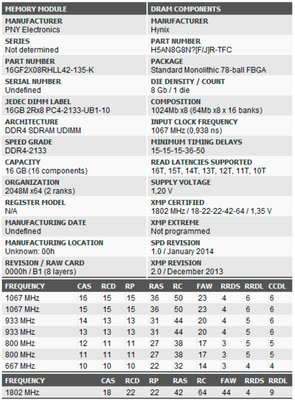 Test results
To test the capabilities of PNY brackets, we used a stand based on a ROG Maximus XI Formula motherboard and an Intel Core i9-9900K processor. Both modules start up confidently after selecting an XMP profile in the BIOS, no additional adjustments are required. At 3600 MHz, we managed to achieve stable operation with timings 17-20-20-40 without increasing the supply voltage. This did not affect the test results, even the "synthetics" almost did not react. With an increase in voltage to 1.45 V, the stable frequency rose to 3700 MHz at standard timings (18-22-22-42), as well as 3600 MHz at 17-19-19-38. Unfortunately, these are the maximum indicators that were achieved with a supply voltage of up to 1.5 V inclusive.






Review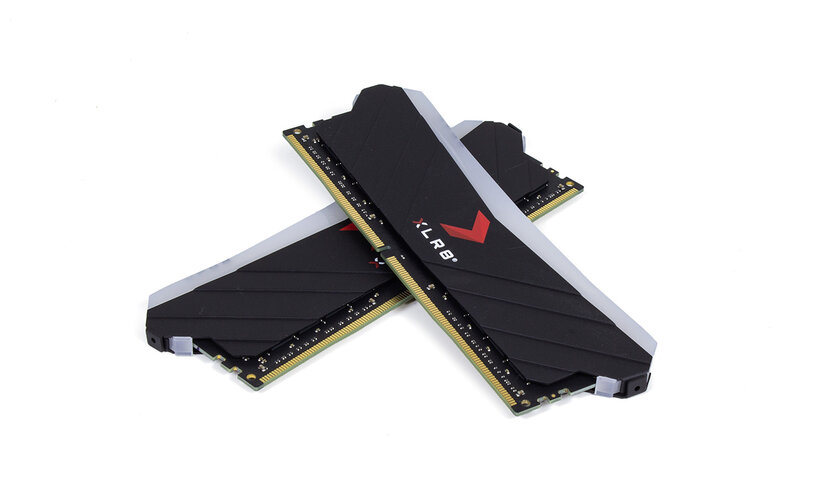 PNY DDR4 XLR8 Gaming EPIC-X RGB is a good kit, it gives the declared values. Alas, it cannot boast of overclocking potential – purely symbolic 100 MHz, and even with a significant increase in the already rather large supply voltage. The price is not high, but if it were two thousand less, the competitiveness of the kit would be much higher. However, the market does not stand still, and, quite possibly, over time, the cost of modules will drop to values ​​that are more interesting from the buyer's point of view.
pros
Beautiful RGB lighting.
Spectacular appearance.
May not like
Price.
Lack of overclocking potential.