Both fitness trackers and smartwatches became popular around the same time. This is not surprising, because the most famous models originated with a small difference: in 2013 Pebble began to be sold, in 2014 the first Mi Band from Xiaomi was released, and a year later the Apple Watch debuted. The real popularity of wrist-worn electronics came later – only a few years have passed since then. However, this segment of gadgets has already changed a lot, which has become a kind of problem: the line between smart watches and fitness bracelets has practically disappeared, which is why people who are poorly versed in technology buy something completely different from what they originally wanted. In this article, we understand why this happened and how to distinguish between almost identical gadgets now.
Everything was clear before.
Small ones are fitness trackers, large ones are smartwatches
When the wearable electronics segment was just in its infancy (or rather, it became in demand for a wide number of people), all its representatives had a recognizable appearance. Smartwatches looked almost exactly the same as normal watches, but instead of a regular watch face, they sported displays. Fitness trackers resembled ordinary bracelets both in size and in weight. And if smart watches have not changed much throughout their history, then the first fitness bracelets are very different from modern ones.
Once such a bracelet was quite enough | Wareable
Initially, fitness trackers had, in fact, one purpose – tracking sports indicators like heart rate and number of steps (as well as calculating related parameters akin to the number of calories burned). Some models were supplemented with functional vibration, which signaled the arrival of notifications or woke up the user at a specified time, but this was just an addition, and not the main purpose of fitness trackers.
Fitness bracelets became more popular, and an inevitable evolution awaited them
Cheap gadgets always have more prospects
In fact, now it will not be possible to find the ratio of global sales of fitness trackers and smart watches for different years. But personal observations suggest that the popularity of smart bracelets grew faster than the demand for watches – the logic confirms this, because people are more willing to buy a new thing for themselves at a minimal cost than pay a tangible price for a gadget that is possibly useless for themselves without even trying it.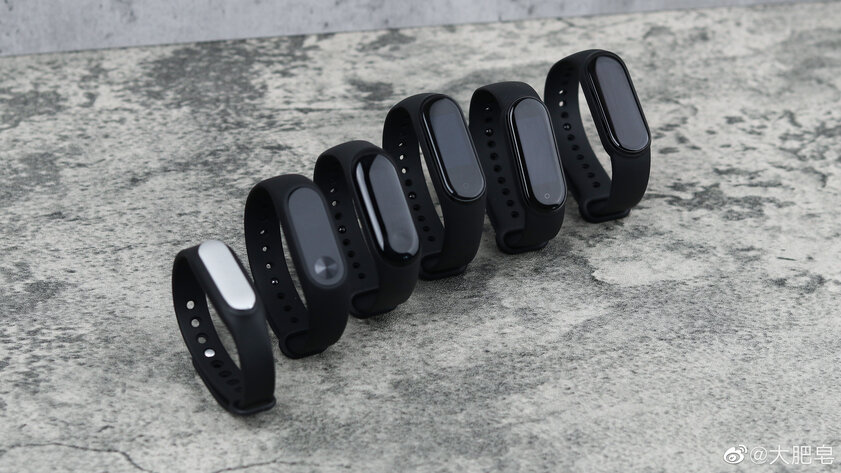 Trackers change, although they retain their former outlines
Be that as it may, manufacturers have realized that fitness trackers are capable of more, and this is a fact. Companies like Xiaomi started experimenting with the format, and the miniature metal "pill" turned into a capsule with a screen. The idea, apparently, turned out to be successful: since then, fitness bracelets have been used not only to collect indicators and send them to a smartphone, but also to display information.
Everything has led to the fact that the line between bracelets and watches has blurred.
Nearly identical in features and form factor
Against the backdrop of the popularization of fitness trackers, manufacturers did not at all decide to make smart watches gadgets of the highest price segment. It's quite the opposite: companies have tried (and are trying) in every possible way to reduce the cost of watches by offering people affordable models in the familiar form factor with a large screen. According to the laws of the market, there is only one way to do this – by simplifying their filling and minimizing the possibilities.
At the same time, the development of fitness bracelets did not stop, manufacturers are still constantly improving them, and it really shows. True, key upgrades have always concerned the display – it became more contrast, brighter and, most importantly, larger. This is clearly seen in one of the most popular series of fitness trackers – Mi Band from Xiaomi. In each new version, the screen inevitably increases, and this is understandable, because it is uncomfortable to read text on a small narrow panel.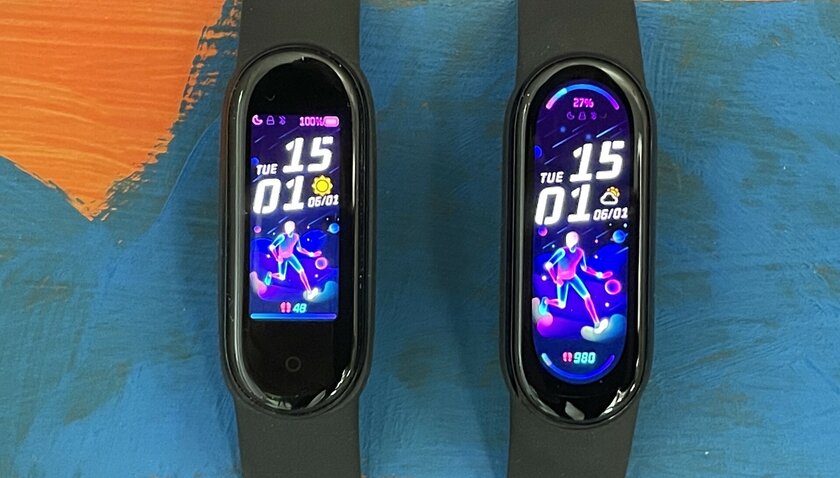 Progress in the display between Mi Band 5 and 6 is visible to the naked eye | Notebook check
Previously, there was an obvious clear line between fitness bracelets and smart watches, but recently the lines have blurred. Trackers with large screens look a lot like watches, and simplified inexpensive watches look a lot like bracelets.
The line between bracelets and watches can still be drawn
But marketers carefully hide it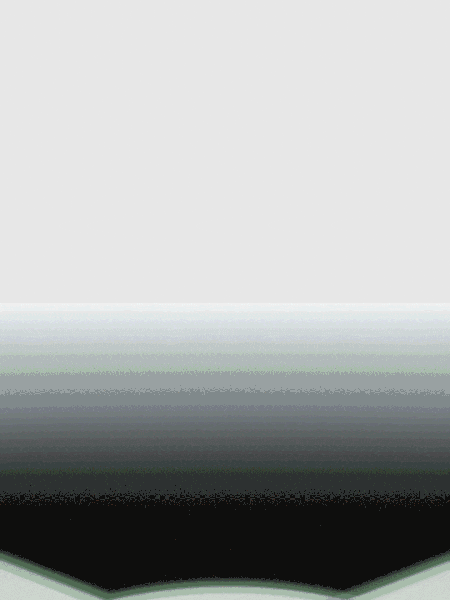 Will Mi Band 7 Pro still be a fitness bracelet or will it already become a watch?
Based on all of the above, it becomes clear that it is already extremely difficult to distinguish categories of wearable devices only by appearance, and in the future it will become even more difficult.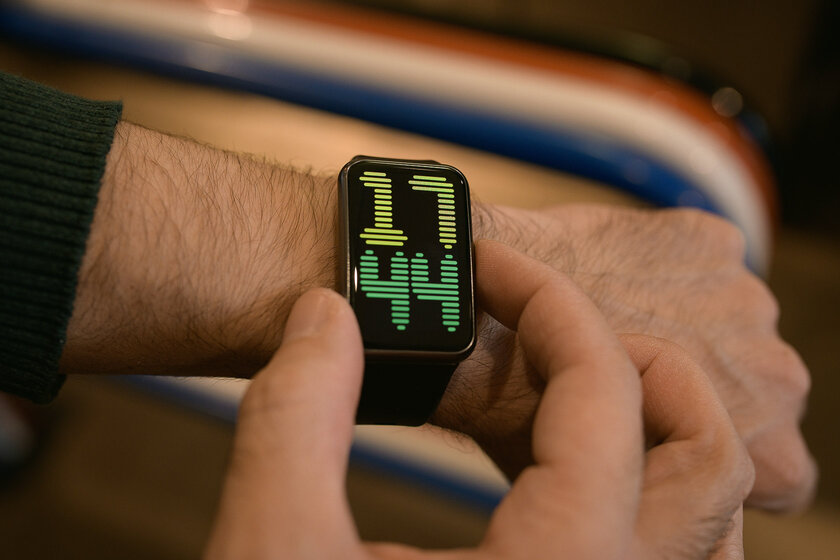 It is not easier to decide on Huawei Watch Fit, even reviewers argue about its purpose. Someone even considers him the discoverer of a new class – something in between a watch and a bracelet.
However, there is still a difference between these lines of gadgets, which consists in functionality and capabilities. Both of them can measure most physical indicators, display a timer with a stopwatch, and show the time even on the lock screen thanks to the Always-On function. However, smartwatches have features that make them stand out from their "little brothers".
Complete operating system. It differs from simple firmware primarily in the presence of an application store – you can download programs and even games that are not preinstalled by the manufacturer. Not a single bracelet will be able to open a navigator or recognize a song through Shazam, but a real smart watch can do it.
Normal operation without a connection with a smartphone. The latest fitness trackers are already equipped with GPS, so they can be used in training as a full-fledged gadget, rather than an auxiliary companion. But the watch had this feature for a long time, and they often support an electronic SIM card – you can even talk on the phone without a phone. In addition, the watch has a built-in drive, on which you can record music for listening via Bluetooth.

Availability of specialized capabilities. Additional sensors or a more powerful processor always increase the cost of the device, and fitness bracelets are behind the scenes considered to be budget analogues of smartwatches. That is why they lack the specialized functions of their "big brothers": a voice assistant, ECG measurements, the ability to communicate on the phone and others.

However, sometimes manufacturers of fitness bracelets can add specialized functions to them for the sake of marketing advantages, so this criterion is more of an additional than the main one in the search for differences between gadgets.
There is no best device category. There is the most suitable
It all depends on your needs
If you want to use a wearable gadget like a mini smartphone on your arm, then no fitness bracelet will satisfy your needs, no matter how big its screen is. If you only need to watch the time, wake up from vibration, measure your pulse and read notifications, then buying a smartwatch will be a pointless overpayment.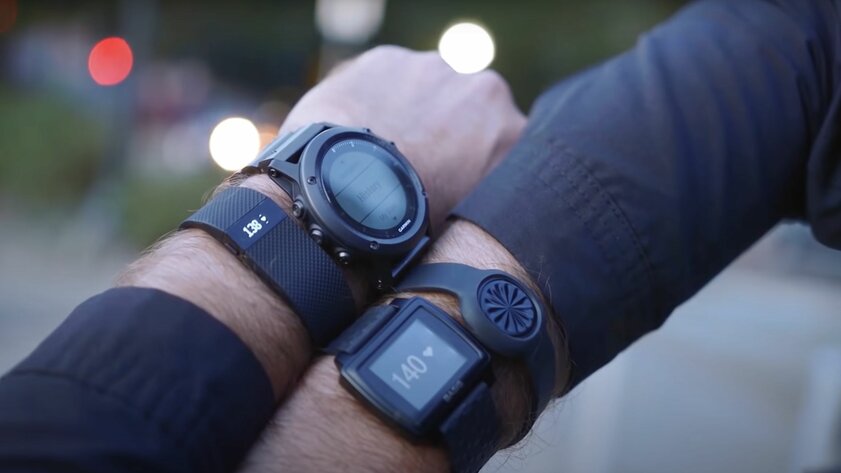 Both those and other gadgets are good. But each in their own way | Tech talks
If you like a round display, then get not the premium Galaxy Watch or gadgets from Fossil, but simpler models of the same form factor, but in no way superior to fitness bracelets in terms of capabilities.
Source: Trash Box