Nickelodeon's kids show Blue's Clues He left his mark on the hearts of thousands of girls and boys, especially those who had the opportunity to see him in the 90s, when the friendly Steve Burns accompanied the mischievous Blue to discover clues and solve important mysteries.
This September 8, the program turned 25 years since its creation and to celebrate it, Steve reappeared on the screen with an emotional message that has made more than one person cry on the internet, which is why it is already a trend on Twitter.
Steve was a hero who inspired us
Steve was a crucial piece for the creation, development and issuance of The Blue slopes. Making the children smile made him happy, but after 100 episodes he said goodbye to the show leaving a new character in charge.
His abrupt departure brought with it a wave of strange rumors that he was said to have died and / or been replaced by a doppelganger. But during an interview for Huffington Post in 2016, he explained his reasons for leaving the show childish.
People think I left the show to pursue a music career. That did not happen at all. I quit the show because it was just time to go. On the show he was playing a boyish, older brother character. I was getting older; he was losing his hair; Many of the original people on the show, like the people who created it, were all older. I felt it was time. I had a feeling it was time to go.
Now, 25 years after the first episode on air, Steve is back with an emotional message that takes us on a journey through time to embrace our inner child and appreciate every small but important achievement we have achieved. His new teaching is so cute that Twitter has reacted with thanks, tears and pride.
His message took us back to childhood
Today marks the 25th anniversary of the first episode of "Blue's Clues" and Steve returned to dedicate a few words to the children who have accompanied him since 1996.
"I just wanted to say that after all these years, I have never forgotten them." pic.twitter.com/xlIRSeszw8

– Retro 80s and 90s (@ 80s_y_90s) September 8, 2021
Hello, do you have a second? It's okay

Remember when we were younger we used to run around, hang out with Blue, find the clues, talk to Mr. Sal, go crazy with the mail, and do all that fun stuff? And then one day I was like, 'Hey, guess what? Important news … I'm leaving. This is my brother Joe, he will be your new friend. ' Then I got on a bus and left.

We didn't see each other for a long time afterward. Can we talk about that? Good, because I realized that that was a bit abrupt. I just got up and went to college, which by the way, was quite challenging but great because I had to mentalize and go step by step and now I'm doing a lot of things that I wanted to do. And now look at you, everything you have done and what you have achieved in all this time. It's amazing right? I mean, we started with clues, now what is it about? Student loans, jobs, families … And a lot of it has been complicated, you know? I know they know. I wanted to tell you that I could never have done all of that without your help. In fact, all the help they gave me when we were younger still works for me to this day and that's super cool. I guess I just wanted to say that after all these years, I never forgot them. Never. And I'm glad we're still friends. Thanks for listening to me.
This is how the return of a child hero felt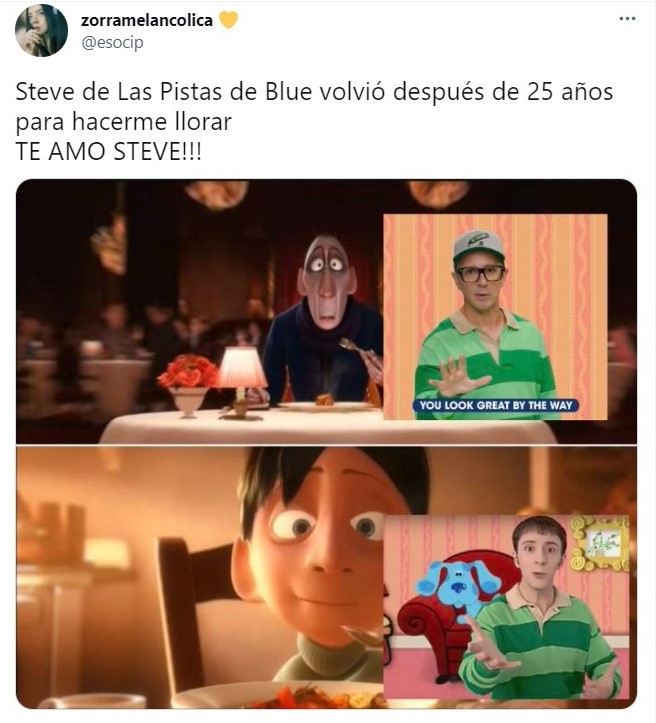 This is all we need to continue

It's the best thing that could happen to us to continue

Let's face it, he was and will be our role model

Yes it's completely normal and okay

Awww, let's take some time to reflect

Hug her, hold her and never leave her!

Mixed feelings in 3… 2… 1…

Right now, we all need a hug

Let us be proud of our achievements

And it will be housed in our mind and heart

Thanks so much Steve!