Aerosmith frontman Steven Tyler checked into a rehab center after a relapse. The news was released through a statement that the group published on social networks, which also indicates that the dates of their tour Deuces Are Wild June and July in Las Vegas, Nevada, United States, have been cancelled.
The statement also noted that Tyler has worked for years to get rid of his problem with addictions. However, she relapsed as a result of dealing with pain control in the process of foot surgery.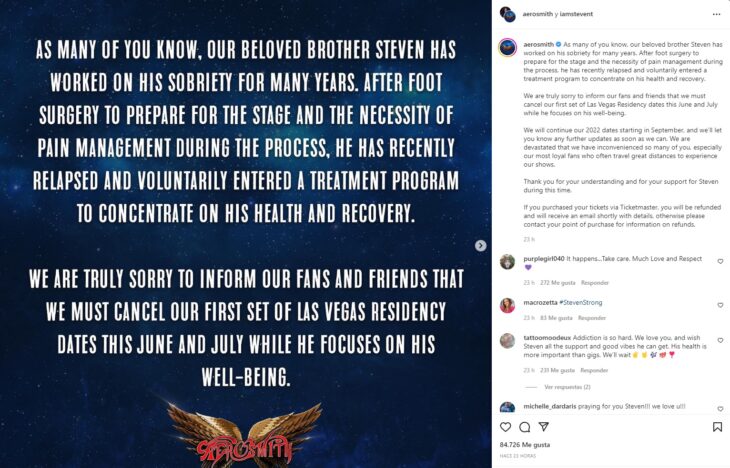 As many of you know, our beloved brother Steven has worked on his sobriety for many years. After foot surgery to prepare for the stage and the need to manage pain during the process, he recently relapsed and voluntarily entered a rehab program to focus on his health and recovery. We are very sorry to inform our 'fans' and friends that we must cancel our first set of Las Vegas dates in June and July while he focuses on his well-being.
Although the band has canceled their shows for now, they are hoping to resume the second leg of the tour in September. Their next scheduled show will take place on September 4 in Bangor, Maine, and then they will return to Las Vegas on September 14, where they planned to kick off the tour.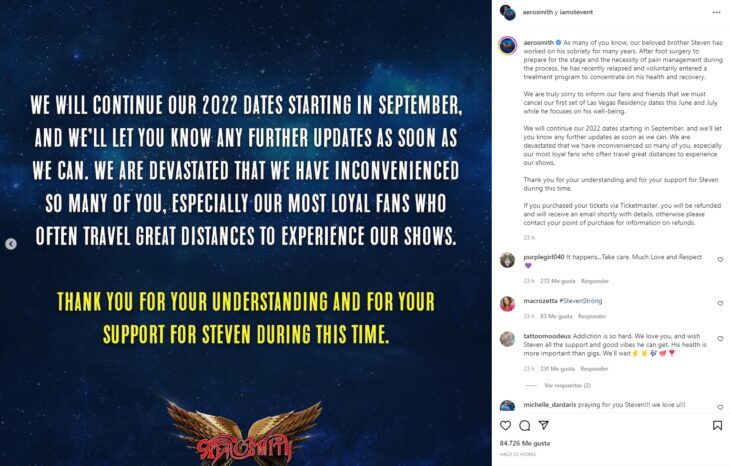 We will continue with our 2022 dates beginning in September and will let you know of any updates as soon as possible. We are devastated to have inconvenienced so many of you, especially our most loyal 'fans' who often travel great distances to experience our concerts. Thank you for your understanding and for your support of Steven during this time.
The group ended the statement by informing the fans about refunds for concert tickets that were to begin June 17 and continue through July:
If you purchased your tickets through Ticketmaster, they will be refunded and you will receive an email shortly with the details; otherwise, they can contact their point of purchase for refund information.
The 74-year-old rocker has been open about his struggles to escape substance abuse, his efforts even causing tension with other members of the group.
In 1988, his addiction problems led Aerosmith to enter him in a rehabilitation center. Decades later, the singer confessed to High Living that it took him many years to get over his anger after the band sent him to rehab.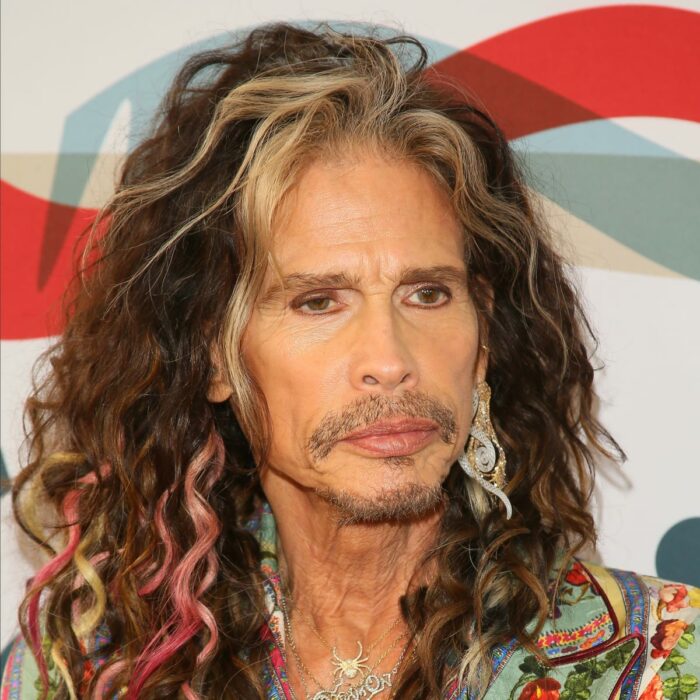 There was a point in 1988 when the management and the band stepped in on me. They thought, 'Get the lead singer sober and all our problems will end.' So I was sober, but it took me many years to get over the anger of being sent to rehab while they went on vacation. But today, for that moment, I am grateful and owe them a thank you for my sobriety.

– Steven Tyler
Source: Okchicas