There are teachers who leave their mark on our hearts because their teachings go beyond the classroom. Proof of this is Margarita Concepción López Torres, a teacher who has captivated thousands of Internet users after dancing the graduation waltz with a student with different abilities.
In the images you can see him carrying the little one on his shoulders and making him an important part of the event that reflects his effort to get ahead. A small act that shows that despite our differences, deep down we are all equal and deserve the same opportunities.
The covid-19 pandemic has prevented most students from celebrating their graduation, but in Chiapas, Mexico, a school gave its elementary students the opportunity to celebrate in style with a diploma ceremony and a waltz parting.
At the event, teacher Margarita was captured taking her passion for helping her students far beyond the classroom, as she carried a student with different abilities on her own shoulders. The teacher held him to her chest with the help of a harness and acted as her legs to move him from side to side to the rhythm of the music. The little boy looked happy to be integrated into the activities of his classmates.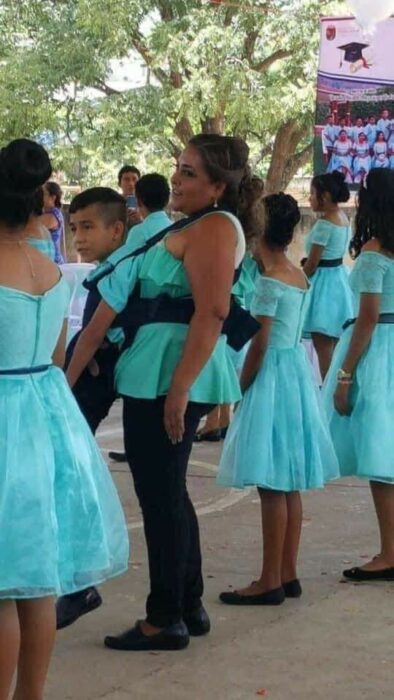 This moment was captured by a viewer, who did not hesitate to share the images on social networks, captivating thousands of Internet users.
In Comalapa, Chiapas, the exemplary and loving teacher Margarita Concepción López Torres danced the waltz with little Andy Yandel Gálvez, a boy with walking difficulties.
Stories like these make us regain faith in humanity and, at the same time, teach us that we should be kind to others regardless of ethnicity, race, color or ability, because at the end of the day, we are all equal in soul and heart.