The NATO condemned today, Monday, as "unacceptable" the way in which Belarus "Uses" the immigrant, with the push of migrants to the Polish border, a Member State of both the North Atlantic Alliance and the European Union, as border tensions between the two countries increase.
A spokesman for the Polish government said earlier tonight that at the moment almost 3,000-4,000 immigrants are located near the border between Belarus and Poland and thousands more are ready to follow.
The Polish border guard also recently announced that the country it will close the border crossing with Belarus in Kuznika, as broadcast by APE BPE.
"Due to the situation on the Polish border with Belarus, from tomorrow, 09/11 from the 07:00 a.m. "(local time) the border traffic at the road border crossing in Kuznika will be stopped", the border guard said on Twitter.
"Across Belarus, there are more than 10,000 people ready to cross the Polish border," said a government spokesman. Peter Mueller to journalists.
"The use of immigrants by the regime (of Belarusian President Alexander) Lukashenko "As a hybrid tactic it is unacceptable," said NATO, expressing concern over the situation.
"We are concerned about the recent escalation of the border between Poland and Belarus. We call Belarus to comply with international law ", is added in a relevant statement.
The Alliance will guarantee the security of its Member States and the Secretary-General Jens Stoltenberg will continue to monitor closely the "pressure" situation in three allied countries – Lithuania, Latvia and Poland – as indicated.
The possibility of new euro sanctions in Minsk is open
Earlier in the day, Polish authorities accused Belarus of trying to provoke a serious incident, while social media users posted videos with hundreds of immigrants to the Polish border.
At the same time, Lithuania announced that it was moving troops on its border with Belarus, and is considering a state of emergency on the Belarusian border.
The EU, for its part, openly accuses Belarus that encourages thousands of migrants from the Middle East and Africa to enter its territory, using them to seek revenge for imposition of sanctions in Minsk for human rights violations.
"This is a continuation of the Lukashenko regime's desperate attempt to uses people as pawns to destabilize the European Union ", said the representative of the European Commission Adalbert Jans at a press conference.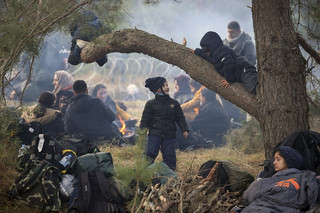 Citing her estimates Frontex, the spokesman stressed that "many hundreds»Immigrants are on the border of the two countries.
THE Peter Stano, representative of the Head of European Diplomacy Josep Borrell, raised the possibility of enforcement further sanctions of the EU against Minsk. "We are facing a hybrid threat and we will not be left alone," he said, adding that the issue would be raised at a meeting of EU foreign ministers. in a week.
He added that the Union is in contact with countries of origin to explain to them how "the Lukashenko regime treats people, their own citizens inhumanly and brutally and leads them into very difficult situations, transporting them by plane to Belarus and pushing them to the European border."