Wear OS has become the second largest smartwatch platform, second only to Apple's Watch OS. The South Korean company Samsung contributed to the increase in popularity. This is evidenced by a new report from the research company Counterpoint Research.
In the second quarter of 2021, the Wear OS operating system occupied only 4% of the world market, but by the end of the third quarter its share had quadrupled – to 17%. This was made possible in part by the launch of Wear OS 3, which is known to have been developed in collaboration with Samsung. The South Korean giant ditched its Tizen OS platform and installed Google's operating system on its Samsung Galaxy Watch 4 series smartwatches. Samsung's joining the Wear OS camp means that every Galaxy Watch 4 model sold increases the platform's market share.
And Watch OS remains the undisputed leader of the wearable device market. At the end of the third quarter of 2021, Apple's software platform accounted for 22%. True, unlike Wear OS, whose share is growing, Watch OS, on the contrary, has lost a significant part of the market. Back in the fourth quarter of 2020, the company occupied 40% of the global market, in the first quarter of 2021 the share decreased to 33%, and in the second quarter – to 28%.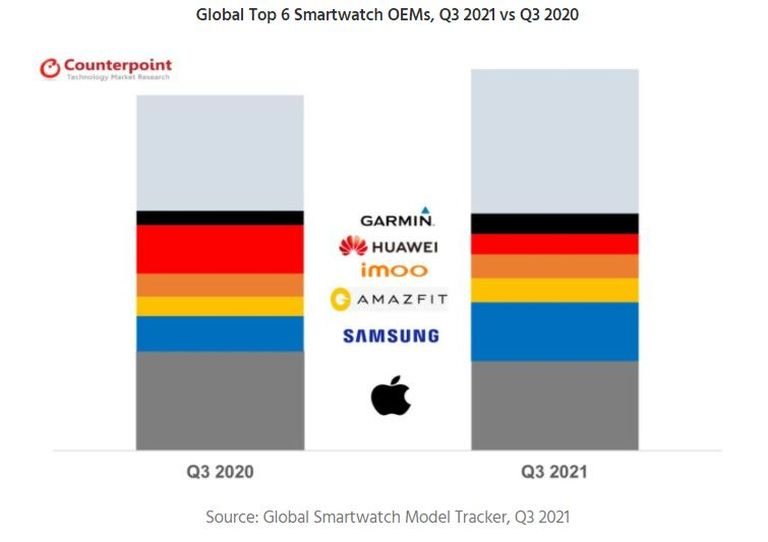 Despite declining market share, Apple remains the leading smartwatch manufacturer in the global market. The second place is occupied by Samsung, which almost doubled its market share in a year. The Korean brand managed to oust the Chinese company Huawei from the second line, which, due to US sanctions, lost most of the market and dropped to fifth position. The third place in the market went to Amazfit, and the fourth to the Chinese brand imoo.